The claim that Saudi Arabia and its golden Prince, Mohammed Bin-Salman (MSB), may have significant influence over the UK government has always been brushed off as a non-story by the Tories. However, this week a list has emerged detailing a staggering number of MPs who have accepted lavish all expenses paid trips to the head-chopping Arab Gulf state.

Since 2015, the government of Saudi Arabia has spent at least £222,000 jetting UK MPs out to the oil rich middle eastern country.
Details of these trips are listed on the website of The Register of Members Financial Interests. The purpose of the register is to provide information of any financial interests or benefits an MP receives which could be seen as influential on their work as a Member of Parliament.
A staggering 34 MPs have taken all expenses paid trips to Saudi Arabia courtesy of MBS since March 2015. Of these 34, 29 are Conservative MPs, whilst 3 are from the Labour Party, and 1 now sits as an Independent MP.
Whilst visiting other nations may simply be part of being an MP, the rise in visits since the start of the Saudi-led military action in Yemen is a major cause for concern.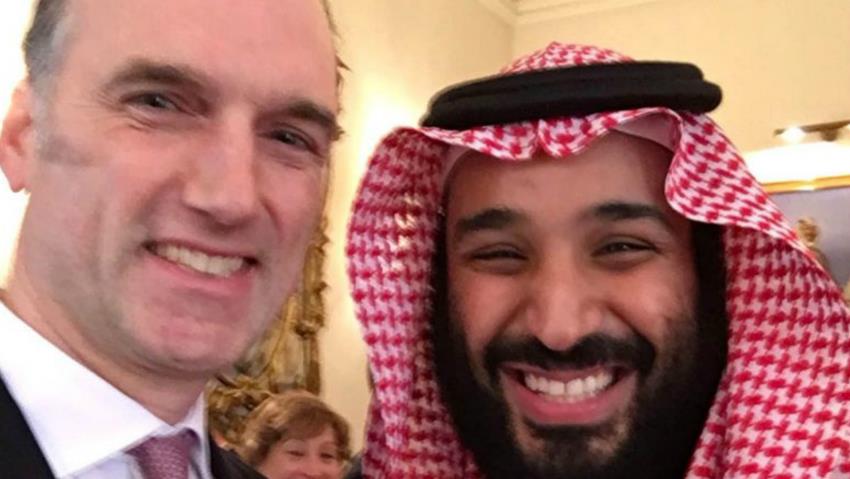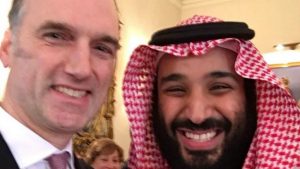 Tory MP Leo Docherty seems to be a frequent flyer. He visited in 2015, 2017 and 2018. He is now a member of the Committees on Arms Export Controls.
For Docherty to even be appointed to that Committee is worrying in itself considering the high number of arms the UK licences for export to Saudi Arabia.
https://twitter.com/GhasMoh/status/1058079498443374593
The 33 MPs who have accepted free trips from the Saudi regime since March 2015 are:
1. Edward Argar (Conservative)
2. Richard Bacon (Conservative)
3. Alex Burghart (Conservative)
4. Rehman Chishti (Conservative)
5. James Cleverly (Conservative)
6. Leo Docherty (Conservative)
7. Sir Alan Duncan (Conservative)
8. Mike Gapes (Labour)
9. Mark Garnier (Conservative)
10. Sir Edward Garnier (Conservative)
11. James Heappey (Conservative)
12. Simon Hoare (Conservative)
13. Philip Hollobone (Conservative)
14. Kevan Jones (Labour)
15. David Jones (Conservative)
16. Daniel Kawczynski (Conservative)
17. Seema Kennedy (Conservative)
18. Kwasi Kwarteng (Conservative)
19. Charlotte Leslie (Conservative)
20. David Mackintosh (Conservative)
21. Mark Menzies (Conservative)
22. Stephen Metcalfe (Conservative)
23. Andrew Mitchell (Conservative)
24. Mark Pawsey (Conservative)
25. Rebecca Pow (Conservative)
26. Keith Simpson (Conservative)
27. Royston Smith (Conservative)
28. John Spellar (Labour)
29. Andrew Stephenson (Conservative)
30. Martin Vickers (Conservative)
31. Helen Whately (Conservative)
32. Dr Paul Williams (Labour)
33. John Woodcock (Labour, but has since left the party and is now an Independent MP)
Growing Saudi Influence
This situation isn't new, however. There have been statements made regarding the increasingly worrying influence of Saudi Arabia within UK politics, and especially the Conservative Party, for many years.
In 2015, the former Liberal Democrat leader Lord Ashdown said that British foreign policy was being influenced by "the closeness between the Conservative Party and rich Arab Gulf individuals".
His claim came after the then Foreign Secretary, Philip Hammond dodged rules banning government Ministers accepting gifts over £140.
Hammond accepted a watch worth almost £2000 from Saudi Sheikh, Marei Mubarak Mahfouz bin Mahfouz. He managed to get away with it by claiming it was given to him as a constituency MP, and not in his role as Foreign Secretary.
Furthermore, Since the Saudi-led intervention in Yemen began, numerous government Ministers have been handed other expensive gifts – including gold-plated, diamond-encrusted bookends, a silver horse ornament, and food hampers worth up to £350 each.
Then we have the barbaric murder of exiled Saudi journalist Jamal Khashoggi. After first denying any involvement in his murder, the Saudi state then backtracked, going on to claim it was an accident during a fight, to only then again change their story by blaming it on a group of "rogue agents."
The UK government, whilst timidly condemning his murder, haven't taken any action yet, stating that they want to wait to see what the investigation shows.
This is despite the Turkish President Recep Tayyip Erdogan has written in the Washington Post saying;
"We know that the perpetrators are among the 18 suspects detained in Saudi Arabia
We also know that those individuals came to carry out their orders: Kill Khashoggi and leave. Finally, we know that the order to kill Khashoggi came from the highest levels of the Saudi government."
Erdogan also added that Khashoggi's murder was the work of a "lot more than [just] a group of security officials", and went on to call for "the puppet masters behind Khashoggi's killing" to be exposed.
Many experts in Saudi affairs have noted that for the powerful Crown Prince not to have known about an operation of this level would be highly unlikely.
Whilst attempting to model himself as a "reformer", MBS has tightened his grip on power by ousting senior officials. Not much happens in Saudi Arabia without the future King knowing.
What now remains to be seen is whether Theresa May will take any action against the Saudis, or whether the lure of money, free gifts and free trips will just be too much for the Prime Minister to overlook.
After all, her husband Philip's investment firm is also making huge profits from the Saudi-led war in Yemen.