Stay in touch!
Sign up to be updated with Evolve's latest stories, and for opportunities to get involved.
On Saturday, the iconic seaside town of Margate awoke to a bright, crisp, sunny day.  The kind of day that seaside towns were made for. A day for candy floss, ice cream, kiss-me-quick hats and fun at the fair. For Margate in particular – a day for the annual Beach Cross event, something looked forward to by the businesses and residents of a town gradually turning itself around after decades of downturn and neglect. 
But out of that clear blue sky came a shower of spite.  A protest organised by a group called 'The South East Alliance', an inoffensive moniker that belies their overall aim to peddle a familiar brand of hatred and division, where everything is the fault of foreigners, and a hard right, heartless and authoritarian ideology is the only answer to the fears they want to instill in us all.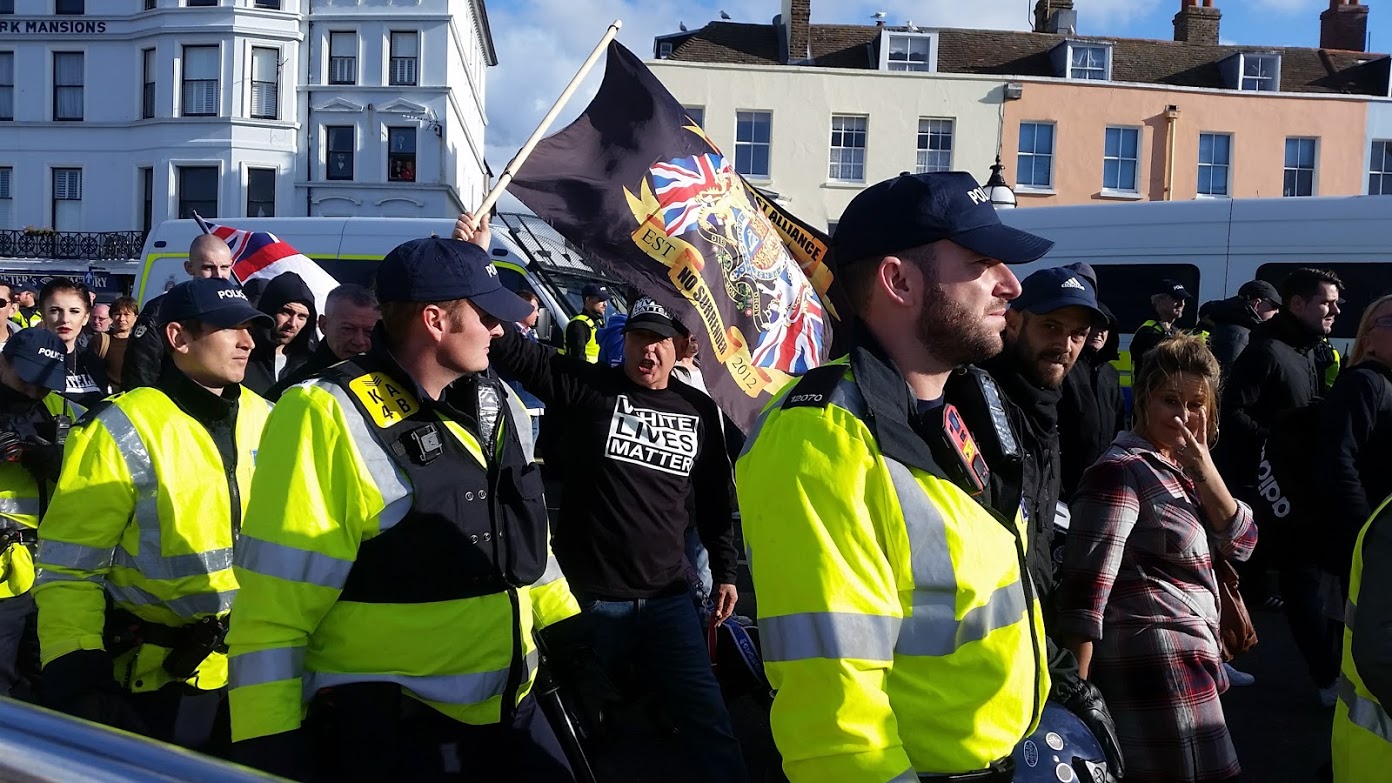 The march, branded as 'White Lives Matter', in keeping with a hate group already outlawed in the US, turned out to be more of a demonstration of synchronised knuckle dragging than street polemic.  It was not so much a march as a self-important swagger by a motley rag-tag band of about 40 or 50 malevolent malcontents who obviously couldn't give a toss for the ordinary people of Margate or the short and long term damage their presence would do to the area. 
Ostensibly it was a protest over child grooming, a familiar focus on salacious news reports about gangs of Asians engaged in child abuse.  Obviously a serious issue, but not one particularly exclusive to any particular racial group.  Unless of course you count being a Radio 1 DJ with a penchant for cigars and jewellery as a racial stereotype. 
Presumably attracted by the previous, albeit short-lived, electoral success of UKIP in Thanet, and touting the hashtag #WLM, they obviously expected their support base to be much larger.  The police certainly did as they drafted in around 300 extra officers from areas as far flung as Norfolk and Sussex and mounted police from Essex.   
After being escorted along the prom on their little away-day outing, these fine examples of British nationhood settled outside the Turner Gallery like washed up seaweed.  Here, in the customary arrogance displayed by most of these groups, they held a one minute silence for their comrades imprisoned after violent clashes at other demonstrations.  This pretension to martyrdom was quickly dispelled by a local café who poked a couple of speakers out of an upstairs window and treated us all to 'Love Train' by the O'Jays. 
Then the speeches began, the first coming from Kevin Layzell, looking every bit the proto-Oswald Mosely in his black suit and mirrored sunglasses.  Someone so 'out there' he was even expelled from the BNP for being too extreme.  His speech, along with all those following, was virtually unintelligible, spoken through a muffled PA system that quite frankly wasn't needed.  His audience was so tiny, they could have huddled together in a phone box and heard every sour syllable of his dull, flat intonations.  As a call to a popular uprising, he was about as inspirational as a paperclip. 
The location for their exultation of intolerance was somewhat at odds with what people emerging from the Turner Contemporary Gallery had just experienced.  By what I'm sure was total coincidence their main entrance has been given over to an installation by artist Yinka Shonibare.   
Brilliantly entitled 'The British Library' the work comprises shelves of re-bound books bearing the names of 10,000 migrants and their progeny who have significantly enriched our culture and our economy.  The works and lives of everyone from Nick Cave to Lew Grade, T.S. Eliot to Winston Churchill stood in jarring contrast to scenes of the red faced bigot wrapped in the flag of St George just a few metres away screaming his fond hope that refugees would 'burn in hell'. 
Having finished their grandstanding, encircled by riot police and ranks of mostly jeering opponents, they turned around and retraced their steps along the seafront shouting justifications for their actions to a vociferous crowd of onlookers.   
We heard that they were white and proud – an echo of the overtly racist invocation to others labouring under the delusion that the quantity or lack of melanin in their skin was some kind of personal achievement.  They claimed not to be racists because they were just copying the 'black lives matter' movement started in the US. The principle was that if BLM wasn't racist then neither were they, an argument I won't even begin to dignify with any further discussion here. 
The march back was punctuated with similar confrontations to the outward journey.  Except we seemed to be able to get closer this time.  The police had visibly relaxed a bit by now, perhaps realising that the fact that the WLM posse were outnumbered so comprehensively that the chances for trouble were minimal.  Indeed, most of those opposing the march had by now ceased to treat it with any degree of threat, instead offering the marchers the contempt it deserved. 
Throughout the day, the pseudo military nature of the march had been enhanced by one of their number carrying a side drum. He knew all of two rhythms, neither of which he was particularly practiced at, but what became strikingly evident as I got closer was the number of extreme right wing symbols were emblazoned on his instrument.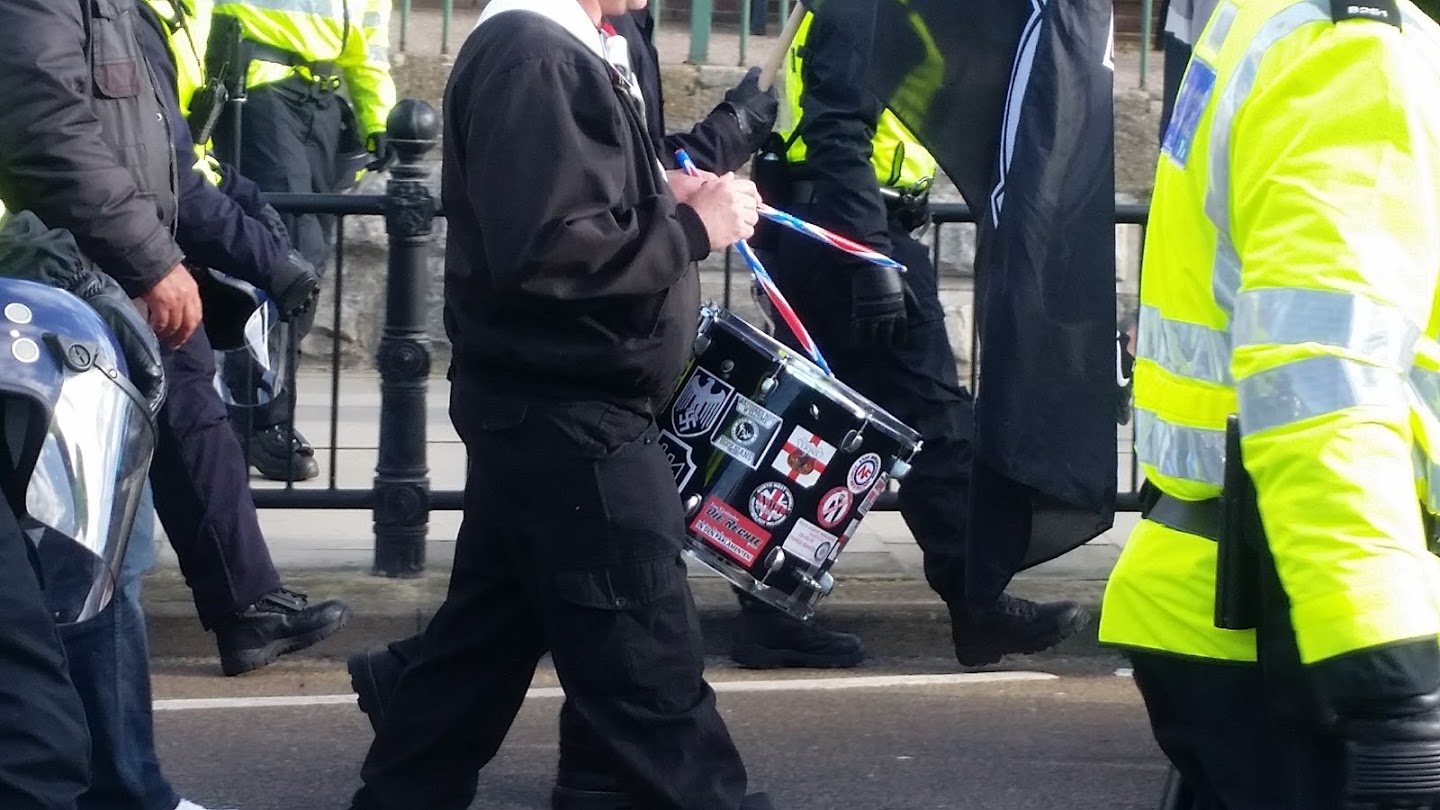 In the context of a southern English town, close to many of the most important centres of operation during WW2, the most shocking image was that of a swastika and eagle.  I'm no expert of Nazi iconography but a quick search of Google images shows that it was a stylised representation of the German eagle decal worn by most German soldiers.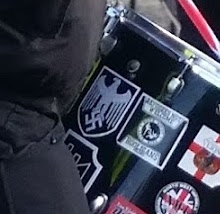 We'd already been treated to the neo-fascist flag being waved along the route, and distasteful as it was, it wasn't as overtly emblematic as seeing a gang of right wing thugs marching along a British street to the sound of a drum bearing a German army insignia. That above almost everything else stood as damning indictment of this whole event.  The claim these people were in some way representative of the British way of life exploded by their self-proclaimed fealty to a regime we fought so hard against all those years ago.   
Moreover, for a group who are so keen to show their support for our armed forces, that drum was a two fingered salute to the spirit of every soldier, airman and sailor stationed in the area during the war in those dark days.  Every beat, a kick in the teeth for the ideals and values they gave their lives to defend. 
Values still at the heart of our culture, no matter how hard our press and certain politicians work to bury them. Values of compassion and humanitarianism and openness that were far more prevalent on the streets of Margate that Saturday afternoon, demonstrated by the hundreds of protesters that turned out to tell these people that they weren't welcome in their town.  Values that meant the local area had spent hundreds of thousands of pounds, that could have been put to much better use elsewhere, to support the right to free speech of 3 dozen or so ignorant malcontents who would no doubt freely deny it to others 
And in that spirit, the final words came from the people of Margate themselves, when they took the message of hate and turned it to their own cause.  Re-purposing the hashtag #WLM into 'We Love Margate' and overwhelming the original intention on social media.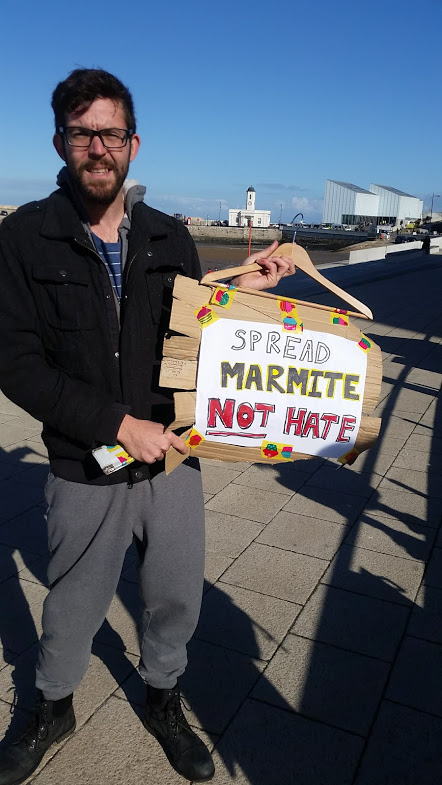 That was the overwhelming message I heard above the bitter diatribe these new invaders on Margate's sunny shores had come to peddle.  It was a spirit that kept the sun shining and blew away the clouds of hatred that had hoped to dim the new optimism in the town.  Another self-styled master race had been given their marching orders by the people of Margate, and they can be rightly proud of their peaceful victory.