Anti-fracking campaigners have been added to a list of terrorist groups – next to ISIS – by Police in Yorkshire. The move has been met with shock and outrage by anti-fracking campaigners – who have used peaceful and democratic methods to oppose fracking in the area.
The latest tactic by the police forms yet another part of the government's long battle against environmental campaigners. Fracking is at best a controversial process – and is driven by powerful financial institutions such as Barclays Bank who have huge stakes in fracking companies.
Anti-fracking environmental campaigners in Yorkshire – who have staged a number of peaceful protests – have been included in the City of York's "Prevent Story Board" which identifies potential terrorist threats based on information from the police. Meaning anti-fracking campaigners are now being monitored as part of the government's "anti-terror" Prevent Programme – alongside ISIS, groups relating to Syria, animal rights activists, and extreme right-wing groups.
Anti-fracking campaigners have reacted with shock and outrage at the move – York Green councillor Lars Kramm said:




I am shocked to hear that York's peaceful and creative opposition to the government's energy and climate agenda is now classed as terrorism,
Adding:




Anti-fracking protesters in Yorkshire and across the country deserve praise for their actions, not legal proceedings and stigmatisation as terrorists.
Frack Free York's Leigh Coghill said:




People opposed to fracking are just ordinary peaceful residents who come from all walks of life and share concerns about the environmental and economic downsides of fracking.
And:




They have opposed specific planning applications and government policy through completely peaceful demonstrations in very close liaison with the police, with whom we have an excellent relationship.
Music teacher and father of three, Ian Conlan of Frack Free Ryedale, argued that the Prevent strategy should focus on preventing terrorism and not "peaceful expressions of legitimate opinions and campaigning, which includes the right to protest."
Locals in the North Yorkshire area have been campaigning vigorously against fracking – in May this year councillors gave the green light to the Ryedale drilling project – and campaigning has intensified.
Earlier this year Friends of the Earth organised a protest at Barclays Bank in central London in which Ryedale resident Nicky Hollins set up a living room and sat on a sofa next to her young daughter in order to illustrate the impact that fracking will have on the lives of North Yorkshire residents. The campaigners were hoping to apply pressure on Barclays to stop investing in fracking and withdraw from the project.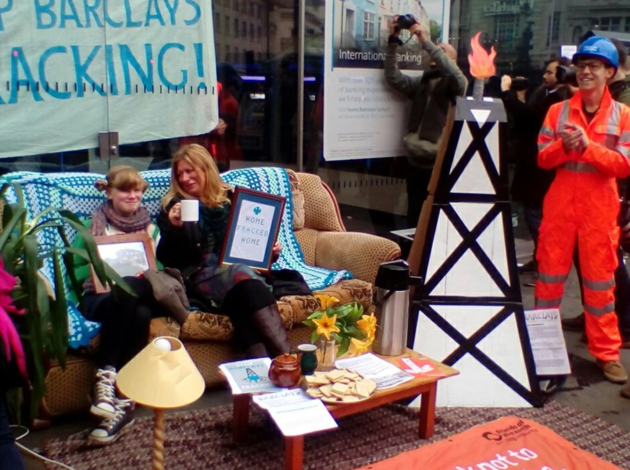 Anti-fracking protest inside @Barclays, Nottingham #StopBarclaysFracking pic.twitter.com/HRVt4ycFV5

— Sandeep Mahal (@readwithsandy) October 29, 2016
Protests were also held at many other branches of Barclays across the country.
The independent, not for profit Ethical Consumer website illustrates just how many banks have invested in fracking – Barclays being one of the biggest: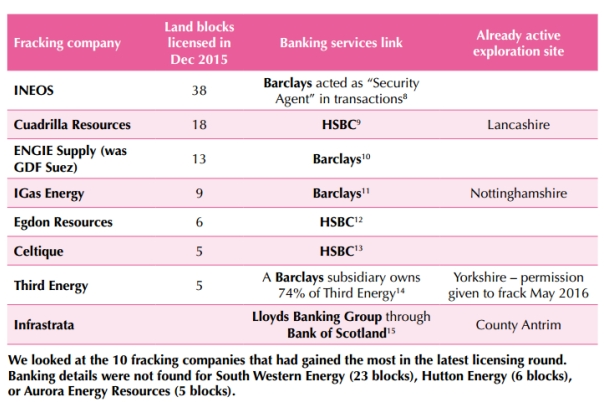 They also highlight the dangers of fracking: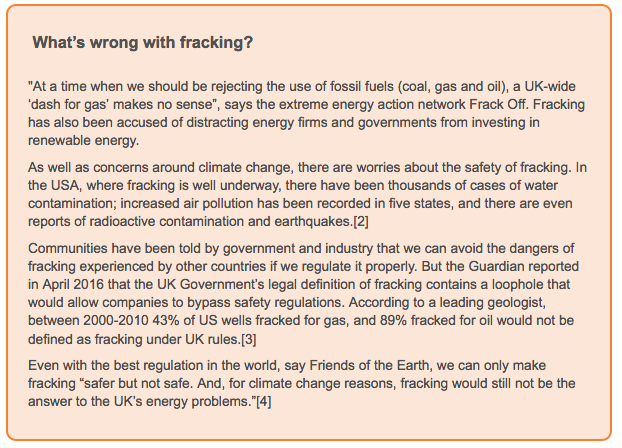 The definition of terrorism according to the Oxford English Dictionary is:
The unlawful use of violence and intimidation, especially against civilians, in the pursuit of political aims.
It seems unlikely then, given the peaceful nature of these campaigners that they are ever likely to develop into some sort of violent terrorist group.
By monitoring and labeling anti-fracking campaigners as potential terrorists the government are seeking to limit the effectiveness of their campaigns and serve their masters in the financial sector.
The labeling of campaigners as terrorists goes against everything that a liberal democracy is supposed to stand for, being more in line with an authoritarian oligarchical plutocracy such as Russia.
Yet that's exactly what the British "liberal democratic government" has chosen to do.
Get Involved
If you wish to, you can help to support the fight against fracking here.