Stay in touch!
Sign up to be updated with Evolve's latest stories, and for opportunities to get involved.
According to the mainstream media's version of accounts a poor, unsuspecting BBC cameraman has had his foot run over by "Jeremy Corbyn's chauffeur driven car".
Corbyn's car was leaving an event in Central London to discuss the final draft of the Labour manifesto when the incident happened.
That the savaged victim, BBC Journo Giles Wooltorton, should get his foot run over when standing in front of a moving car is one thing, yet, a new video of the incident also shows that he was warned to get out of the way by another journalist before the car went over his foot!
Just listen how somebody clearly says "DON'T GET RUN OVER", just before the BBC cameraman goes and gets run over.
And it just so happens that Jeremy Corbyn's number one fan, the BBC's 'Political Editor' Laura Kuenssberg, managed to throw her self into the middle of the scene, and was ready to report the incident straight away, tending to her fallen compatriot like some sort of modern day Florence Nightingale.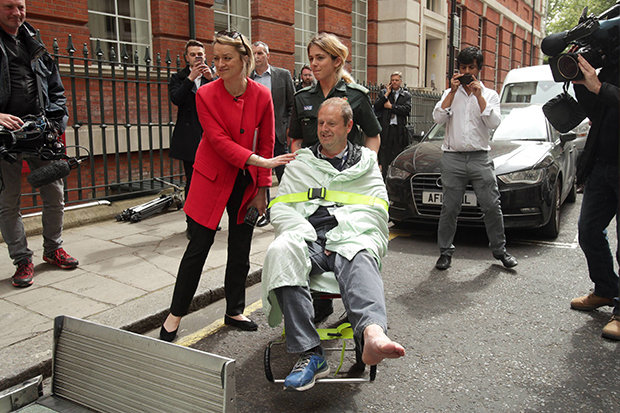 The BBC's Giles Wooltorton's foot was the victim of the MOVING car — which was actually being driven by  officers from the Metropolitan Police's royal and specialist protection unit — not exactly a  "chauffeur" then, is it?
The force now faces a probe into what happened, the Evening Standard reported.
An NHS ambulance was called for the cameraman, and speaking about the incident the a Scotland Yard spokesperson said:
London ambulance service attended and took the injured man to a south London hospital with non life-threatening or life-changing injuries. As is routine, the MPS will refer the incident to the directorate of professional standards.
The BBC employs journalists who aren't smart enough to get out of the way of moving vehicles — even when warned about moving vehicles.
Says it all really.