Stay in touch!
Sign up to be updated with Evolve's latest stories, and for opportunities to get involved.
Tens of thousands of people have gathered in London today to take part in the #NotOneDayMore protests against the shambolic Tory government and it's continuing failed agenda of austerity.
The event, organised by The People's Assembly Against Austerity, has seen huge numbers congregating in a mass show of strength against an increasingly wobbly Tory government.
As you can see from the tweet below, the numbers were quite something:
https://twitter.com/jplinnell/status/881122247292968960
Unlike a vast array of anti-government protests to have taken place this year, the BBC have decided that this particular one is big enough that they might have to do some actual reporting on it.
However, during a live interview on the BBC News channel, one protester decided to show the cameras exactly why he was attending today: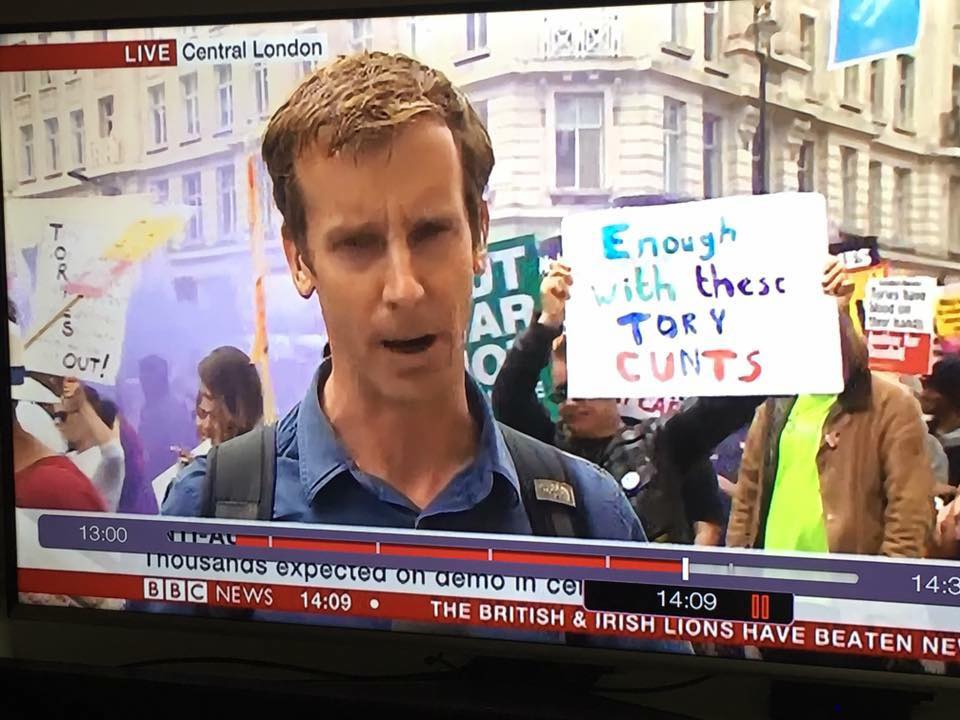 Unfortunately for the man getting his 15 minutes of fame in front of the cameras, the BBC probably won't be showing his interview again any time soon.
Become An Evolve Politics Subscriber



Your subscriptions go directly into paying our writers a standard fee for every article they produce. So if you want to help us stay truly independent, please think about subscribing. We literally couldn't function without the support of our fantastic readers.
Subscribe
Or a One-Off Donation to Evolve Politics



If you don't want to subscribe, but still want to contribute to our project, you can make a one-off donation via the donate button below. All your donations go directly to our writers for their work in exposing injustice, inequality and unfairness.
Donate