Nine months after its successful Syria smear campaign, the BBC has been forced to come clean. A story about a peaceful protest outside an MP's office had been bent into propaganda to promote a war. Now that we have the war the BBC can admit the truth. In a correction snuck onto their website they have admitted that the smear on anti-war activists as violent thugs was untrue.
As the vote on bombing Syria approached there was increasing scepticism about the bombing campaign. An initially supportive public were slowly remembering the lessons of Iraq and Libya and were feeling apprehensive about another sortie. They needed galvanising behind the war to protect MPs from reprisals at the ballot box. Something had to be done.
A peaceful protest outside Stella Creasy's unoccupied Walthamstow office became a show of intimidation and violence outside her occupied home. Peaceful protestors became a "hard-left hate mob" and perhaps most bizarrely "vicars, imams and net trolls." Famously violent people, vicars.
MPs were asked to denounce and criticise such behaviour. Tom Watson suggested that any Labour member on the demonstration would be expelled. Diane Abbott said that "protesting outside someone's home is too far" and she's right, but that never happened.
The story was a way for the BBC and the rest of the media to delegitimise the anti-war view by tying it inexorably to a group of thugs. Actually, not even a group of thugs but an image of a group of thugs. Regardless of the truth of the story you have Labour's deputy leader suggesting that members be expelled without anyone knowing the truth.
Until this week, when the BBC quietly slipped out this snippet: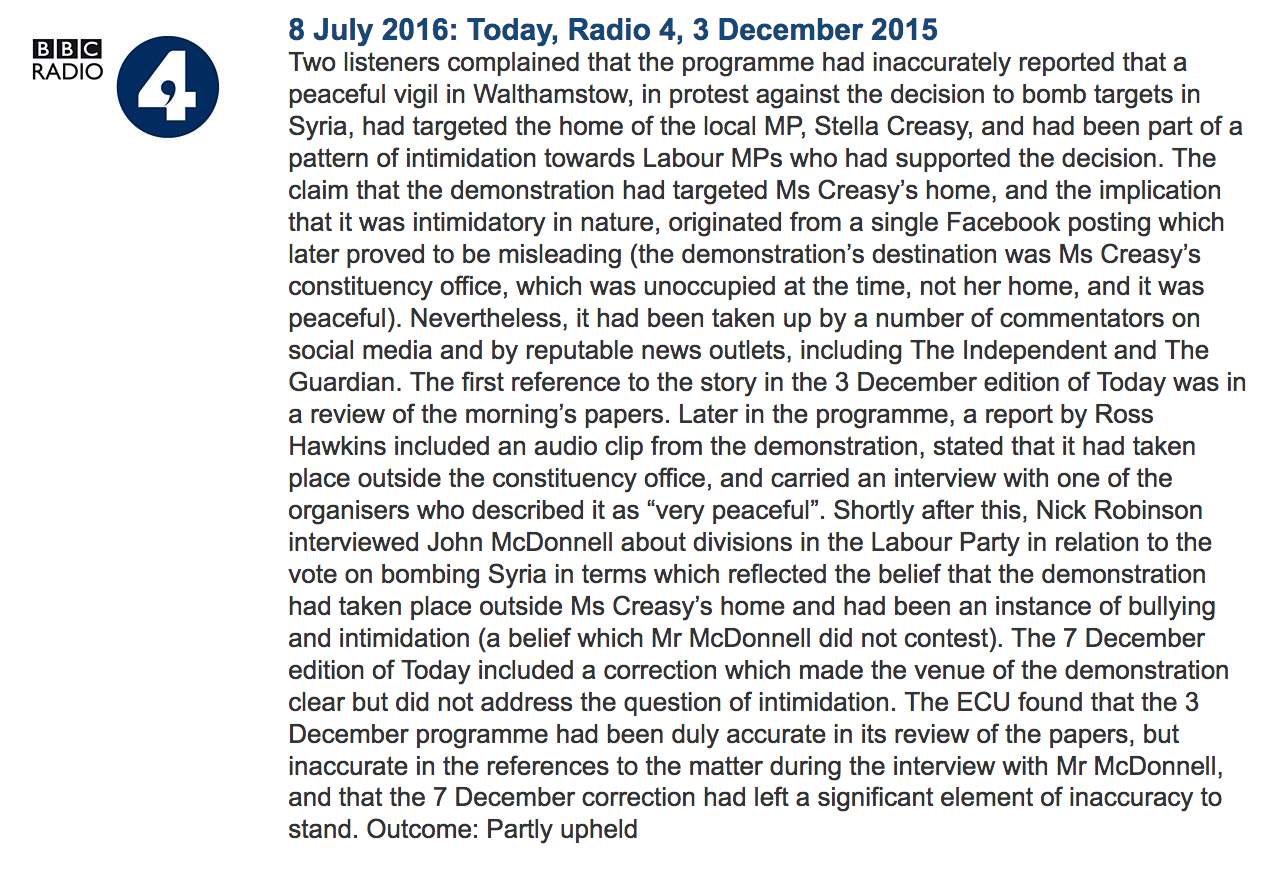 "Two listeners complained that the programme had inaccurately reported that a peaceful vigil in Walthamstow, in protest against the decision to bomb targets in Syria, had targeted the home of the local MP, Stella Creasy, and had been part of a pattern of intimidation towards Labour MPs who had supported the decision. The claim that the demonstration had targeted Ms Creasy's home, and the implication that it was intimidatory in nature, originated from a single Facebook posting which later proved to be misleading (the demonstration's destination was Ms Creasy's constituency office, which was unoccupied at the time, not her home, and it was peaceful)."
This "correction" was not carried on any news bulletins nor was it widely publicised. Instead it was placed on the BBC's website, in the feedback section. Buried amidst corrections of typos. It didn't matter. The story was out there. The goal achieved. We had war.
The correction carries on in an increasingly jargon-focussed way, the essence of their excuse is that it was better to report a story that may not be true because it was topical. Plus, all the other papers were doing it!
The thing is, even Stella Creasy, to her eternal credit, was very clear that her home had not been targeted. "For avoidance of doubt, I have no reason to believe Tuesday's protest in Walthamstow went past my house" read her Facebook post. "I have no reason to think those who took part on Tuesday were not peaceful in their conduct" she continued. This did not stop the mainstream media reporting it as fact.
It's hard to know whether this sort of story originates in actual malice or simple incompetence. Given our collective lack of attention span it makes sense that news would become "print first, ask questions later." Does that stop it being news though?
The BBC's coverage of stories like this fall short of the first goal of news, to be informative, and that's a problem. Our democracy is only as strong as the media that keeps it in check. With an increasingly servile BBC joining the print media lickspittles, it seems very difficult to know what to believe.
The wagons have been circled around the establishment and so anything about the outsiders must be believed. They must be violent and abusive, must be intimidating and aggressive. After all, things are okay, aren't they?