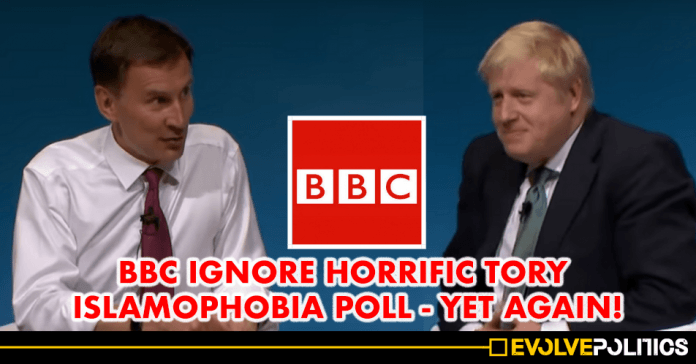 A hugely disturbing new poll has revealed the sheer scale of Islamophobia within the Conservative Party, with a staggering 60% of Tory members polled stating that they believe Islam to be "a threat to Western civilisation" and 54% saying they think Islam is "a threat to the British way of life" – to absolute radio silence from the UK's public broadcaster, the BBC.
The latest poll, commissioned by Hope Not Hate and conducted by YouGov, follows hot on the heels of a similar poll released two weeks ago which showed similarly worrying and equally widespread racist tendencies within the Tory membership.
In addition to the stark figures released today, last month's poll showed that:
67% of Tory members believe the lie that "there are areas in Britain that operate under Sharia law"
45% of Tory members believe the lie that "there are areas in Britain in which non-Muslims are not able to enter", with just 34% disagreeing

39% of Tory members believe that "Islamist terrorists reflect a widespread hostility to Britain amongst the Muslim community"
Only 8% of Tory members agreed that they "would be proud of Britain if we were to elect a Muslim as our Prime Minister"
Whilst 43% of Tory members agreed that they "would prefer to not have the country led by a Muslim"
Despite the results showing a clear prevalence of Islamophobic views amongst the party membership, just 8% of those polled believe that there was a "problem of Islamophobia or racism towards Muslims within the Conservative Party".
Following the release of today's poll, both Tory leadership candidates again refused to be drawn into the discusson – with BuzzFeed News Reporter Alex Wickham claiming that it was "close to impossible to get anyone in the Tory party" to talk about the issue.
Predictable silence from both Tory leadership candidates on yet another poll showing a systemic Tory racism problem… it is close to impossible to get anyone in the Tory party to talk about this https://t.co/yWvxrcnnFo

— Alex Wickham (@alexwickham) July 8, 2019
And this Tory tactic of simply ignoring the issue seems to be working for them, with the vast majority of mainstream media outlets – including the BBC – giving the story absolutely no air time whatsoever.
Sign up to be notified of new Evolve Politics articles
The media's virtual silence on both shocking polls – in addition to the distinct lack of air-time given to a huge number of shockingly Islamophobic incidents within the Tory membership – comes despite even minor developments within the Labour Party's own antisemitism crisis being given widespread scrutiny.
The BBC is also set to air a Panorama documentary on Wednesday, entitled "Is Labour Anti-Semitic?", reporting findings from reporter John Ware regardiing "the anti-Semitism crisis gripping Jeremy Corbyn's Labour Party."
Evolve Politics have emailed the BBC to ascertain whether they have any plans to run similar programming regarding the Conservative Party's own Islamophobia crisis.
A BBC spokesperson responded by simply stating:

"We have reported on allegations of Islamophobia in the Conservative Party on many occasions across our news and political output."
We Need Your Help!
Evolve Politics can only continue publishing our truly independent journalism because of the financial support of our readers. If you value our work, please consider subscribing or donating any amount you can afford. Every penny you contribute goes directly to our writers for their work.