The BBC's Chief Political Editor, Laura Kuenssberg, has been caught out spreading an outright lie about a Labour activist supposedly 'punching' an advisor to Tory Health Secretary Matt Hancock.
Earlier today, Boris Johnson was roundly criticised after grabbing a reporter's phone off of him after being confronted with a shocking picture of a 4-year old boy with pneumonia who was forced to lie on the floor of Leeds General Hospital A&E for hours.
In an attempt to mitigate the damage of Johnson's car crash interview, the Tory Health Secretary Matt Hancock was dispatched to the hospital to try and calm things down.
However, whilst leaving the hospital, Hancock – accompanied by several advisors – was greeted by Labour activists and protestors barracking him for the horrendous state of the NHS.
Hancock did not engage with the protestors, and entered his vehicle and sped off.
However, shortly after the Tory Health Secretary had left, the BBC's Chief Political Editor, Laura Kuenssberg, tweeted that the incident had supposedly "turned nasty" and that one of the Labour activists had "punched Hancock's advisor":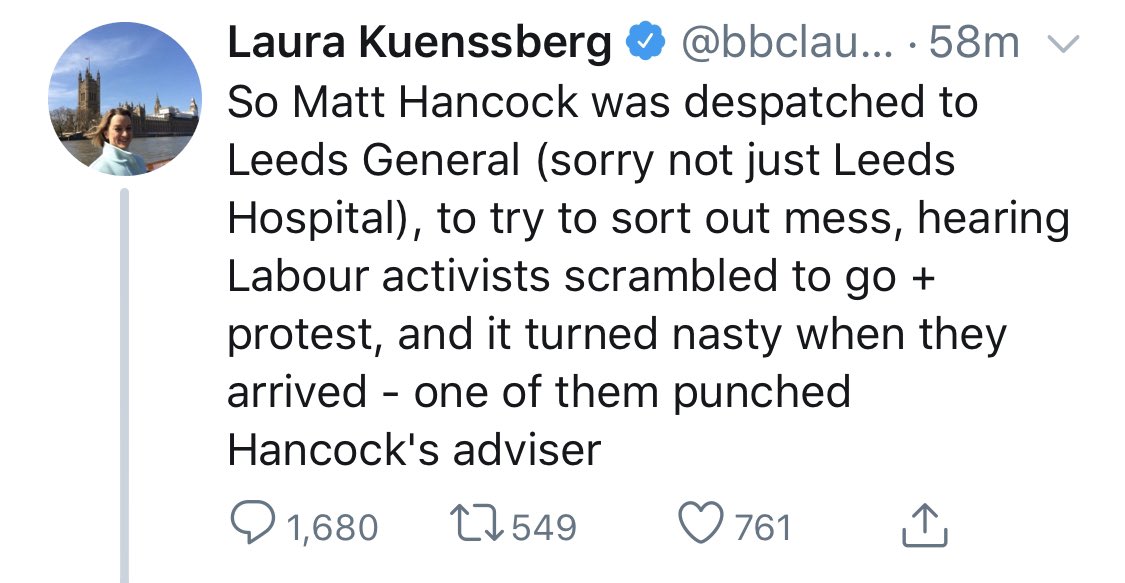 Yet, immediately following Kuenssberg's claim, some of the protestors at the scene stated on social media that her claim was an outright lie.
This did not happen. I was standing right there. I think you need to confirm your evidence before spreading inaccuracies

— Paul Chatterton (@PaulChatterton9) December 9, 2019
Kuenssberg responded by posting another tweet saying that, in reality, it wasn't "entirely clear what happened":
Not entirely clear what happened, but Tories suggesting Labour campaigners offered to pay cabs for activists to go and heckle Hancock – fair to say today not panning out as anyone had expected in what has been a relatively flat campaign

— Laura Kuenssberg (@bbclaurak) December 9, 2019
And just minutes later, a video emerged showing that the supposed "punch" was actually the Tory advisor literally walking into the outstretched arm of a protester:
Kuenssberg has since deleted her initial lie and posted the video which proves that no punch actually occurred:
Have video from Hancock leaving Leeds General just come through so you can see for yourself – doesn't look like punch thrown, rather, one of Tory team walks into protestor's arm, pretty grim encounter pic.twitter.com/hD1KwA72gG

— Laura Kuenssberg (@bbclaurak) December 9, 2019
As yet, no apology has been made by the BBC for spreading outright fake news.
Many have already poured scorn on both Kuenssberg and the BBC for failing to verify the details given to them by Tory Chiefs before reporting them.
If a load of certain high profile journalists uncritically spreading false claims given to them by the Conservative Party that a Labour activist punched a Tory advisor does not convince you that much of the media is operating as the Tory campaigning machine, nothing will.

— Owen Jones🌹 (@OwenJones84) December 9, 2019
We expect the Conservatives to make false claims. We do not expect the BBC to repeat them uncritically.
Its role in this election has been anything but impartial.

— George Monbiot (@GeorgeMonbiot) December 9, 2019
In addition to Kuenssberg's tweet, the fake news was also reported as a fact on the BBC News Channel and by ITV's Robert Peston.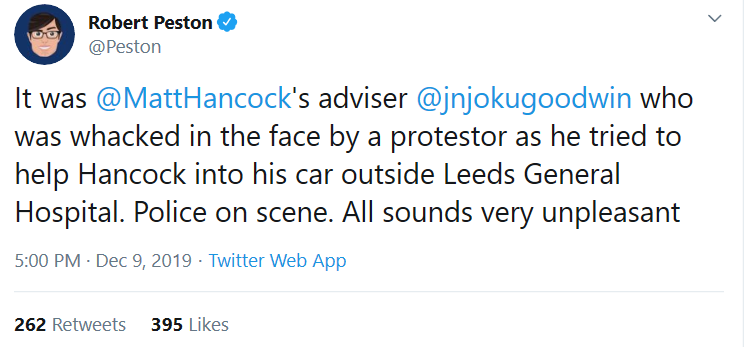 Both Peston and Kuenssberg have now apologised for spreading the Tory lie.