The former Foreign Secretary and leading candidate to be the next Tory leader, Boris Johnson, has, astonishingly, been exposed lying about voting for his own party in the Local Elections.
Writing on Twitter a few hours before polls closed, Johnson claimed:
"I just voted Conservative in the local elections. Make sure you do too! You've got two hours left to get out and vote!"
However, just a few minutes after posting the tweet, Johnson inexplicably deleted it.
As it soon emerged, the reason Boris Johnson deleted the tweet is because he is a resident of London and there weren't actually any Local Elections held in London yesterday – meaning he had just issued a brazen lie about voting for his own party.
Unfortunately for Johnson, there is a website designed to catch MP doing exactly this sort of thing – Politwoops: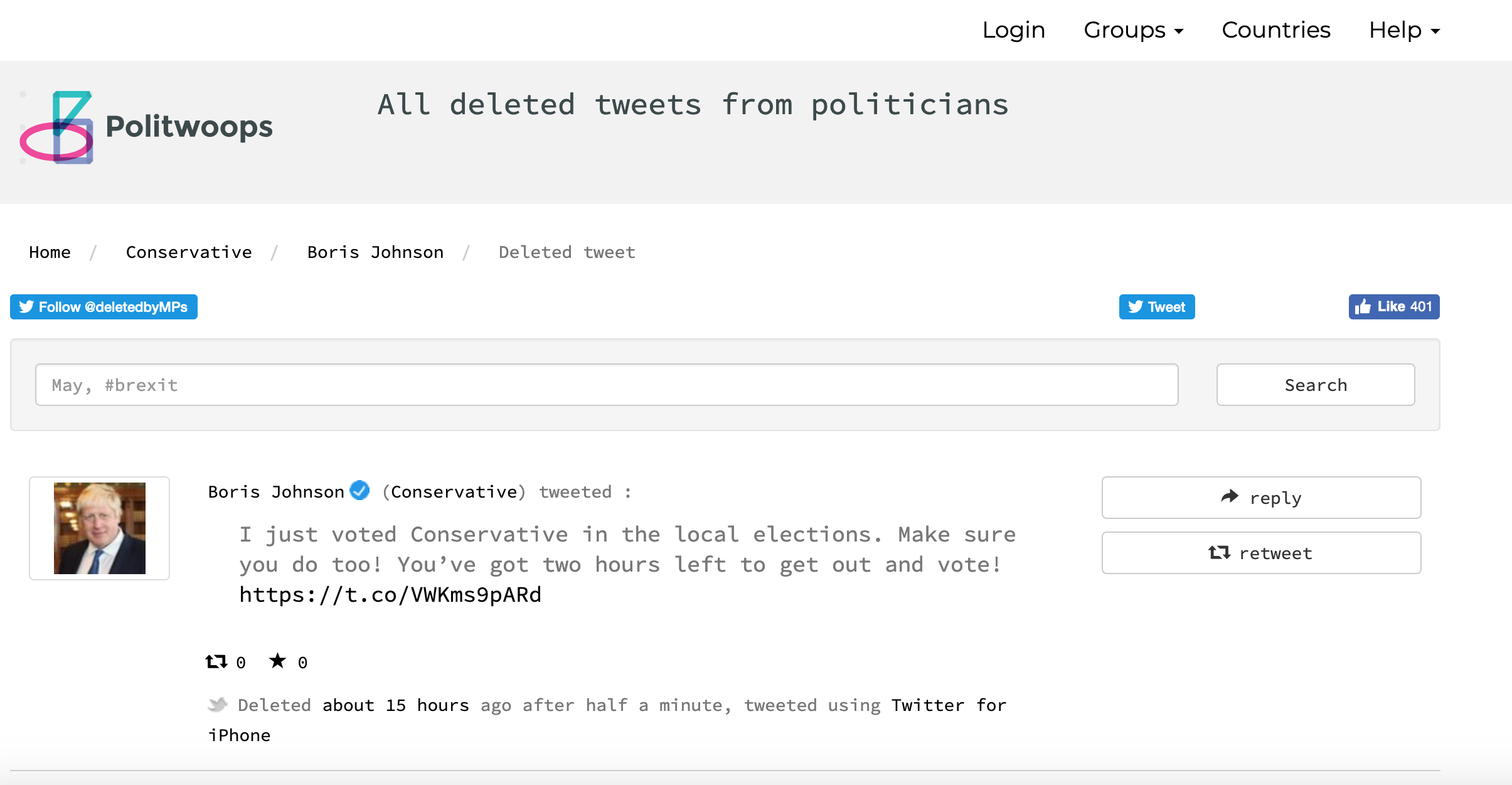 Sign up to be notified of new Evolve Politics articles
And sure enough, just a few hours after deleting it, Johnson's truly ridiculous, and utterly inexplicable, lie was picked up by Twitter legend James Felton – and, well, the rest is the rest:
Boris Johnson (former mayor and current resident of London) tweeted that he just voted in the local elections.

He deleted when he was informed that there are no local elections in London today.https://t.co/p8Urwe1mC1 pic.twitter.com/nwH3Cj8pmm

— James Felton (@JimMFelton) May 2, 2019
It's almost as if this Johnson's chap is a liar. https://t.co/7IHqy2V0aO

— David Schneider (@davidschneider) May 2, 2019
https://twitter.com/Dogtrouser/status/1124051671410192384
Boris Johnson is a compulsive liar. You cannot trust a single word he says. https://t.co/eam9kPRPYK

— David Lammy (@DavidLammy) May 3, 2019
Christ almighty. This man COULD BECOME PM!! https://t.co/Qc8CShvxzl

— Helen Joyce (@HJJoyceEcon) May 3, 2019
The man that some Tories consider making Prime Minister. https://t.co/wOlV54t8mU

— Yannis Koutsomitis (@YanniKouts) May 2, 2019
Voted. Haven't voted. It's such a fine line innit.

— Sanjeev Bhaskar (@TVSanjeev) May 2, 2019
We Need Your Help!
Evolve Politics can only continue publishing our truly independent journalism because of the financial support of our readers. If you value our work, please consider subscribing or donating any amount you can afford. Every penny you contribute goes directly to our writers for their work.