Stay in touch!
Sign up to be updated with Evolve's latest stories, and for opportunities to get involved.
Following the latest Saudi-led airstrike on a funeral in Yemen that killed over 140 people and left 525 injured and wounded, Oxfam has launched a campaign asking the British government to halt all arms sales to Saudi Arabia.

The Saudi coalition have always maintained that they are seeking to minimise civilian casualties, however according to data compiled by the Guardian, one in three Saudi-led air strikes hit civilian sites. These include schools, hospitals, markets, mosques, and economic infrastructure.
The UK government has been supplying arms to Saudi Arabia for use in the war in Yemen, including export licences for £3.3bn worth of arms in 12 months from March 2015 when the war intensified. The UK is also providing Saudi Arabia with military advice and personnel, both Ministry of Defence personnel and private contractors.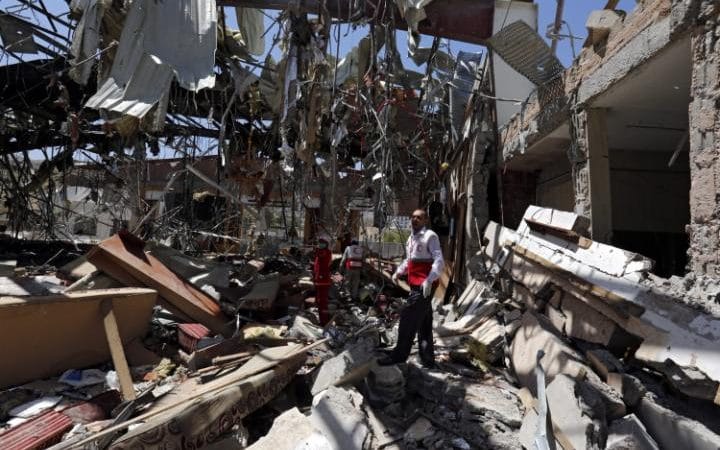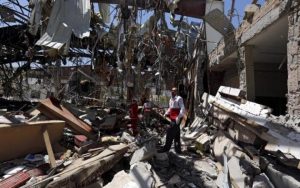 Mark Goldring, Chief Executive of Oxfam GB said
The callous bombing of a funeral in Yemen over the weekend follows months of breaches of the rules of war by all sides of the conflict. Yemeni civilians are in the firing line. The UK government should comply with the law, implement its own export licensing rules, and immediately halt sending arms to Saudi Arabia until there is no risk that they will be used against civilians.
Oxfam are asking that we all get involved, take action, and apply direct pressure to the British government to stop supporting Saudi brutality by writing to or emailing the Foreign Secretary Boris Johnson.
Johnson has the power to call for a suspension of arms exports to Saudi Arabia, and ensure that we are not complicit in the mass slaughter of innocent civilians.
Saudi Arabia released a report that they conducted regarding the funeral attack, calling it a mistake and saying that it was based on "bad information".

The investigation was supported by the US and British governments, but Oxfam has vehemently disagreed and called for an independent investigation to be carried out.

They say
There should be an immediate independent international inquiry to determine the facts. UK calls for a Saudi investigation are a diversion and will only lead to a predetermined outcome designed to justify further support to this onslaught on the people of Yemen. Those accused of a crime should not be in charge of its investigation.
Allowing Saudi Arabia to investigate itself to see if it has carried out war crimes is akin to asking an alleged serial killer to act as a judge, lawyer, and juror at their own murder trial.
Would you really expect anything other than a verdict of innocence?
The Yemen conflict has so far forced three million people to flee their homes, and over 14 million people (half the population) are suffering from hunger, and malnutrition.
Oxfam estimates that 21.2 million people are currently in need of humanitarian assistance, more than any other country in the world.

So if you believe that we need to put an end to the sales of British arms that are used to slaughter innocent civilians in the Yemen conflict, then take action today, send the email, and spread the word.
If we truly believe that we are world leaders in human rights, then the least we can do is stop selling, and profiting from arms sales to countries like Saudi Arabia.
The factories that produce the arms we sell to Saudi Arabia and others could be also used to produce things that wouldn't kill innocent people, and dare I say might actually benefit humanity in some way. Perhaps we could focus on that in future?

Get Involved
Email British Foreign Secretary Boris Johnson to demand Britain immediately halts all arms sales to Saudi Arabia – Via this link