Stay in touch!
Sign up to be updated with Evolve's latest stories, and for opportunities to get involved.
Jack Buckby, the right-wing candidate from Liberty GB, who is to contest the upcoming by-election in the constituency of the Labour MP Jo Cox, has sparked outrage by appearing to compare the murdered MP to Adolf Hitler.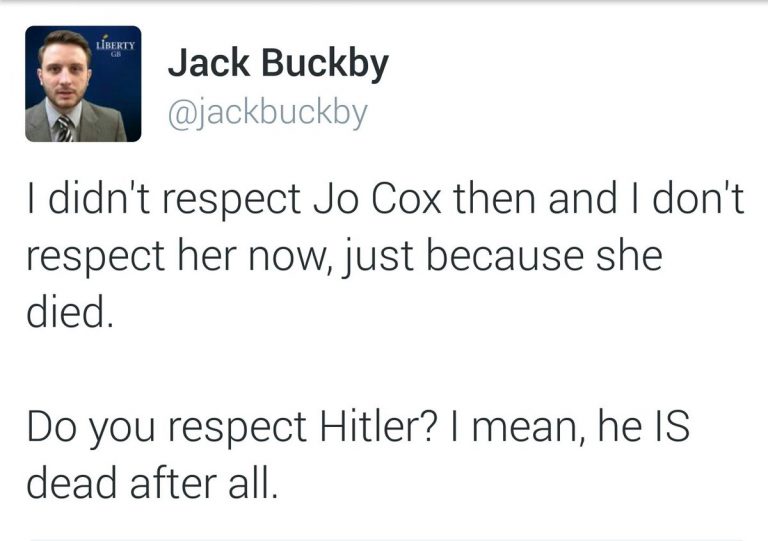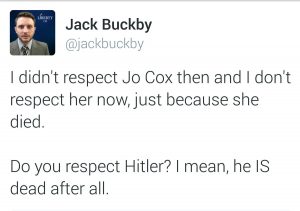 The Conservatives and Liberal Democrats have decided not contest the seat out of respect for Jo Cox. Buckby, however, has a different view. He recently claimed that
People are using emotion as an excuse to allow Labour to shoe-horn anyone they like into the seat. What people fail to realise, however, is that in a General Election, a constituency chooses a candidate and not just a party. When Jo Cox was tragically killed, the seat became vacant. It is not right or democratic under our system that a party is given free rein to appoint anybody they like. Jo Cox was elected, not the Labour Party. The constituents of Batley and Spen deserve better. Changing communities, multiculturalism and the problem of Islamic rape gangs are issues affecting West Yorkshire.
Buckby's gutter politics are not a secret. He is a former member of the BNP and close associate of Nick Griffin. He formed a group with other misfits, called the National Culturists, before he was thrown out of Liverpool University and chased out of the city by antifascists. He subsequently ended up in London and teamed up with other cranks at Liberty GB.
Liberty GB and Buckby both know that he stands zero chance of winning in Batley and Spen. His standing, his inflammatory tweets, and his inevitable failure is purely designed to whip-up and exploit racial tension, and to boost the profile of Liberty GB.