Stay in touch!
Sign up to be updated with Evolve's latest stories, and for opportunities to get involved.
A Conservative Party 'Information Officer' has been exposed distributing a widely-shared fake image of Jeremy Corbyn on Facebook in a supposed attempt to embarrass the Labour leader.
The Conservative 'staffer', Suzan Walsh, who is also an administrator of the popular Facebook group 'The Heart of British Politics', posted the below image of Jeremy Corbyn to the group.
However, thanks to fantastic investigative work from the independent blog Skwawkbox, it has now emerged that the photo of Jeremy Corbyn is a bona fide fake, with the source of the forgery allegedly emanating from Conservative Party 'employee', Walsh.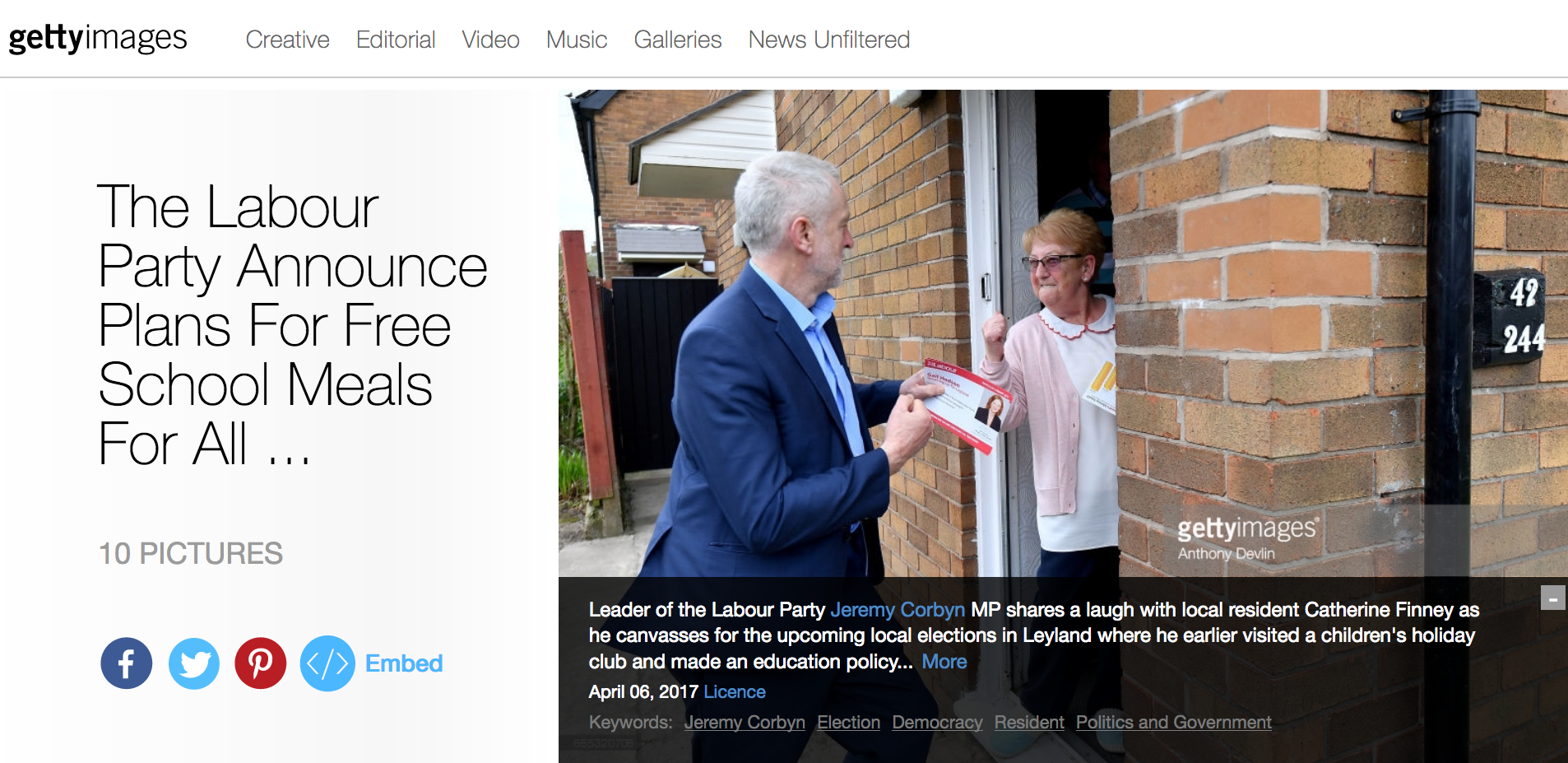 As shown in the image above from the Getty images website, the woman on the doorstep – Leyland resident Catherine Finney – is clearly pumping her fist in a show of solidarity with the Labour leader. However, the image shared by the Tory Party 'Information Officer' Ms Walsh, showed the woman sticking two fingers up at Corbyn.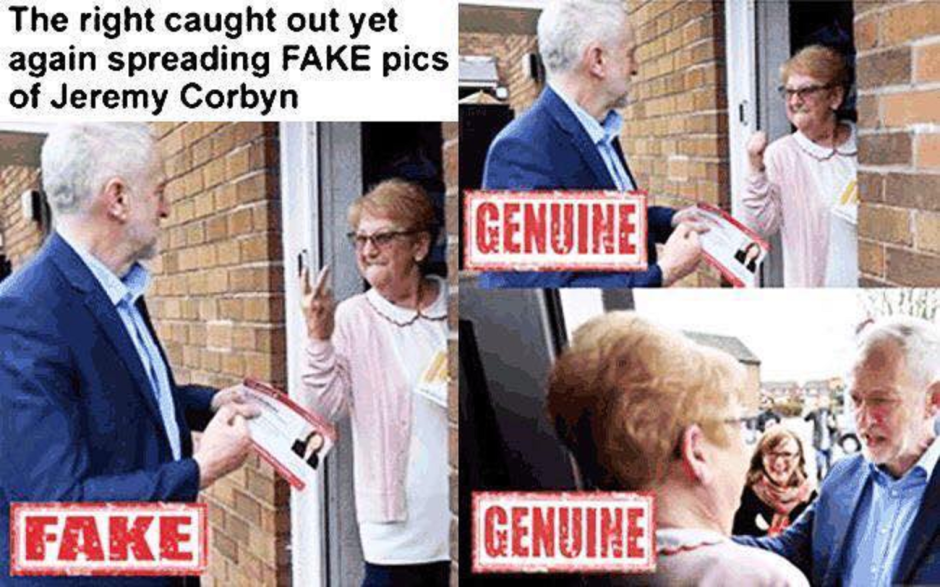 EvolvePolitics approached Ms Walsh for an interview but have yet to receive a response.
However, a 'self-appointed' PR 'spokesperson' for Walsh attempted to defend the Tory Party member's actions on a post in Ms Walsh's Facebook group, stating that EvolvePolitics' accusations against Ms Walsh were 'distorted nonsense'.
Ms Walsh's 'spokesperson', Micky Adams, went on to say that:
If you look at the post she (Ms Walsh) clearly queries the peril of photo ops and further refers to the woman confirming two labour voters in that household
Adams went on to clarify that:
You (EvolvePolitics) would be just the kind of organisation that was being complained about, using photos and distorting them to change the meaning of the original – that is the very thing she (Ms Walsh) exposed yesterday but perhaps you have a hidden agenda to cover up
Mr Adams finished his statement of utter contrived bullsh*t by saying:
if Twitter says something different please don't let the truth get in the way
Suzan Walsh's LinkedIn profile lists her as an 'Information Officer' at The Conservative Party, however when questioned, both Ms Walsh and Mr Adams declined to answer whether or not she is directly employed by the party.
Ms Walsh has previously stated on the Facebook group that she does not work for the Conservative Party. However, her LinkedIn profile clearly states that:

I (Ms Walsh) have gained a great deal of experience and understanding of the Conservative Party working with various departments throughout the 14 months.
And:
I worked with the Correspondence Team and was responsible for replying to mail sent to the Prime Minister, the Chancellor of the Exchequer, the Education Secretary and the MPs for at least 100 constituencies having to demonstrate a good understanding of the subjects and also displaying a good knowledge of the IT skills required and varied Microsoft Office competence and organisation.
And the absolute icing on top of the cherry on top of the cake:
I scooped a prestigious award which was presented to me by Lynton Crosby.
For someone who apparently doesn't work for the Conservative Party, she sure has a lot of stories about how she works for the Conservative Party. I'm not f*cking surprised she's being awarded things by Lynton sh*tting Crosby.

Further investigation has shown that the very same Suzan Walsh is also listed as a former director of 'White Mid Sloan Limited', who specialise in 'Buying and selling of own real estate'.
Also, it appears that when Tory 'employee' Ms Walsh isn't busy circulating photoshopped images of Labour politicians, she finds the time to donate large sums of money to her beloved Tory party.
In 2015 Ms Walsh found £9,000 down the back of the sofa to chuck into the already bulging Conservative Party coffers.

Ms Walsh's former company, White Mid Sloan Ltd, also lists Goldstar International Industries Ltd as one of its former directors. Goldstar are listed as being registered in the British Virgin Islands, a notorious tax haven.
We have contacted Ms Walsh several times to enable her to defend herself against these accusations, but EvolvePolitics has yet to receive any response to our messages.
EvolvePolitics has also contacted the Conservative Party who have not responded to our requests for an interview.