Thought that the economic credibility of the Conservative Party couldn't sink any lower? Think again.
In a social media faux pas, Conservative MP for Shrewsbury and Atcham Daniel Kawczynski made a tweet aimed at smearing the Labour Party's record on the economy. What he didn't realise is that instead of proving Labour are reckless – it highlighted that his own party have overseen a huge increase in national debt during their time in government.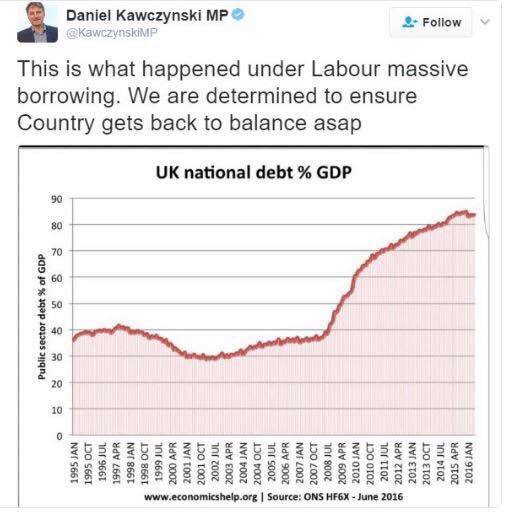 The picture in question shows the first large increase in national debt in the wake of the 2008 financial crisis – but it also demonstrates how the Conservatives have failed miserably on their promise to get debt under control. Since they first came back into power in 2010, we have heard platitude after platitude from David Cameron, George Osborne, and other Conservative cronies about their supposed economic credibility and their plans to get rid of the deficit completely. Not only have all of these promises been reneged on by the useless former Chancellor of the Exchequer George Osborne, but now Mr. Kawczynski has confirmed what we all already knew – not only does the Conservative Party have no shame, but they are also woefully incompetent at managing the economy and the national debt. 
After realising his tweet inferred his own government were as useless as a chocolate teapot, Kawczynski swiftly deleted the picture. But the internet never forgets – and the internet loved it. Thanks, Daniel.
https://twitter.com/Martin_Abrams/status/828166944171909120
https://twitter.com/trexfan2/status/828248851266097152
#DanielKawczynski with alternative facts there … What an absolute plonker!

— Olympique Hopeful (@DeuceBro1) February 5, 2017