Stay in touch!
Sign up to be updated with Evolve's latest stories, and for opportunities to get involved.
Ahead of the millionaire Chancellor Phillip Hammond's first budget on Wednesday – in which he is expected to announce billions of giveaways to the super rich and wealthy, Labour leader Jeremy Corbyn and Shadow Chancellor John McDonnell have both released their tax returns in a bid to increase transparency, and pressure Hammond to do the same – something which he has refused to do.
Corbyn released his tax returns yesterday (5th March 2017) on his website, however rather than the mainstream media welcoming this transparency and honesty from a politician, they instead decided to attack him, claiming that Corbyn was avoiding tax by not declaring £40,000 in extra income that he received as Labour leader.
The accusation has turned out to be completely false (as we would expect), illustrating the mainstream media's endless desire to create fake news that will discredit and smear Corbyn while distracting from from Hammond's tax secrecy.
Corbyn released his tax returns yesterday on his website, saying:
I am publishing the detail of my tax return here, on my constituency website. I have made it clear that I think it is right for party leaders to be open and transparent about their tax arrangements.

As you can see, my total income for 2015-16 was £114,342 and I paid £35,298 in tax.
Along with the tax return itself.
However, within hours of him doing so he was being accused of not declaring income, and thus avoiding tax by the mainstream press:


This narrative most likely originated from Guido Fawkes' website – a place which the phrase "gutter press" seems to polite to use as a description.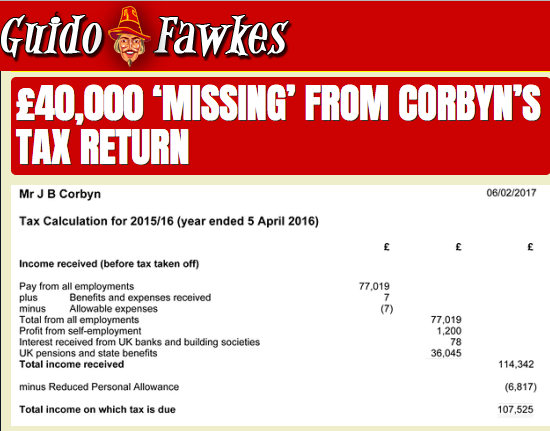 The mainstream media's attack on Corbyn illustrates their never-ending desire to simply smear him at all costs, and not bother to look at the evidence and facts before making these kinds of accusations.
Corbyn, and the Labour Party clarified the situation this morning saying that the extra amount that Corbyn earned as Labour leader was included on the tax return under the heading "public office", which could be found on page 3 of the tax return. For some reason the mainstream media appear to have missed this.
The £40,000 figures itself was also wrong. This was based on a maximum estimate, that would mean Corbyn would be paid almost the same as the Prime Minister.
Jeremy Corbyn supports tax transparency and welcomes scrutiny of his own #taxreturn, but some reports have been misleading. For the record: pic.twitter.com/sqnqILkdkR

— Labour Leader Media (@LOTOcomms) March 6, 2017
Transparency invites scrutiny. I welcome it as should all those seeking highest office. My taxes fully paid, nothing missing, nothing hidden

— Jeremy Corbyn (@jeremycorbyn) March 6, 2017
If the mainstream press had not been so quick to jump to conclusions, and to actually read the tax return properly then they wouldn't look so idiotic today. Not only is it terrible journalism, but it's also fake news. 
The story was designed to spin away from the fact that Hammond repeatedly refused to release his tax returns after snapping at Andrew Marr when grilled about this on Sunday ahead of his first budget this coming Wednesday.
This raises the obvious question: why the secrecy from Hammond? Given that he is the chancellor and sets the budget, and tax laws why would he not release his tax returns?
Hammond is the second richest member of the cabinet and is reported to have a net worth of £8.2 million having made his fortune through investment which includes owning stakes in nursing homes, healthcare companies and business consultancies.
Ahead of Wednesday's budget Corbyn and McDonnell are calling on the government to use the expected £12 billion extra raised from this years tax receipts on plugging the funding gap in adult social care, and the NHS (the rise in tax revenue mainly comes from the self employed who are working in the insecure, low paid "gig economy" for comapnies such as Deliveroo, and Uber.)
As well as this McDonnell is pressuring Hammond to create a fairer tax system, put an end to tax loopholes and saying that:
The Chancellor must reverse the £70bn giveaway to the super-rich and giant corporations between now and 2021.
And:
The fact that the wealthy can seemingly dodge their taxes at will has further undermined public confidence in the tax system.
Earlier this year McDonnell also released his tax returns. This move also illustrates part of a policy that McDonnell would like to introduce which would mean that anybody making over a million pounds a year has to make their tax returns public.
McDonnell says:
There'll be no place to hide for tax avoiders under Labour.
And:
Our Tax Transparency and Enforcement Programme will clamp down on the worst avoiders.
And building on the successful Nordic model, we'll introduce legislation to make public the tax returns ofthose earning over £1m.
The mainstream media's obvious, and crude attempt to discredit Corbyn's tax transparency by creating fake news is just the latest in their ever-increasingly ridiculous attacks on Corbyn and McDonnell.
The fact that both of them have released their tax returns shows a commitment to transparency in government that we should all welcome, as well as commitment to their own policy ideas. Polling consistently shows that a majority of the population want greater taxes on the wealthy, a clampdown on corporate give aways, and an end to tax loopholes for billionaires.
This is precisely why the mainstream media never talks about Corbyn and McDonnell's polices on tax. Instead, they have to focus in trying to smear them with garbage like this.
Considering that some of the worst mainstream media offenders of Corbyn smears and fake news are themselves massive tax avoiders (Daily Mail for example) attacks like these seem all the more ironic.