A billionaire-funded far-right organisation who fervently support Boris Johnson's Conservative Party have been exposed creating and disseminating outright lies about a Labour Party MP who spent 25 days in Intensive Care and almost lost his life to Coronavirus – all in a ghoulish bid to distract members of the public from the scandal surrounding the PM's chief advisor Dominic Cummings.
In a now deleted social media post, the hard-right astro-turf organisation, Turning Point UK, falsely claimed that Labour MP Tony Lloyd had breached lockdown rules by supposedly travelling from London to Manchester whilst suffering from Coronavirus.
The deceptive meme, which was widely shared across social media before it was finally removed, also suggested that the UK media were displaying double standards for reporting on Dominic Cummings' multiple lockdown breaches and not focussing on Mr Lloyd's supposed misdemeanours – posing the question:
"Where's the media witch hunt?"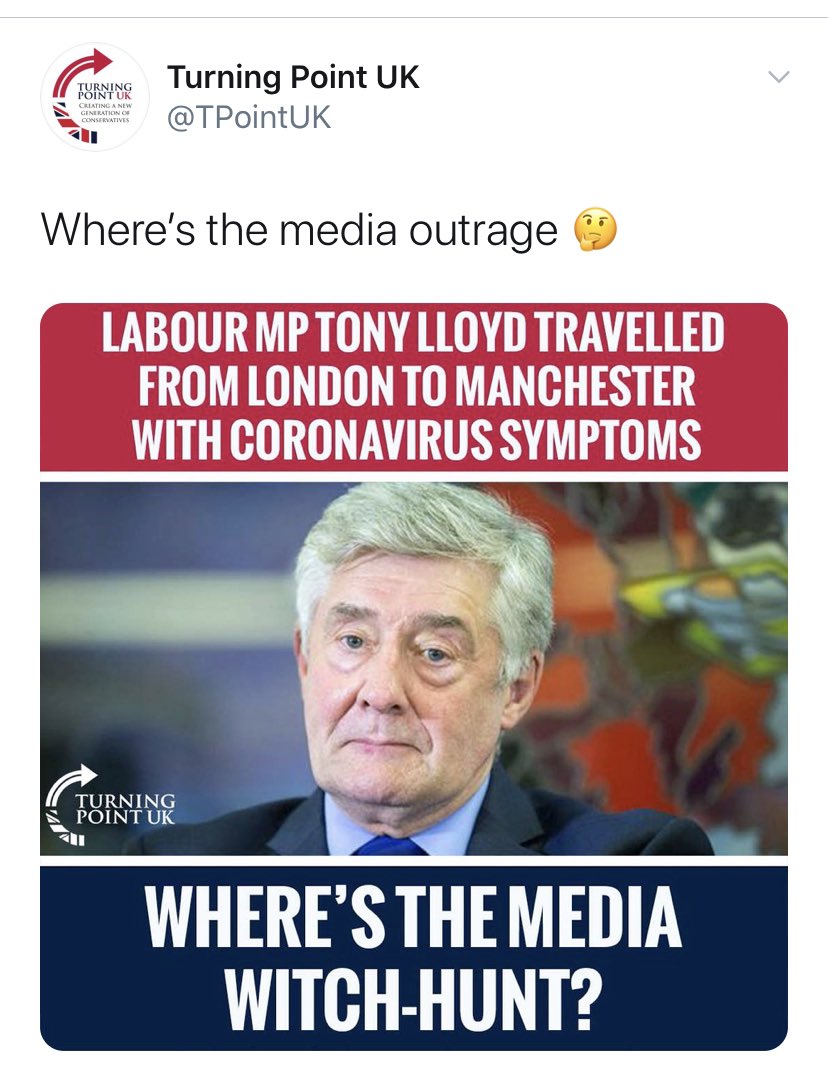 Unsurprisingy, the post created uproar amongst the far-right organisation's few loyal supporters – and was quickly disseminated by them into numerous political Facebook groups and widely retweeted on Twitter.
However, despite the post gaining wide attention, the central claim contained within it is entirely untrue – Mr Lloyd did not travel anywhere, except by ambulance from his home to Manchester Royal infirmary, whilst suffering Coronavirus symptoms.
Indeed, Mr Lloyd only became symptomatic after he had returned from Westminster to his Manchester home.
This fact can be found in a wide-ranging and deeply emotive interview about his experience reported by The Guardian on April 30th.
In the piece, Mr Lloyd revealed that he had spent 25 days in ICU fighting the virus, including 10 days in an induced coma on a ventilator, before making his recovery.
Had Turning Point bothered to read all the way through just paragraph two, they would have seen that Mr Lloyd clearly states that he had "been feeling ropey for two weeks when I went into hospital on 2 April, ever since I'd come back up to Manchester from Westminster".
Yes, Mr Lloyd did not travel whilst symptomatic as Turning Point had claimed. – but he had started feeling ill after he had returned home from working in Parliament.
After Evolve Politics confronted Turning Point over the facts on Twitter, the organisation quickly removed the post – but not before countless people had shared the meme all over social media.
Numerous furious right-wingers had simply saved the meme as a picture and republished it on their personal Facebook pages and into political discussion groups – posts which inevitably received hoardes of angry and entirely misinformed comments complaining about supposed "double standards" from the media.
Unfortunately for Turning Point, the libellous meme contains their official logo – meaning that, despite deleting the post, the organisation may still be liable for damages should Mr Lloyd decide to take legal action.
Turning Point have so far failed to apologise to Mr Lloyd or even offer a simple correction for their actions.