The UK's main press regulator, IPSO, have refused to take action over more than 50 national newspaper articles containing dangerous conspiracy theories, serious disinformation, or outright lies about Covid-19 since the beginning of the pandemic, an extraordinary new report has revealed.
Whilst social media outlets such as Facebook and Twitter have implemented procedures in an attempt to swiftly remove Covid fake news, the Independent Press Standards Organisation (IPSO) have refused to take any action whatsoever against a raft of "recklessly inaccurate, misleading, or untrue" articles – including ridiculous conspiracy theories, egregious distortions, and verifiable lies – published by UK mainstream media outlets since March 2020.
The staggering report, compiled by Press Regulation campaigners Hacked Off and shared exclusively with Evolve, shows that even supposedly respectable mainstream media outlets, such as The Telegraph and The Times, have been allowed to get away with publishing fake news regarding the ongoing pandemic by the UK's Press Regulator.
Hacked Off's report details a total of 55 "verifiably false or misleading" Covid articles which were published by UK mainstream media outlets throughout 2020 – and that, despite a majority of the articles being entirely discredited by independent fact checkers such as Full Fact, IPSO had taken absolutely no action against a single one of them.
Perhaps unsurprisingly, the Daily Express was found to be the worst offender – with IPSO allowing the hard-right outlet to get away with publishing a grand total of 13 fake news articles regarding the pandemic during 2020.
Next in the list of shame was The S*n, with Hacked Off finding 11 of their articles contained Covid disinformation, followed by Mail Online (10), The Telegraph (9), The Daily Mirror (7), The Daily Star and The Metro (jointly on 2), and The Times (1).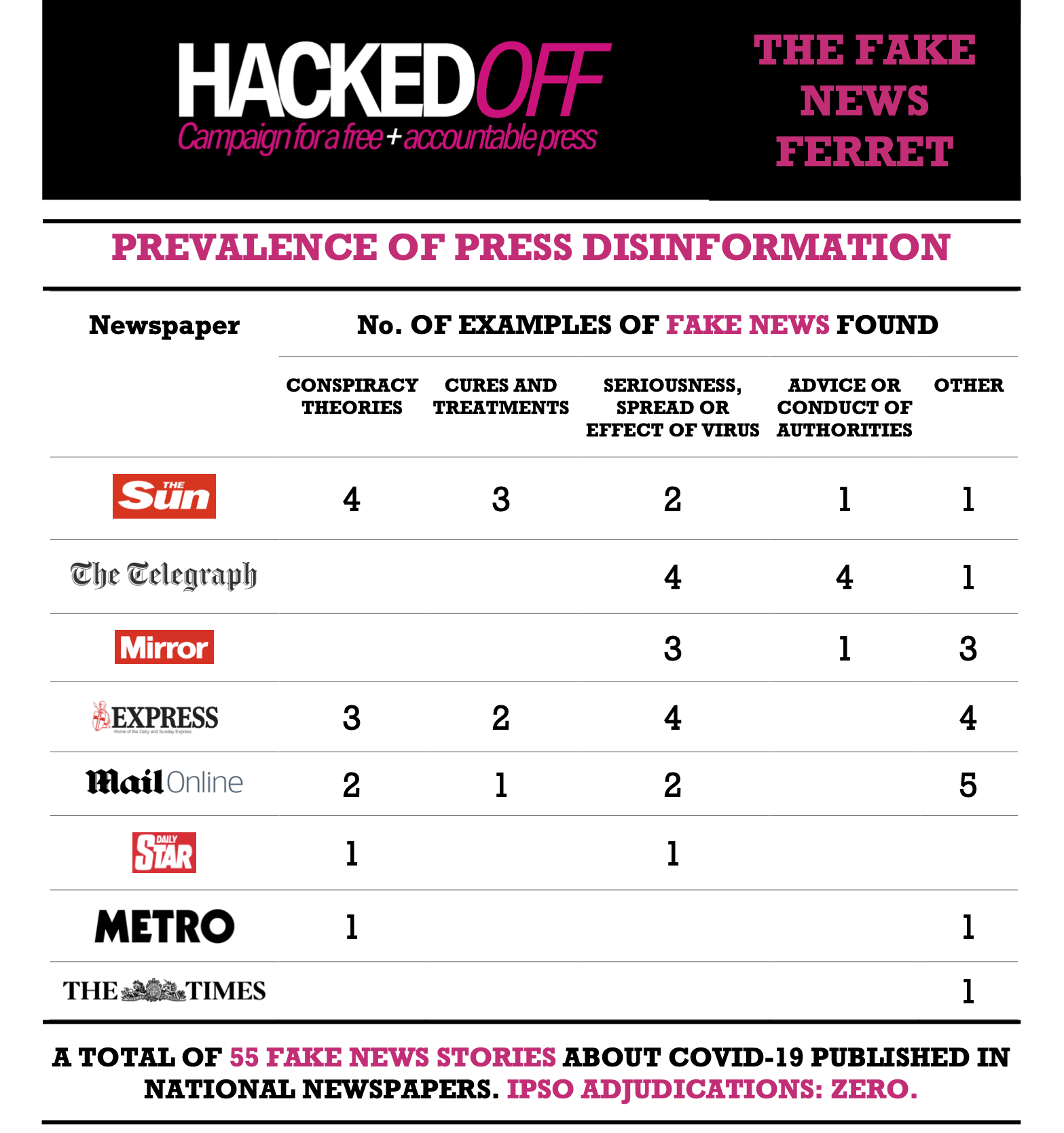 As detailed in Hacked Off's report, examples of the dangerous misinformation published by the UK media throughout 2020 include:
Conspiracy theory linking Coronavirus to 5G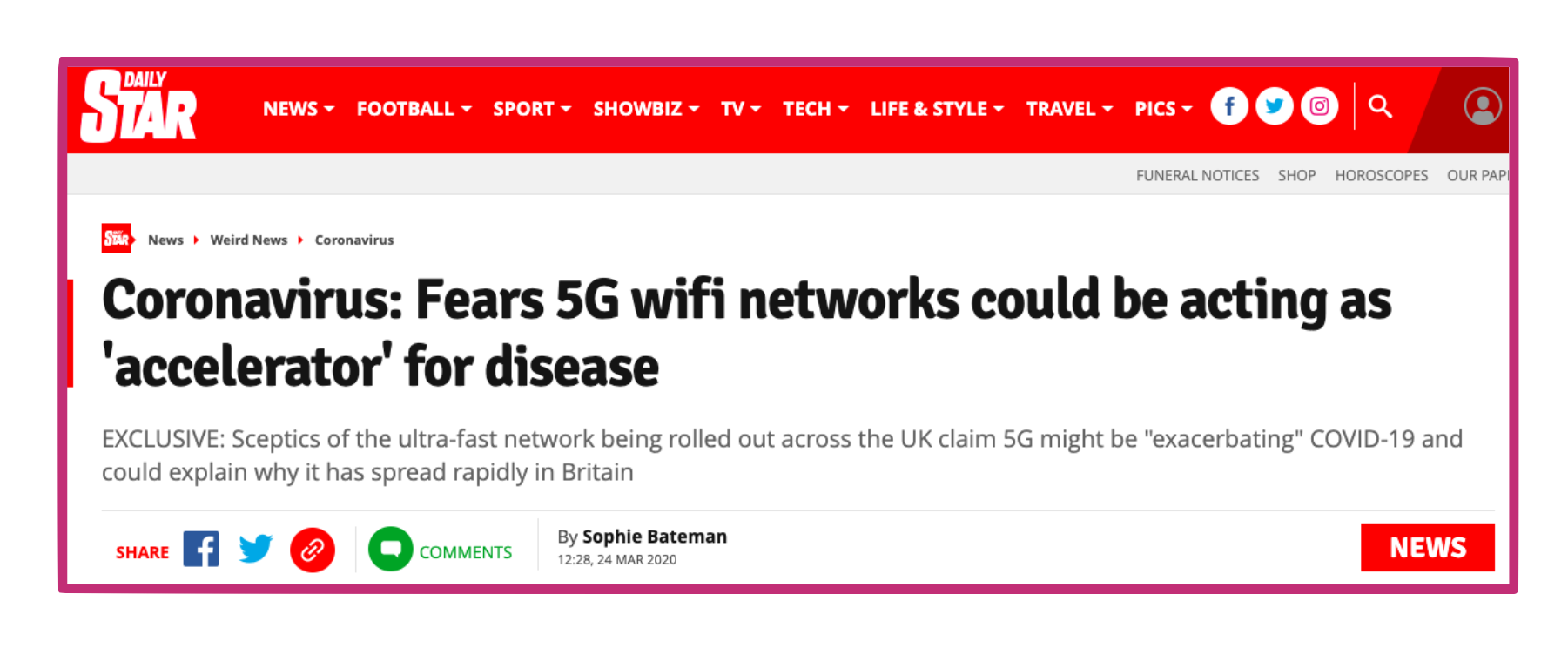 In March, a Daily Star article claimed that 5G wireless networks might be responsible for the rapid spread of the new coronavirus – a conspiracy theory which was widely attributed to social media and had already been entirely debunked by scientists.
Regarding the claim, FullFact published a response categorically stating that it was "not true" and that there was "no evidence that 5G WiFi networks are linked to the new coronavirus".
According to Hacked Off:
"The rise of the 5G conspiracy theory is widely believed be the cause of a surge in suspected arson attacks on phone masts, which have caused expensive damage and endangered the lives of engineers working on them.
"Weeks after the story was published in the Daily Star, the mast serving the emergency NHS Nightingale hospital in Birmingham was among 20 cases of phone masts being targeted in suspected arson attacks.
"After republishing and amplifying the entirely debunked conspiracy theory, the Daily Star was then quick to condemn those who vandalised phone masts as 'idiots'.
"The BBC's disinformation unit has now found that across the UK, more than 70 phone masts have been vandalised."
Conspiracy theory linking Bill Gates to the pandemic
Again in March, both The S*n and The Metro newspapers published a completely made up quote claiming that Bill Gates had described COVID-19 as a "great corrector in our lives".
Conspiracy theories linking the billionaire Microsoft founder to Coronavirus have been widespread on social media from the beginning of the pandemic, with many of the claims falsely alleging that Gates had started the virus or has a pre-formulated vaccine reserved for "elites".
According to a BuzzFeed investigation, the false quote appears to have begun in a tiny Facebook group, before being quickly boosted by a number of verified Facebook accounts with large followings – most notably by Julian Lennon, a British singer and the son of John Lennon: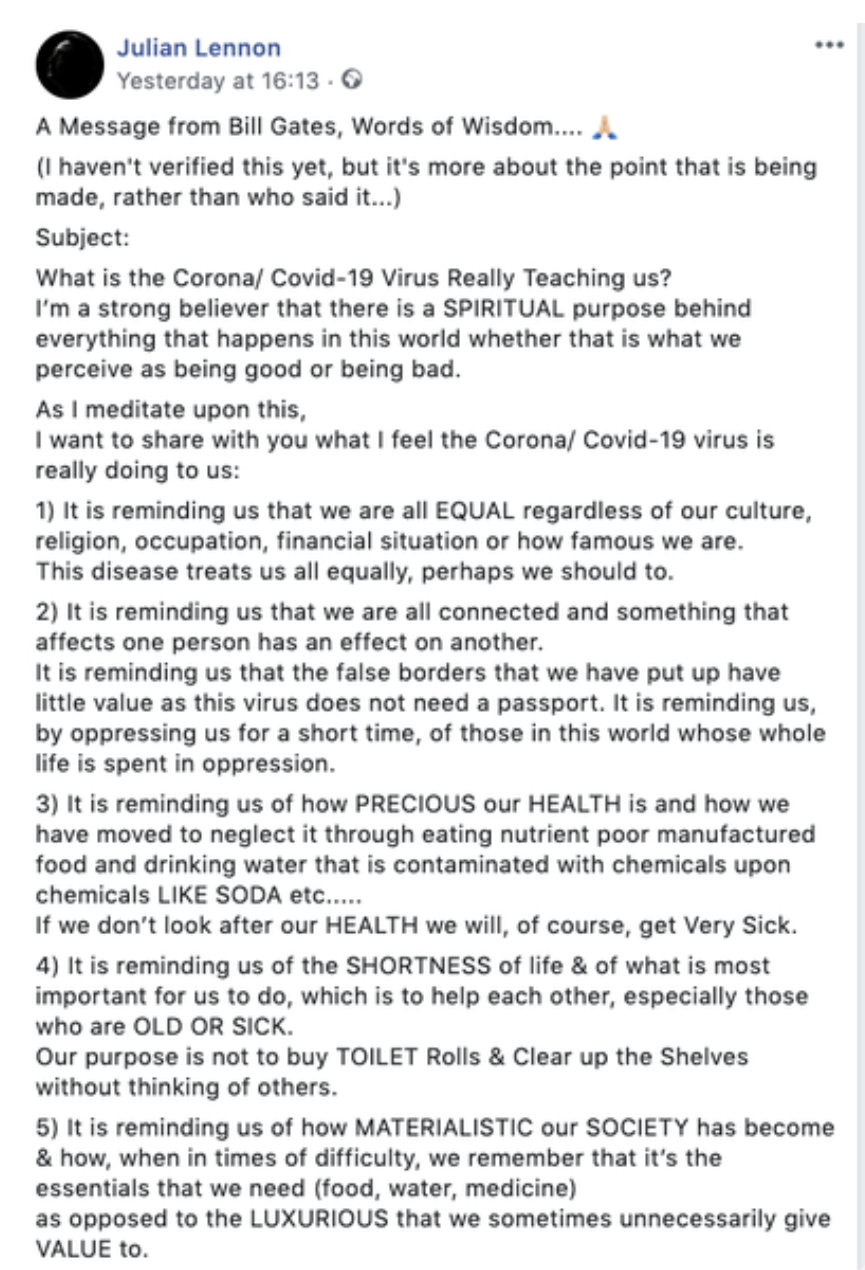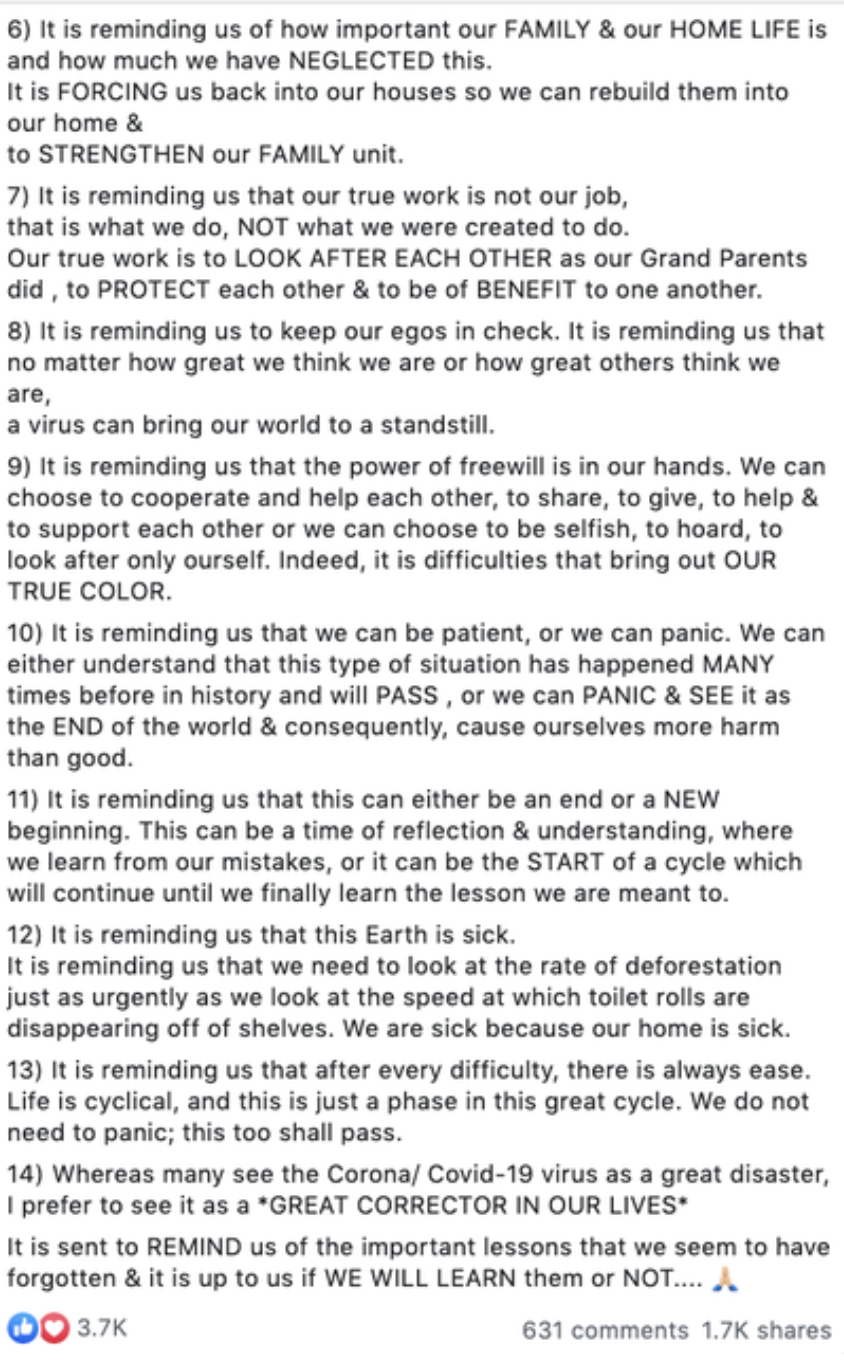 Despite numerous grammatical errors, added to the particularly wacky nature of the quote, both The S*n and The Metro decided to simply assume it was genuine without even a cursory amount of fact-checking, before publishing widely-shared articles about it.
However, despite the Bill Gates Foundation clarifying that the quote was entirely bogus, and the articles subsequently being removed, IPSO decided to take absolutely no action against either publication.
In addition to the two pieces listed above, the full Hacked Off report provides details of a number of other wholly discredited articles which were published by mainstream media outlets about the pandemic, and which IPSO has steadfastly refused to take action against.
These pieces include false claims about potential cures and remedies, completely bogus criticism of Covid statistics, and a number of other entirely discredited conspiracy theories – including debunked claims about mass Chinese cremations of Coronavirus victims, and a totally false allegation that people with Down's syndrome might be left to die by the NHS to save resources.
All of the media outlets exposed in the report are officially regulated by the supposedly independent press regulator, IPSO – however, as Hacked Off state:
"IPSO was set up by the big newspaper companies to give the perception of accountability, so that the corporate press could claim that they are different from social media platforms like Facebook and Twitter. But the reality is that, in this respect, they are no different at all."
In a statement responding to the findings in their report, Hacked Off Board member and former columnist for The S*n, Emma Jones, wrote:
"A good journalist tells the truth, and lives or dies on the trust they build. That's the most important thing.
"The newspaper industry must support journalists to deliver trusted news.
"When newspapers fail to do so – as both tabloids and broadsheets have for decades – then it is at the expense of the reporters who work for their publications. And, of course the public, who are fed lies dressed-up as fact.
"This is never more vital than at times of national crisis when people's lives are at risk. Readers rely on newspapers to deliver accurate information for public health.
"All journalists' reputations are threatened by spoofed-up stories, political propaganda and commercial disinformation.
"However, fake news is peddled on an industrial scale because investment in real news gathering is more expensive. The big publishers also want to protect their power, mainly over politicians – but also against anyone who stands up to them.
"The newspaper industry has a duty to its hard-working staff – who are more often than not lowly paid, over-stretched and sometimes bullied – to provide the best standards and conditions for truthful reporting to take place.
"A regulated, Leveson-compliant newspaper industry would serve and support journalists to do their jobs to the best of their abilities as well as serving its readers."
Whilst Dr Tony O'Sullivan, a retired Consultant Paediatrician and the Co-Chair of the Keep Our NHS Public organisation, said:
"Responsible reporting can be an invaluable tool in highlighting the realities of both frontline NHS conditions and public safety information during a pandemic, and we welcome working with the press in these instances.
However, knowingly spreading dangerous misinformation or publishing damaging reports without properly fact-checking (as a minority have done) undermines public health efforts and is frankly insulting to thousands of frontline healthcare staff currently working so very hard; we know also that hearing these sorts of irresponsible stories repeated deeply affects morale. This lazy journalism needs to stop as it does real damage to the vital efforts of us all in fighting the biggest health crisis we have seen in more than a century."
And Dr Philippa Whitford MP, APPG of Vaccinations for All, stated:
"With the internet already awash with fake news on Covid-19, surely it's reasonable to expect reputable journalists to do their research before publishing conspiracy stories which may endanger lives."
Hacked Off was founded in 2011 in response to the phone-hacking revelations and campaigns for a free and accountable press for the public.
The organisation's other board members include Hugh Tomlinson QC, Professor Steve Barnett of the University of Westminster, as well as esteemed actor and a victim of phone-hacking, Hugh Grant.
You can read the Hacked Off report detailing mainstream media Coronavirus disinformation in full here.
[Please note that since Hacked Off's report was finalised, and during the time it has taken Evolve to write this article, IPSO have finally taken action against a single article containing Covid Fake News – a dangerously misleading piece of Covid disinformation written by Toby Young for The Telegraph.
However, Young's offending article was not one of those included in Hacked Off's list of 55 fake news articles. Furthermore, it took IPSO a full 6 months to make their adjudication – by which time the damage of Young's misinformation had already been done.]