It's been just over 7 months since Keir Starmer was elected leader of the Labour Party. However, despite winning over a convincing majority of Labour members back in April, and pulling level with the Tories in the polls, the former Director of Public Prosecution's performance since his election victory has bitterly divided opinion within the party.
Key to Starmer's successful leadership campaign were his 10 key pledges, with the Holborn and St Pancras MP promising members he would maintain the vast majority of Jeremy Corbyn's policy platform – especially in areas such as the economy, climate change and social justice, as well as keeping many of the party's recent stances in areas such as immigration, foreign policy and human rights.
However, over the past few months, Evolve have received numerous messages from Labour members who say that whilst they voted for Keir Starmer in the leadership election, they believe he has already backtracked on many of the promises he made to them.
With this in mind, Evolve decided to take a leaf out of Starmer's notebook and do some forensic research.
We have analysed every single aspect of Starmer's 10 leadership election pledges against what he and his Shadow Cabinet have said and done over the last 7 months.

Here's what we found:
1) Economic Justice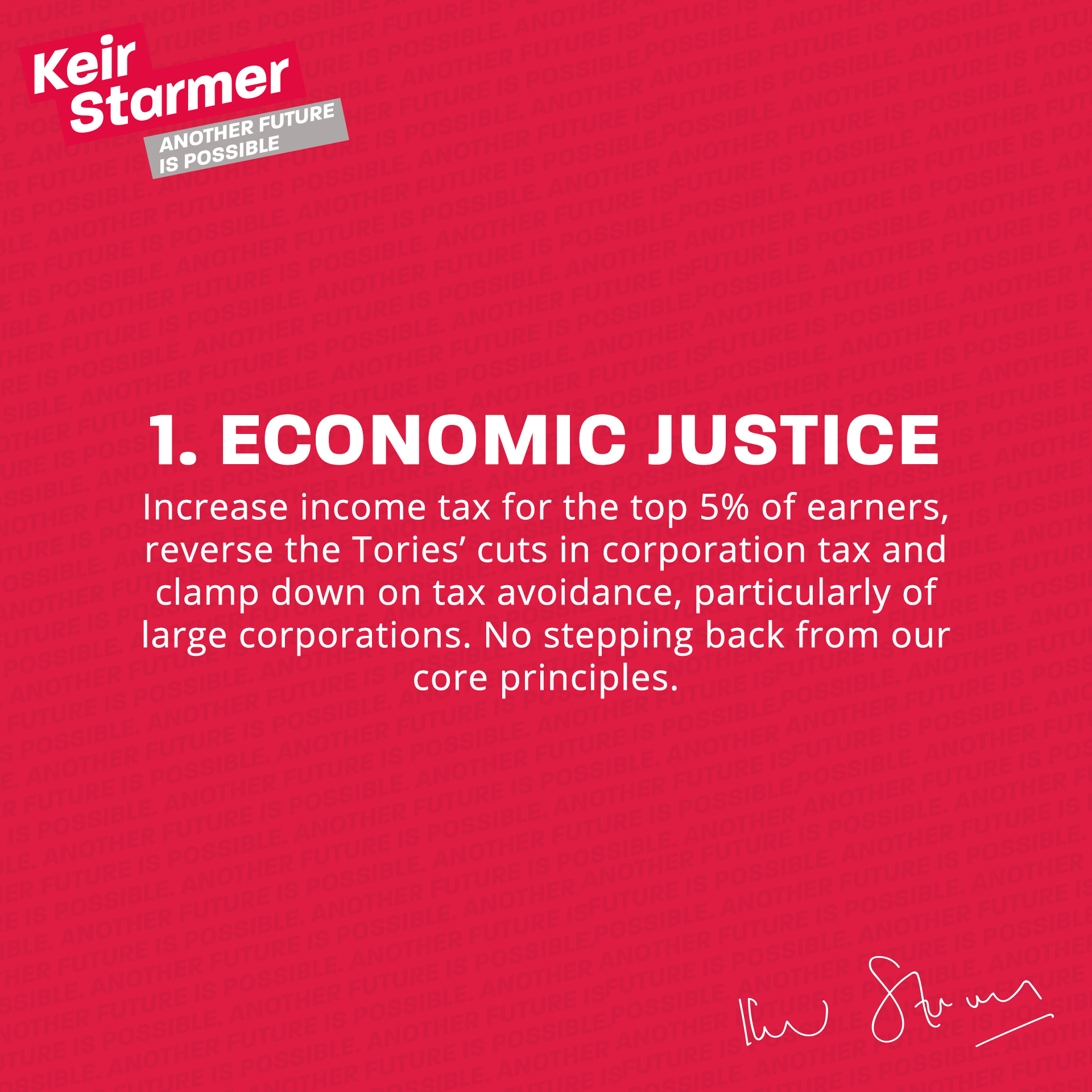 Increase income tax for the top 5% of earners –

ROWED BACK ON



In July, Labour's Shadow Chancellor of the Duchy of Lancaster, Rachel Reeves, repeatedly refused to back Keir Starmer's promise to increase tax on people earning over £80,000 – stating that the party needed to "reassess" the policy.
#Marr: Is Labour against tax rises on those earning over £80,000?

Shadow Cabinet Office Minister Rachel Reeves: "We would look at any proposals the government have put forward"https://t.co/qNf5AhFTTK pic.twitter.com/1jGkDOIiJZ

— BBC Politics (@BBCPolitics) July 12, 2020
Labour argued that, amid the ongoing pandemic and the resultant recession, any form of tax rises would inhibit the UK's economic recovery.
However, Labour's Shadow Chancellor, Anneliese Dodds, appeared to distance herself from the policy altogether – saying that such a Wealth Tax "would only be needed if we are not growing our way out of this crisis".
In response to criticism over the party's apparent backtracking, Keir Starmer's spokesperson said the Labour leader still stood by his commitment to raise taxes on the top 5% of earners, but refused to confirm whether or not it would be included in the party's next manifesto – stating:
"Keir made those commitments during the leadership campaign, but we're four years out from a general election and the next manifesto will set out our full tax policy at the time."
"Keir stands by the commitments he made during the leadership election, but in terms of our final tax plans they'll be set out at the next election in the manifesto."
Reverse the Tories' cuts in corporation tax –

ROWED BACK ON



In line with the party's current position that tax rises would harm the UK's economic recovery, the Labour leader's office also confirmed in September that the party would not support any rises in Corporation Tax or Capital Gains Tax in the Autumn Budget.
It is unclear whether Labour will support rises in Corporation Tax, as per Keir Starmer's Leadership Election pledge, in their next manifesto.
Clamp Down on Tax Avoidance –

QUESTIONS TO BE ANSWERED



Since he became leader in April, neither Keir Starmer nor any member of his Shadow Cabinet appear to have made any prominent statements regarding clamping down on tax avoidance.
However, following the result of the leadership election being announced, it was revealed that one of Keir Starmer's key election donors was Trevor Chinn – a multi-millionaire who not only opposes tax rises for the rich, has also defended tax avoidance measures.
No stepping back from our core principles – QUESTIONS TO BE ANSWERED
Given that the party already appears to have rowed back on Keir Starmer's key economic pledges (albeit under unprecedented economic circumstances), added to their continued refusal to commit to the pledges in their next manifesto, it is fair to say that Labour appears to have stepped back somewhat from the core economic principles it held during Jeremy Corbyn's leadership.
However, in a recent interview with Huff Post, Starmer responded to criticism by denying that he was planning to ditch any of his leadership pledges, stating:
"No, they were important pledges – very important pledges – in terms of the approach I would take and the priorities I would have as leader of the Labour party, and they remain my priorities."
In addition, the Labour leader even suggested the party may need to be even "bolder" with their economic policies in order to deal with the fallout of the ongoing pandemic, adding:
"What I'm saying is: the work and the challenge now is so much more profound than we thought it was in 2019 – or even this year before the pandemic hit. It actually means we might have to be bolder than we might have imagined."
However, Starmer refused to be drawn on exactly what his economic policies would be, stating:
"The next general election is in 2024, so I don't think it's prudent at this stage to set out tax arrangements for 2024, when we don't know the size of the debt, we don't know the damage that has been done."
2) Social Justice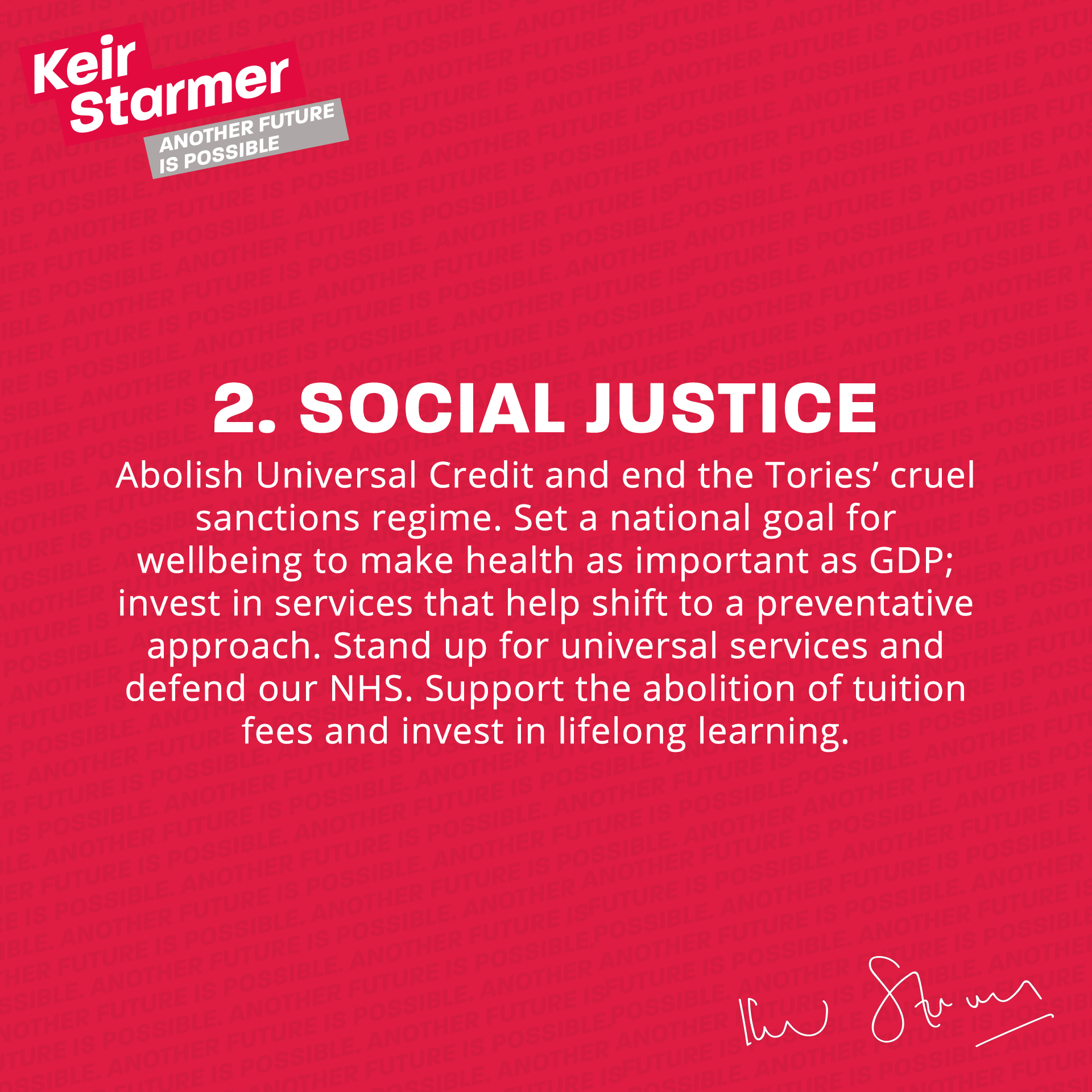 Abolish Universal Credit –

PLEDGE KEPT
In September, Labour's Shadow DWP Secretary, Jonathan Reynolds, confirmed in an article that it was still the party's commitment to scrap Universal Credit and replace it with a "safety net that works for all".
End Benefits Sanctions –

UNCONFIRMED BUT LOOKS POSITIVE



Whilst Labour do not appear to have committed themselves to abolishing Benefit Sanctions entirely since Keir Starmer became leader in April, the party's Shadow DWP Secretary has called on the government to extend the ongoing benefit sanctions suspension during the pandemic.
Speaking in the House of Commons on June 29th, Jonathan Reynolds said:
"At a time when unemployment has risen sharply, the number of vacancies has dropped, people are shielding and schools have not yet gone back, threatening people with reducing their financial support if they do not look for jobs is surely untenable, so will the Secretary of State announce an immediate extension?"
Set a National Goal for Wellbeing and Make Health as Important as GDP –

N/A
This pledge can only be properly measured if Labour attain power.
Invest in Services that Help Shift to a Preventation Approach – QUESTIONS TO BE ANSWERED
Keir Starmer recently encountered criticism after describing the Black Lives Matter movement's policy to "Defund The Police" – which, contrary to the extremely poorly-worded slogan, actually calls for the reallocation of policing funding towards preventative measures in order to tackle crime more effectively – as "nonsense".
Starmer added that:
"Nobody should be saying anything about defunding the police, and I would have no truck with that – I was the Director of Public Prosecutions for five years."
"I worked with police forces across England and Wales bringing thousands of people to court. So my support for the police is very, very strong and evidenced in the joint actions I've done with the police."
The 'Defund The Police' slogan has been widely criticised by many on the left as it does not fully explain the policy, and it is entirely possible that Starmer simply did not know that it actually entailed shifting funding towards preventative measures.
However, despite issuing an apology over a separate flippant comment he made during the same interview, the Labour leader has still not clarified his position on the reallocation of funds towards preventative measures in order to tackle crime.
Stand Up for Universal Services & the NHS –

PLEDGE KEPT



Keir Starmer has repeatedly stood up for the NHS during the ongoing pandemic – with the Labour leader also saying that after the crisis had passed there would need to be a reckoning regarding pay towards our "underpaid and undervalued" NHS staff.
The Labour leader also cited the NHS in his keynote Labour Conference speech, criticising the government's "under-funding of the NHS, the abandonment of social care and the lack of investment in prevention" as well as mentioning "properly funded universal public services" as a key priority.
Support the Abolition of Tuition Fees and Lifelong Learning –

PLEDGE KEPT



Labour's Shadow Education Secretary, Kate Green, confirmed that the party will be maintaining their core education policies to abolish Tuition Fees and create a National Education Service for Lifelong Learning.
3) Climate Justice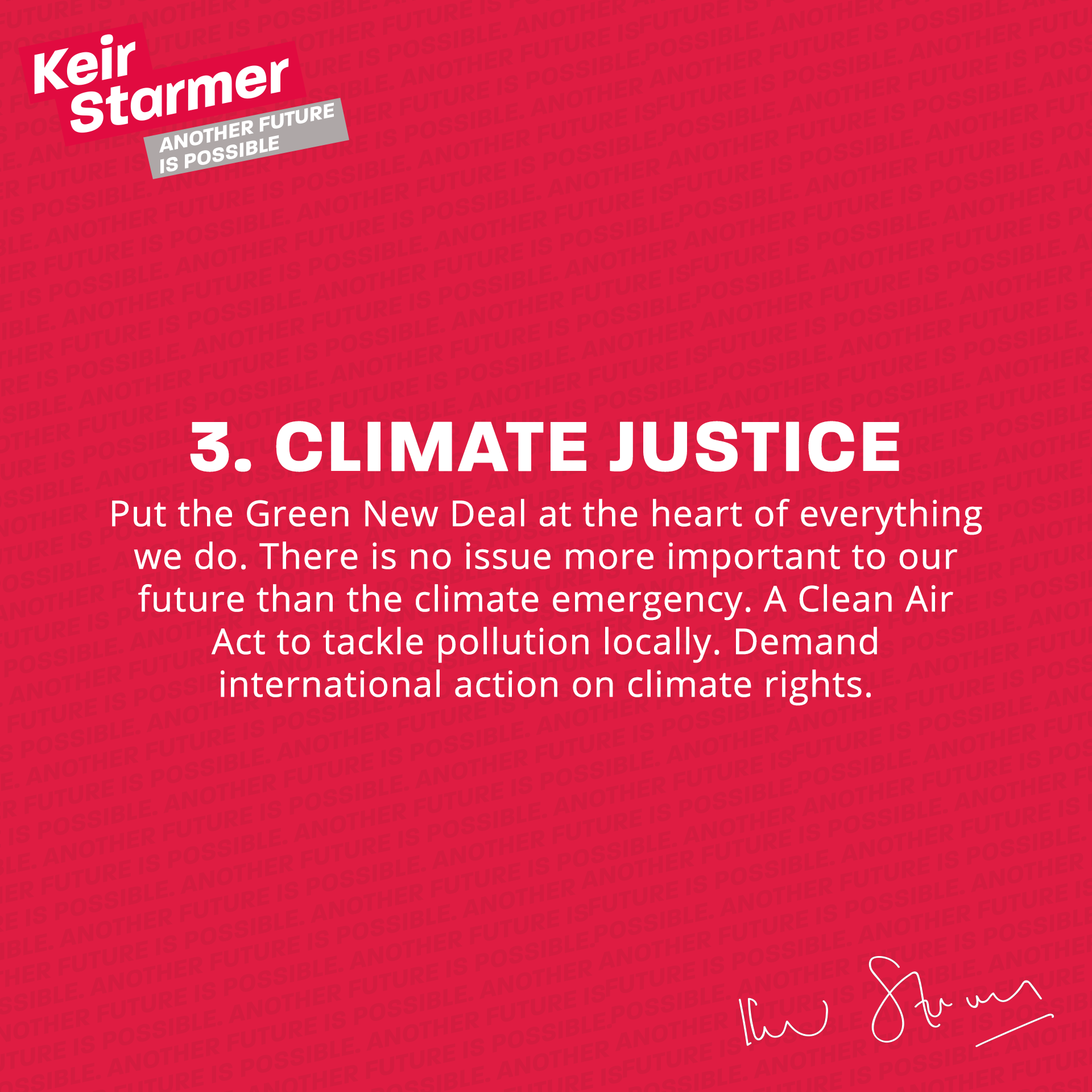 Put the Green New Deal at the heart of everything we do –

QUESTIONS TO BE ANSWERED



Unfortunately, Keir Starmer's pledge to put the party's Green New Deal policy at the heart of everything they do is an extremely tough pledge to keep given the unprecedented pandemic we currently find ourselves in.
However, the Labour leader has already rowed back on the pledge to some extent after refusing to commit to the current Labour policy of net carbon neutrality by 2030.
When pushed on whether Labour might abandon the policy, Starmer's spokesman said:
"The last manifesto made a number of really important commitments on this, which Keir supported, but we lost the election and Labour lost five years in government to tackle climate change."
"The next manifesto, the next target, will be written in four or five years' time and we'll have to deal with the circumstances we are in then."
A Clean Air Act to tackle pollution locally –

PLEDGE KEPT
Keir Starmer had been talking about introducing a Clean Air Act for years before he became Labour leader – and he also reportedly reiterated his commitment to the policy at Labour conference in September.

It must also be noted, however, that Starmer recently encountered personal criticism after it was revealed that he drives a gas-guzzling SUV.
Demand international action on climate rights –

INCONCLUSIVE



We're not entirely sure what "climate rights" are – but we assume that Mr Starmer meant "climate change" in this pledge.
However, since becoming Labour leader, Starmer does not appear to have urged any international action on climate change.
4) Promote Peace & Human Rights

No more illegal wars – 

QUESTIONS TO BE ANSWERED
Keir Starmer has not yet started any illegal wars.

However, one of Starmer's first moves as Labour leader was to appoint John Healey as Shadow Defence Secretary. Healey, who was a junior minister under Tony Blair, consistently voted in favour of the illegal Iraq War and against investigations into it.
Introduce a Prevention of Military Intervention Act and put human rights at the heart of foreign policy –

BROKEN
In terms of putting "human rights at the heart of foreign policy", Keir Starmer has already backtracked massively on this promise after ordering Labour MPs not to oppose the Tories' widely-derided Overseas Operations Bill – a piece of legislation which effectively makes it legal for British troops to use torture against their opponents. Starmer also sacked three members of the Shadow Cabinet – Nadia Whittome, Beth Winter and Olivia Blake – for breaking to party whip by voting against the bill.
In addition, Starmer has also encountered criticism after backtracking on Labour's policy towards Kashmir by refusing to support self-determination for the Kashmiri people – a shift which led to more than 100 mosques and Islamic centres across the country threatening to boycott the party.
The Labour leader has also refused to support Labour's current policy of sanctions against Israel if they break international law by annexing more Palestine territory.
Review all UK arms sales and make us a force for international peace and justice –

QUESTIONS TO BE ANSWERED
Labour have consistently called for the government to review arms sales since Keir Starmer became leader – with the shadow minister for peace and disarmament, Fabian Hamilton, also calling on the government to re-establish the parliamentary committee on arms export controls.
However, Starmer's positions on the Overseas Operations Bill, on Kashmir, and on Israeli sanctions, are clearly contrary to his pledge to make the party a "force for international peace and justice".
5) Common Ownership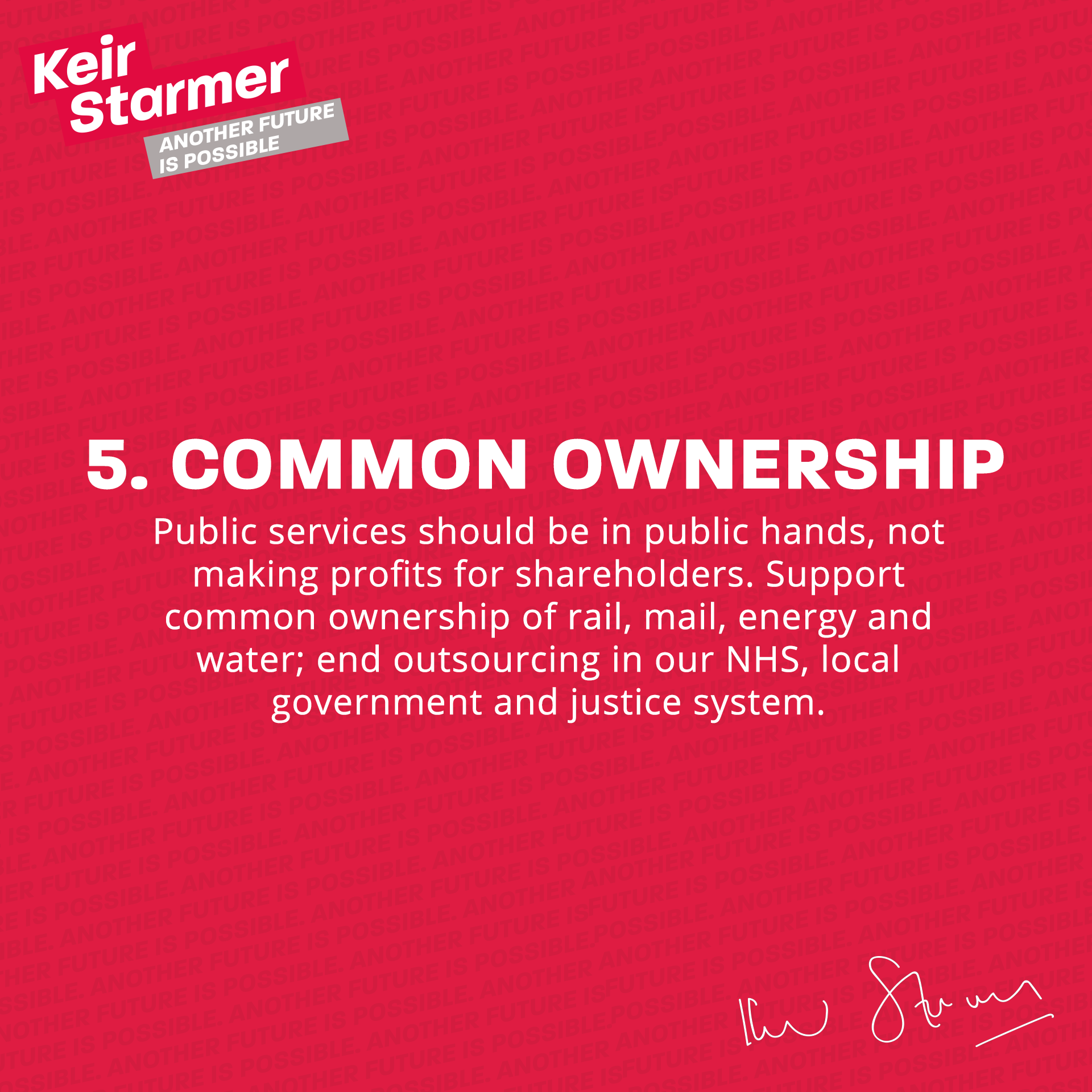 Support common ownership of rail, mail, energy and water; end outsourcing in our NHS, local government and justice system – ROWED BACK ON
In September, Labour's Shadow Foreign Secretary, Lisa Nandy, refused to back Keir Starmer's leadership pledge to nationalise Rail, Mail, Energy and Water – stating that public ownership of these utilities was simply "one way" of doing things.
What about his fifth pledge, on common ownership of rail, mail, energy and water? Lisa Nandy says public ownership is "one way" and "another way" is "giving people more control" #PoliticsLive

— Sienna Rodgers (@siennamarla) September 22, 2020
Immediately following Nandy's comments, Keir Starmer then failed to make any mention whatsoever of common ownership, nationalisation, public ownership or ending privatisation in his keynote Conference Speech.

In a recent question and answer session with the Confederation of British Industry (CBI), Starmer refused to commit to the party's current policy of nationalising BT Openreach – instead simply declaring that Labour would be "pro-business" under his leadership.
Keir Starmer has also been criticised over his response to the Tories' extraordinarily shady practice of outsourcing multi-million pound contracts to party donors.
However, whilst the party have called for transparency over their NHS outsourcing practices as far back as May, as well as recently describing the outsourcing scandal as "outrageous", many Labour members feel the party leadership be putting far more scrutiny on the government over their astonishing frivolousness with taxpayers' money.
6) Defend Migrants' Rights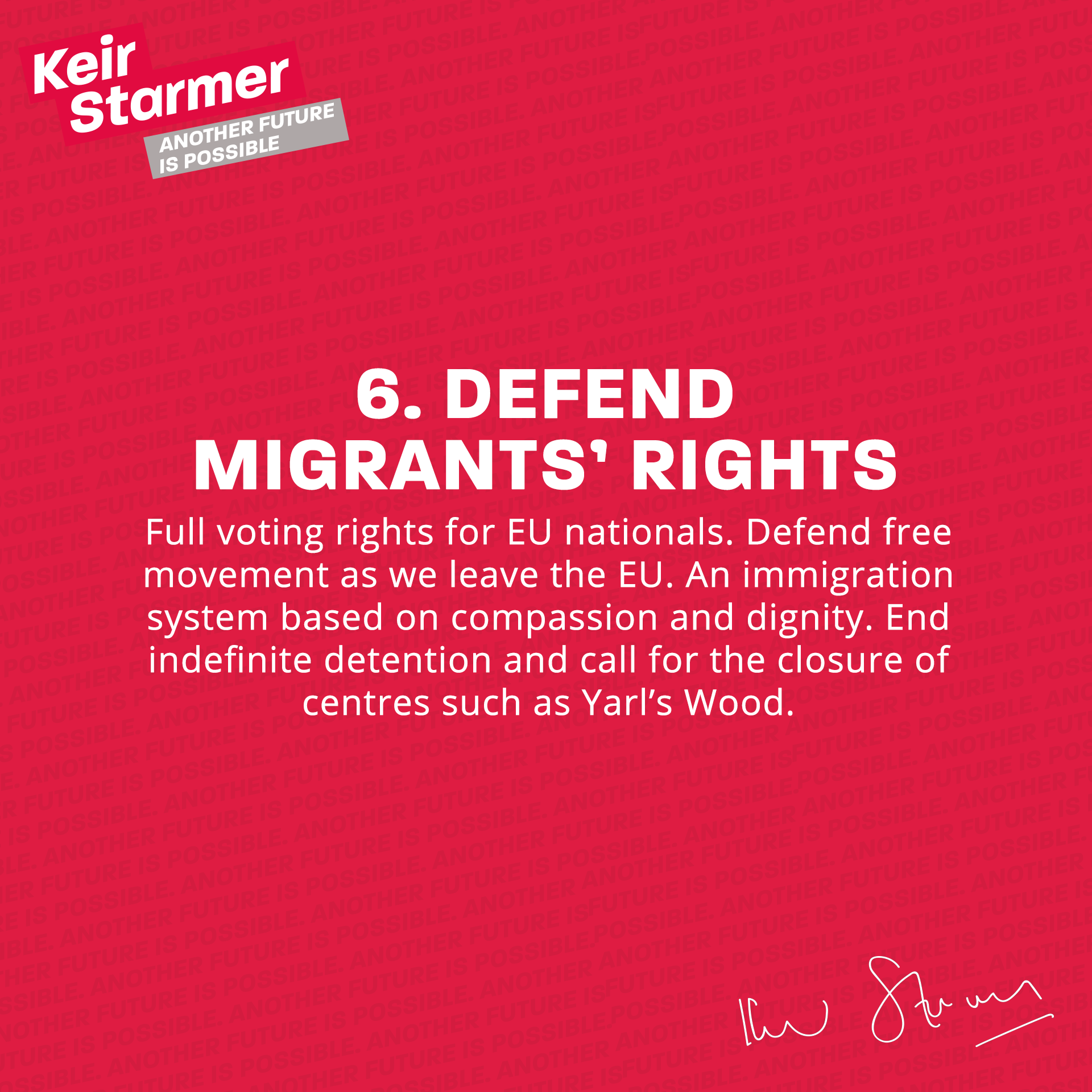 Full voting rights for EU Nationals –

INCONCLUSIVE



Evolve cannot find any comments from either Starmer or his front bench on the issue of voting rights for EU Nationals since he was elected leader in April.
Defend Free Movement as we leave the EU –

QUESTIONS TO BE ANSWERED
Back in 2017, Starmer declared that Free Movement would have to end after Britain left the EU. Yet, in his 2020 leadership pledges, he promised to defend Free Movement as we left the EU. Since being elected Labour leader in April, Starmer does not appear to have made any solid statements on the issue either way.
An immigration system based on compassion and dignity –

BROKEN



Keir Starmer faced a "revolt" of Labour members back in August after he refused to defend migrants crossing the channel – with critics claiming he was "turning a blind eye" to desperate people fleeing war and persecution to try and make it to the UK.
Rather than defending the rights of migrants to claim asylum in Britain – which is enshrined in the UN Refugee Convention – the Labour front bench merely criticised the government's "incompetence" in dealing with migrants arriving on Britain's shores.
The soft-left Open Labour group called on Starmer to "join us in condemning the government, and campaigning for an immigration system that advances the rights of all working people", whilst a Momentum petition called on the Labour leader to "end his silence on the scapegoating of refugees and migrants".
So important that @UKLabour stands up for migrants rights in the face of the relentless demonisation of refugees by tabloid media and the righthttps://t.co/FVJFaXX8IS

— Diane Abbott MP (@HackneyAbbott) August 22, 2020
End indefinite detention and call for the closure of centres such as Yarl's Wood –

INCONCLUSIVE



As well as being particularly quiet about Brexit-related issues since becoming Labour leader, Starmer has also largely attempted to sit on the fence when it comes to immigration – with many believing his reluctance to tackle the divisive issues head-on points to his desire to win back more socially conservative "Red Wall" voters.
Unsurprisingly, Evolve have therefore been unable to find any statements from the Labour leader or the front bench regarding his pledge to end indefinite detention and close detention centres.
7) Strengthen Workers' Rights and Trade Unions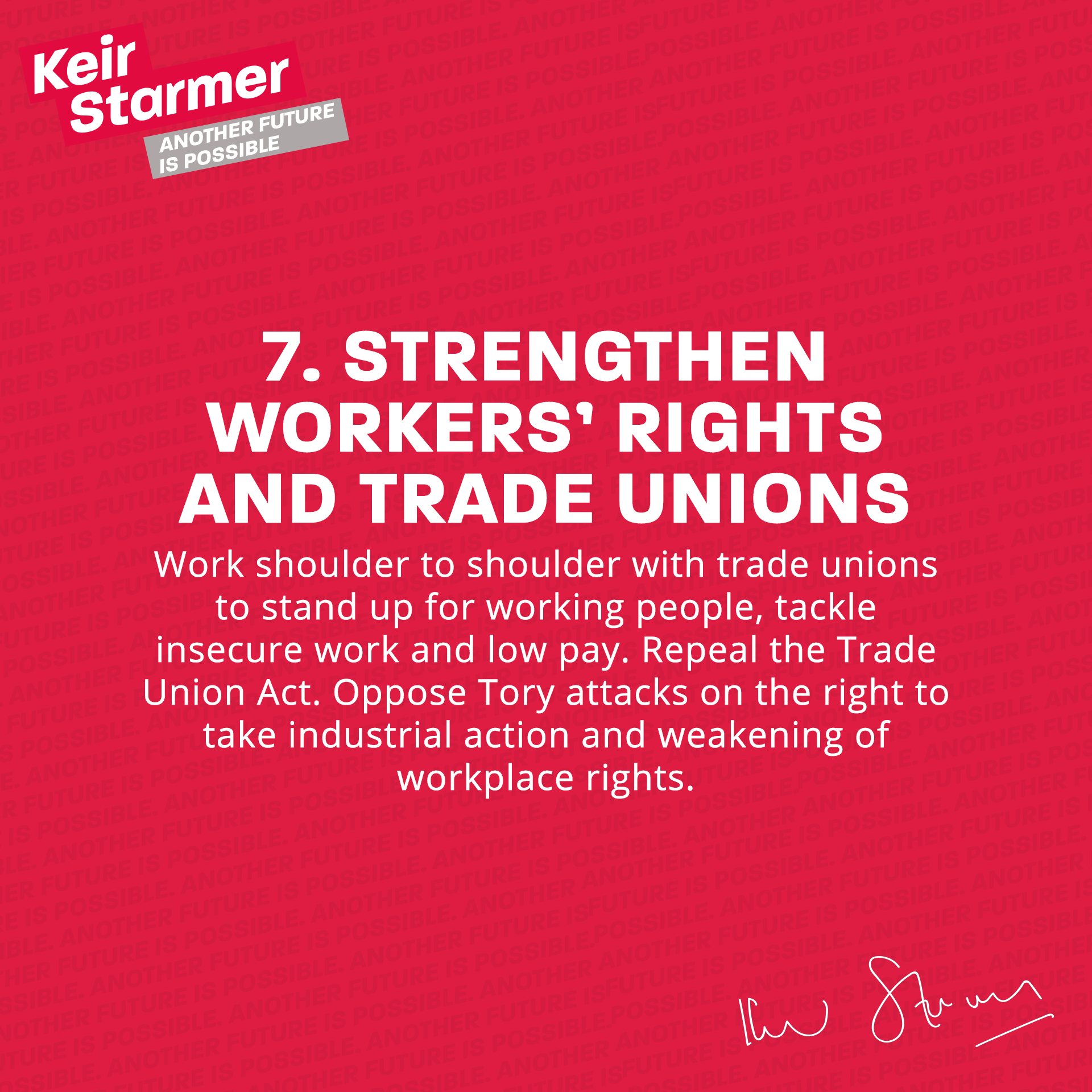 Work should to shoulder with trade unions to stand up for working people, tackle insecure work and low pay –

BROKEN
Under Starmer, Labour have repeatedly opposed Teaching Unions regarding whether or not schools should be be open amid the pandemic.
During the first lockdown, leaked Labour briefings showed that the party leadership thought the Teaching Unions were acting as a "barrier" to children and their education, and also described how they believed the sacked Shadow Education Secretary, Rebecca Long-Bailey, had failed to "stand up to the National Education Union".
In June, Labour ignored Union advice on the two-metre rule by supporting the government's relaxtion of social distancing measures.
In October, Britain's largest Trade Union, Unite, voted to cut their funding to Labour by around £1m in response to the party's rightward direction under Starmer.
And, just this week, seven Labour-affiliated Trade Unions issued a joint statement condemning the Labour leadership's decision to suspend Jeremy Corbyn over his response to the EHRC report into antisemitism.

Given the evidence, it's fair to say that Keir Starmer has well and truly annihilated his promise to stand "shoulder to shoulder" with Trade Unions during the last seven months.
Oppose Tory attacks on the right to take industrial action and weakening of workplace rights –

QUESTIONS TO BE ANSWERED
We can find no specific comments made by the Labour leadership regarding the right to take industrial action since he became leader in April.

However, Labour have consistently opposed any weakening of workers' rights after Brexit.
8) Radical Devolution of Power, Wealth and Opportunity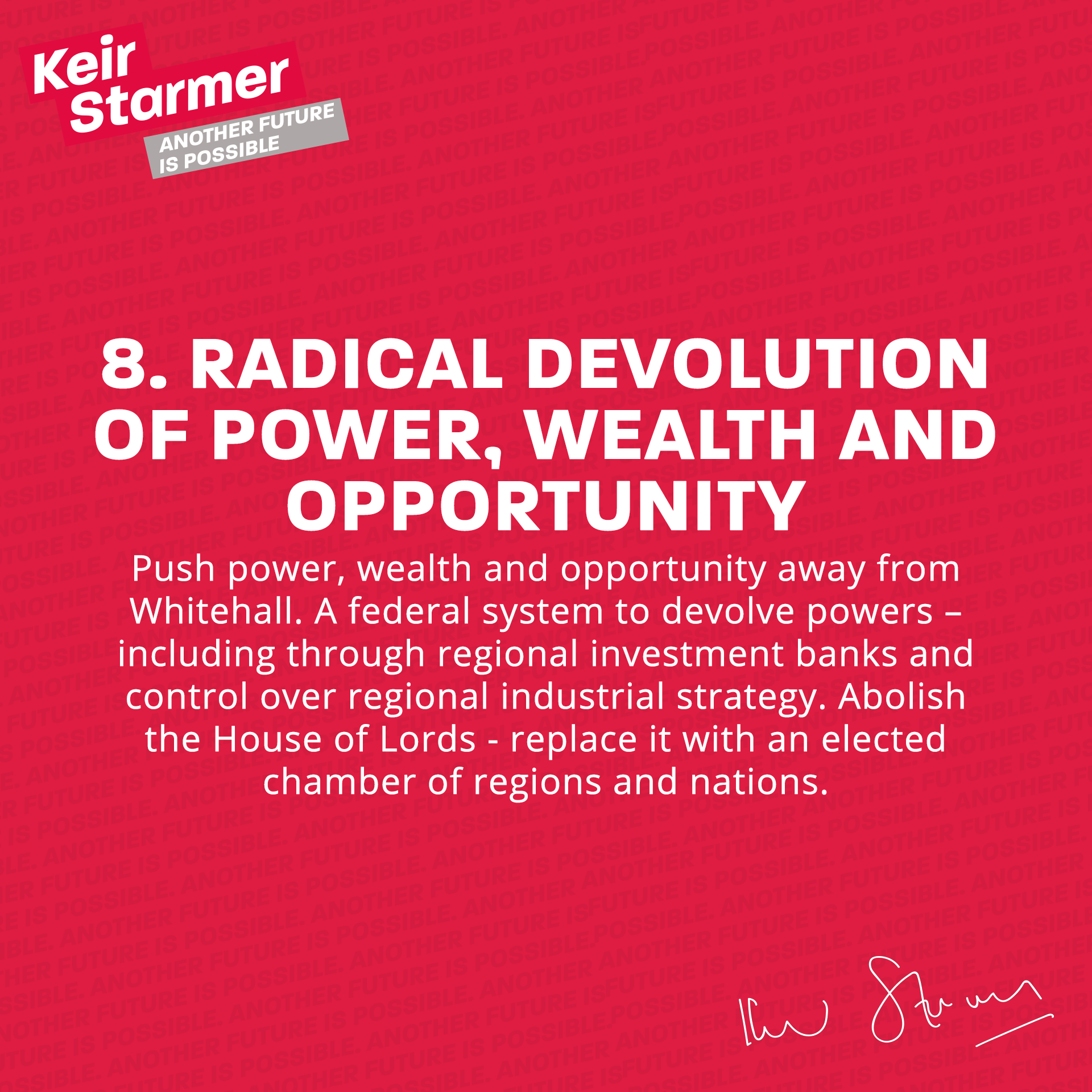 Push power, wealth and opportunity away from Whitehall –

QUESTIONS TO BE ANSWERED
Keir Starmer was recently criticised after appearing to oppose the principle of devolution after saying "we cannot have a situation where the four nations of the UK are pulling in different directions" on Coronavirus policies.
However, in a recent interview with Huff Post, Starmer called for powers to be devolved to local mayors and council chiefs regarding regional lockdowns and Test and Trace.
Abolish the House of Lords – replace it with an elected chamber or regions and nations –

INCONCLUSIVE
Evolve have been unable to find any statements from the Labour leadership regarding his commitment to abolish the House of Lords.
9) Equality

Pull down obstacles that limit opportunities and talent –

BROKEN
In June, Keir Starmer appeared to make a mockery of his equality pledge after dismissing the Black Lives Matter movement as simply "a moment" and saying that the organisation's demand to reallocate police funding to preventative measures was "nonsense".
At @Keir_Starmer Calling Black Live Matters (BLM) a MOMENT in video (BLM is many years Old) and also making BLM an antisemitism issue when sacking Rebecca Long-Bailey which resulted in Antisemitism complaint against him shows Starmer is undermining BLM. pic.twitter.com/N3RXdUjXOD

— Luqman Khan Power concedes nothing without Demand (@luqmankhan555) June 30, 2020
In the same month it was revealed that Keir Starmer had reportedly set up a 'diversity review panel' which consisted entirely of white people – with Labour BAME staff said to be furious about it
Starmer has also been accused of dismissing anti-black racism within the party, with many accusing him of "whitewashing" the explosive Labour leaks documents.
The Labour leader has also encountered widespread criticism for his refusal to condemn Labour MP Rosie Duffield regarding her repeated transphobic comments – with Labour's official LGBT affiliate calling on him to take action against her, as yet to no avail.
It is with great sadness that we have decided to put out this Statement on Rosie Duffield.

Solidarity, always, with our trans members, and the trans community. pic.twitter.com/pDZ8DuKl3m

— LGBT+ Labour (@LGBTLabour) August 10, 2020
Since the criticism from LGBT+ Labour, Starmer has made just a single statement on the issue – in which he refused to condemn Duffield's comments and simply called on those involved to "detoxify this discussion".
Despite Keir Starmer repeatedly promising to take a "zero-tolerance" approach to antisemitism, the Labour leader refused to take action against two of his Labour allies – Barry Sheerman and Steve Reed – over clearly antisemitic comments, both of which ran contrary to the IHRA definition which the party has adopted into its rulebook.
10) Effective Opposition to the Tories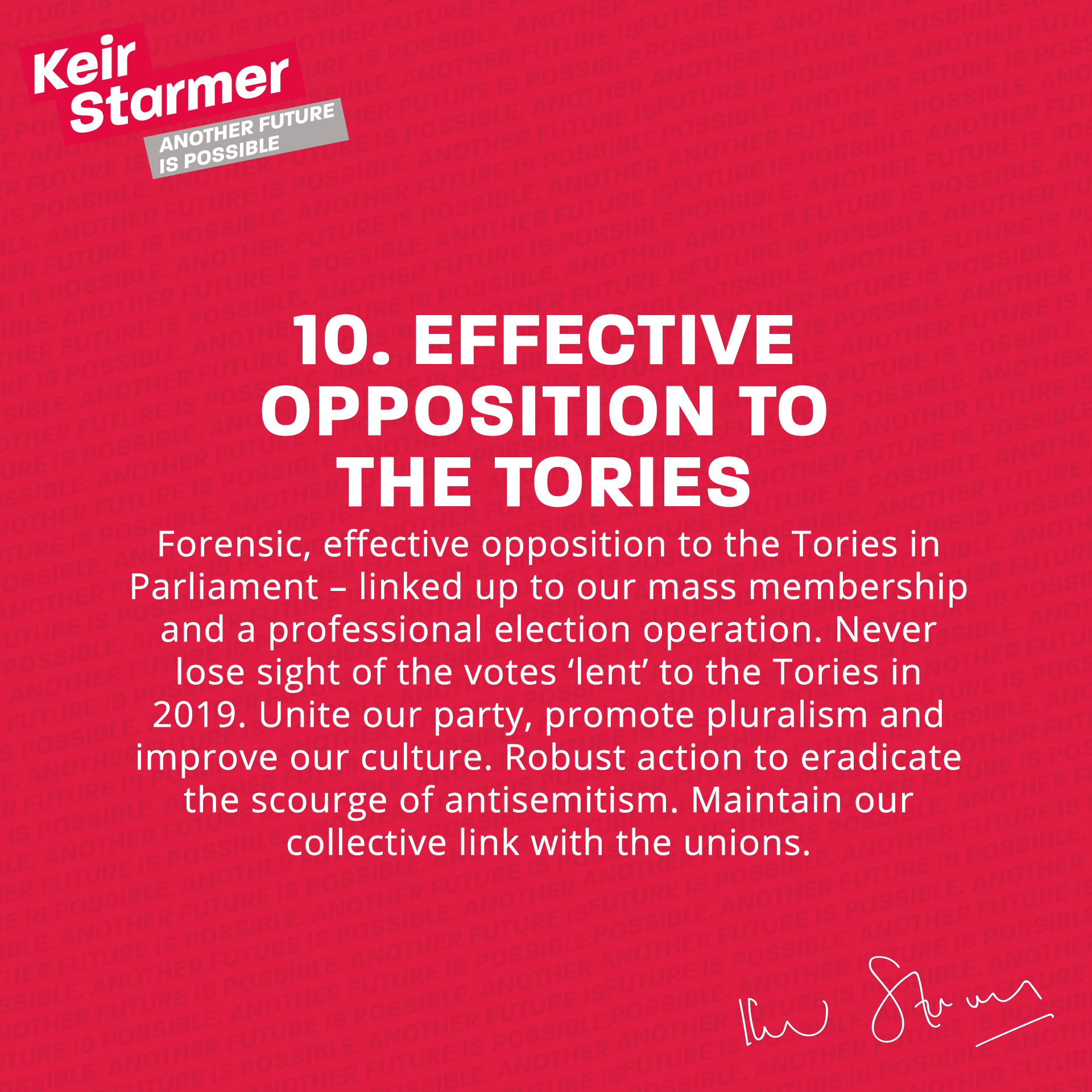 Forensic, effective opposition to the Tories in Parliament –

BROKEN



Whilst it cannot be argued that Starmer has not been forensic in his approach, the Labour leader has broken his pledge to provide "effective opposition to the Tories" so many times it is impossible to fit all of them into one article – with the Labour leader encountering almost relentless criticism, from all sides of the political spectrum, for his astonishingly agreeable approach to opposition.
As soon as he was announced as Labour leader, Starmer declared that he would not be 'opposing the government for opposition's sake'.
Starmer even went as far as basically declaring unconditional support for Boris Johnson – categorically stating he would support "whatever measures the government takes" to deal with the ongoing pandemic.
Furthermore, despite the Tories presiding one of the highest Coronavirus death tolls in the world, the Labour leader genuinely praised the government for their "amazing Coronavirus response".
Starmer also sent a secret letter to Boris Johnson promising to oppose Teaching Unions by supporting the Tories' widely-derided stance of sending kids and teachers back to school during the ongoing pandemic.
The Labour leader has also forced his MPs to abstain on all manner of horrific Tory legislation – including a bill which effectively allows British troops to commit torture, and another which hands the government sweeping powers to authorise state actors to commit criminal acts – including rape and even murder – against political opponents.
Indeed, Starmer's incredibly cosy relationship with the Tories has even prompted Alastair Campbell, of all people, to accuse him of doing a weak job.
And, perhaps most damningly of all, Starmer was ripped to shreds by the entire cast of Gogglebox:
Unite our party –

ABSOLUTELY OBLITERATED
Since taking over as leader seven months ago, it is undeniable that Keir Starmer has done the very opposite of uniting the Labour Party.
Whilst the party was clearly hugely divided for the whole of Jeremy Corbyn's five-year tenure, Starmer's actions have clearly only succeeded in compounding things.
From the hugely controversial decision to sack his main leadership rival, Rebecca Long-Bailey, from the Shadow Cabinet, to ordering his MPs to abstain on truly horrific Tory legislation, Starmer has consistently managed to alienate both Labour members and MPs alike by effectively pouring petrol on the flames of an already raging inferno.
And now, after the party's extraordinary and entirely unprecedented decision to suspend Starmer's predecessor, Jeremy Corbyn – a man who still holds both huge affection and concrete support amongst a large section of the membership – several union leaders have now warned that the new Labour leader's actions have pushed the party to the brink of a catastrophic civil war.
Conclusion
Whilst it is impossible to objectively measure some of Keir Starmer's pledges due to the fact he is still in opposition rather than in power, there is absolutely no question that he has either broken or rowed back on a large proportion of his 2020 Labour leadership promises already.