Stay in touch!
Sign up to be updated with Evolve's latest stories, and for opportunities to get involved.
A failed Tory parliamentary candidate has been forced to deny comparing Jeremy Corbyn to Adolf Hitler in a tweet allegedly attacking Corbyn for visiting victims of the Grenfell Tower fire.
Michelle Lowe, who is deputy leader of Sevenoaks Council in Kent, lost her bid to become MP for Coventry South to Labour's Jim Cunningham earlier this month. Earlier this week, the Coventry Telegraph revealed that she posted a photo of Adolf Hitler meeting the public on Twitter alongside the caption "Politicians should go out and hug the public more. It proves they are nice people." When questioned about who the tweet was about, she merely responded "I will leave you to interpret as you wish."
The timing of the tweet is particularly suspect, as Jeremy Corbyn had been making efforts to meet those involved in the horrific Grenfell Tower fire over the weekend.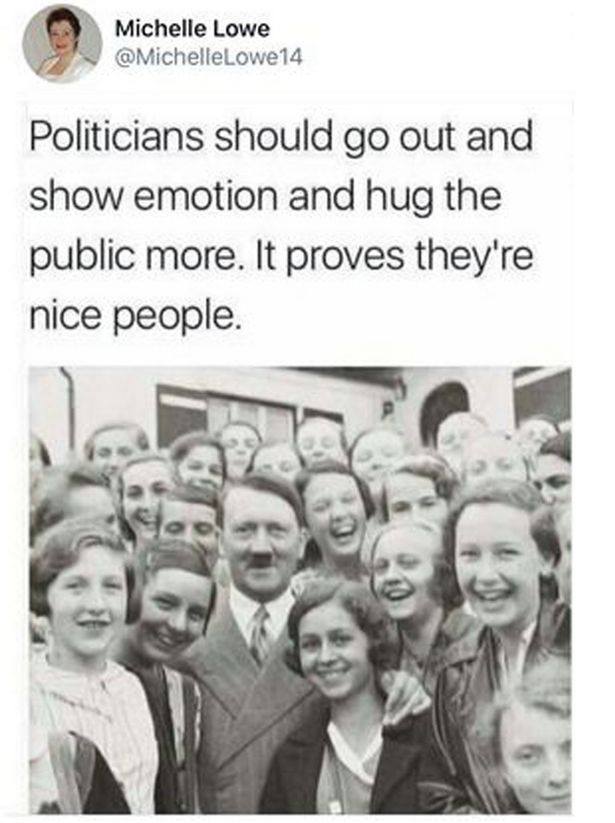 Michelle Lowe is now under fire from all corners. Her local council, Conservative Party, Labour Party and MPs in parliament have condemned her crass remarks. While Lowe strenuously denies that she was trying to make a comparison between Corbyn and Hitler, social media users pointed out the clear and evident implication in her tweet.
The leader of the Conservative Party in Coventry, Gary Ridley, said:
"As Leader of the Conservative Party, in a city which still bears the scars of Nazi aggression, I'm disturbed by any attempt to use Adolf Hitler to make a political point.

He brought pain and suffering to the world on an unimaginable scale and was responsible for the deaths of millions of innocent people.

To evoke his memory in this way is disrespectful to those who suffered at the hands of this monster and trivialises the crimes of the Nazi regime."
Meanwhile, the victor of the race to become MP for Coventry South, Jim Cunningham, said:
"Comments and remarks like this are so far away from what most people are concentrating on in the wake of awful tragedies.

It beggars belief that a senior Tory, someone who recently thought they should be an MP for Coventry, thinks this is acceptable.

The Tories must stand up and take a stance against these offensive comments, they have no place in political discourse."
In her response to the accusations, Ms Lowe claimed that the photo was actually in defence of Theresa May being so reserved in meeting victims and the public following the Grenfell Tower fire. She told the Coventry Telegraph:
"The purpose of the tweet was not to cause offence but to point out that just because some people are reserved and not as able to be as familiar with strangers as others it does not mean they don't care about their suffering.

It was a comparison with Theresa May and no one else dealing with the Grenfell Tower victims – for which she took a lot of criticism – and nothing else."
Despite her passionate defence of the tasteless tweet in this statement, the photo was deleted shortly afterwards.

In the words of Michelle Lowe herself, we will leave you to interpret it how you wish.