The environmental organisation, Greenpeace, have stopped almost 100 of Barclays from opening to customers this morning in protest at the bank's funding of fossil fuel companies whose practices have created and exacerbated the climate crisis.
Environmental activists targeted 97 branches of Barclays across the UK during the early hours of the morning, daubing windows with stickers demanding the bank to "Stop Funding Fossil Fuels" and branding the them as "Climate Criminals".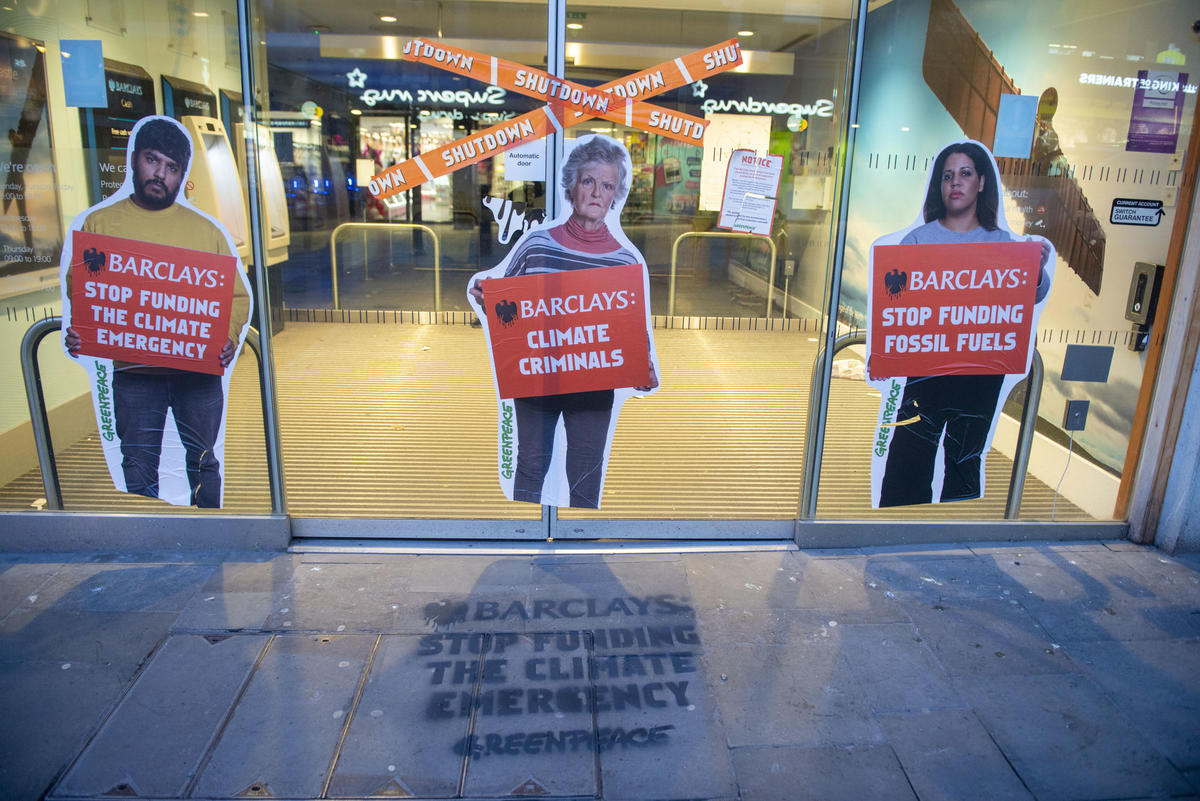 Greenpeace also blocked entrances with "pop-up exhibitions" outside major Barclays branches in Belfast, Cardiff, Edinburgh, London and Manchester – which were staffed by Greenpeace activists and displayed further information about the bank's involvement in funding the climate crisis.
Barclays retail staff blocked from their banks across uk. Not caused by flooding this time ? #greenpeace #Barclays #cardiff pic.twitter.com/vZjCfUqRBJ

— Andrew (@amoggy) March 2, 2020
Greenpeace say that Barclays is "the worst" bank in Europe for financing fossil fuel companies – claiming that the banking giant funded major polluters to the tune of £66.5billion between 2016 and 2018 including "huge sums globally for some of the dirtiest fuels such as coal and tar sands and fracking companies."
BREAKING:
Greenpeace activists have shut down over 95 @Barclays branches up and down the UK.

Banks are continuing to fund fossil fuel companies & Barclays is the worst in Europe.

Globally, banks put up $1.9tn for fossil fuels between 2016-2018.#BarclaysShutDown pic.twitter.com/KuufO6eLL7

— Greenpeace UK (@GreenpeaceUK) March 2, 2020
Speaking about their direct action against Barclays, Greenpeace UK campaigner Morten Thaysen said:
"Barclays must stop funding the climate emergency, that's why we've taken action today."
"From floods to bushfires and record heat in Antarctica, the impacts of this crisis are staring us in the face.
"Yet Barclays keeps pumping billions into fossil fuel companies at exactly the time we need to stop backing these polluting businesses."
"Banks are just as responsible for the climate emergency as the fossil fuel companies they fund, yet they've escaped scrutiny for years."
"We've shut down branches across the country to shine a spotlight on Barclays' role in bankrolling this emergency. It's time Barclays pulled the plug and backed away from funding fossil fuels for good."
Responding to the nationwide Greenpeace protest, a spokesperson for Barclays said:
"We recognise that climate change is one of the greatest challenges facing the world today, and are determined to do all we can to support the transition to a low carbon economy, while also ensuring that global energy needs continue to be met."
The Greenpeace protest comes days after February was declared the wettest since records began – a month which saw large parts of the UK suffer some of its worst flooding for decades.
Barclays said that is is working to get all the branches back open as soon as possible.