Supporters of Jeremy Corbyn have raised more than £100,000 in just over 24 hours to help the former Labour leader fight a reportedly impending legal battle against the BBC Panorama journalist John Ware.
On Wednesday, the current Labour leader Keir Starmer announced that the party would be settling a defamation case brought against it by seven former party employees who took part in the controversial BBC Panorama documentary which detailed allegations of antisemitism.
Labour also announced it would be settling a separate case regarding the same programme, brought against the party by the BBC journalist who made and presented the documentary, John Ware.
In addition to paying all seven former employees and Mr Ware damages, the party issued an unreserved apology to each regarding what it called "defamatory and false allegations".

Both legal cases were initiated after a Labour statement criticised the documentary and denounced the former employees as "disaffected former staff" who had "personal and political axes to grind."
The programme also received more than 1,500 complaints, and was the subject of fierce debate amongst Labour activists, with some claiming that it had "omitted key evidence" as well as "parts of Labour's response".
Following Labour's announcement on Wednesday, Jeremy Corbyn released his own statement claiming that the party's decision to settle the cases and pay damages was a "political decision, not a legal one."
Corbyn's statement went on to allege that legal advice he had received during his time as leader indicated that the party had a good chance of winning in court.
The former Labour leader's comments also referenced the leaked Labour report – a document which Mr Corbyn claims contains evidence which strengthens his case:
"Our legal advice was that the party had a strong defence, and the evidence in the leaked Labour report that is now the subject of an NEC inquiry led by Martin Forde QC strengthened concerns about the role played by some of those who took part in the programme."
"The decision to settle these claims in this way is disappointing, and risks giving credibility to misleading and inaccurate allegations about action taken to tackle antisemitism in the Labour Party in recent years."
However, following Mr Corbyn's statement, a lawyer representing Mr Ware informed the media that he had been instructed by the BBC journalist to pursue further legal action, this time against the former Labour leader over the claims made in his latest comments:

.@MLewisLawyer confirms he has been asked to represent Panorama's John Ware and others in a possible legal action against @jeremycorbyn following the Labour leader's statement today.

— Paul Waugh (@paulwaugh) July 22, 2020
In response to the threatened legal action, a crowdfunder was set up by a supporter of Mr Corbyn, Carole Morgan, with the aim of raising funds to help the Islington North MP pay for legal costs.
The fund has so far raised more than £100,000 in just over 24 hours, with a large number of the more than 5,300 individual donors adding comments in support of the former Labour leader.
The crowdfunder has also been shared more than 10,000 times on social media.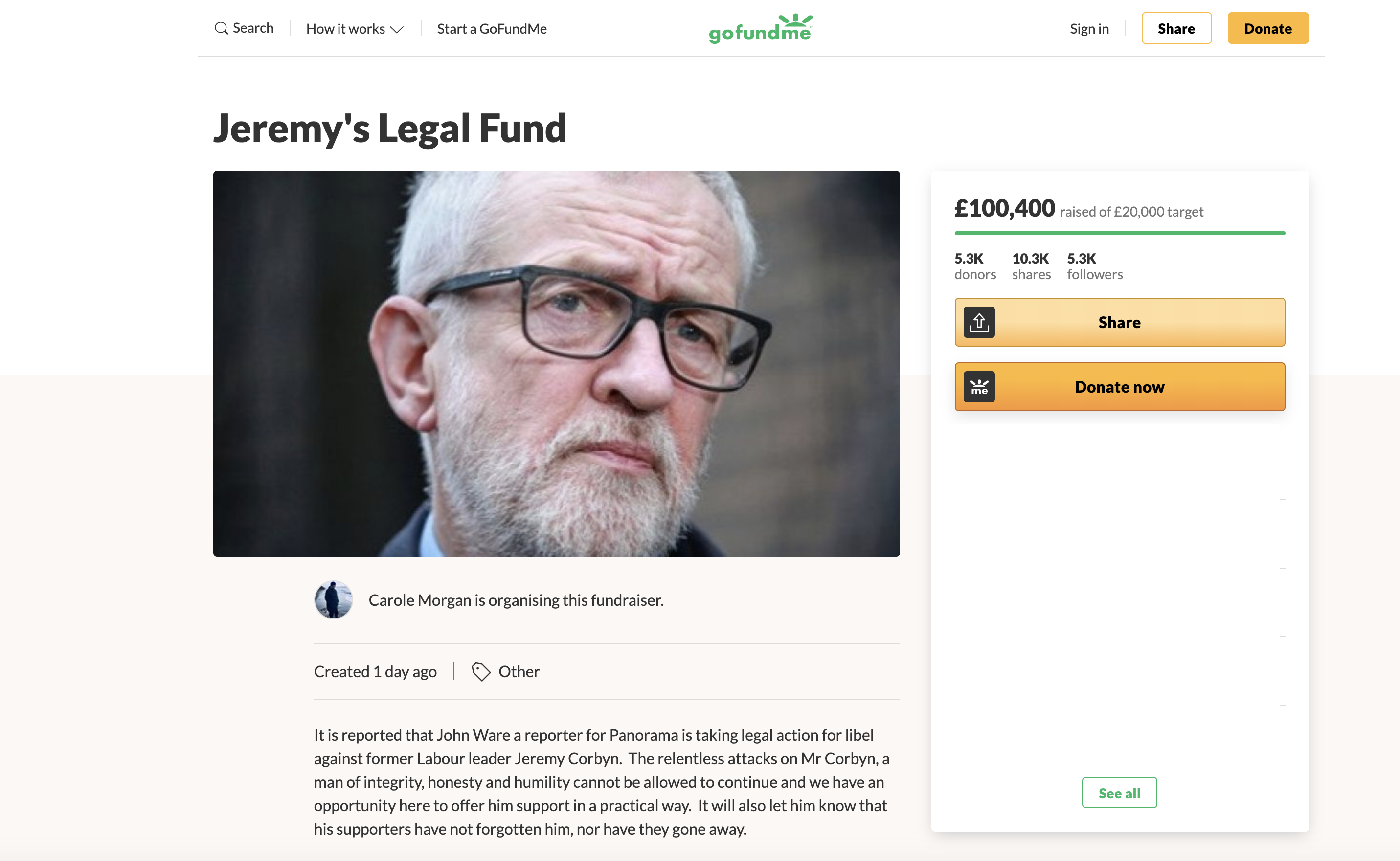 Supporters of the fund say they hope the money will help ensure that both sides of the argument are heard in court and that Mr Corbyn will eventually be vindicated.
The former Labour leader has not yet responded directly to the crowdfunder, but has issued a short message giving thanks to his supporters for showing solidarity with him.
Thank you friends and comrades for your solidarity.

Our campaigning for a better world continues.

— Jeremy Corbyn (@jeremycorbyn) July 23, 2020
However, Mr Corbyn's wife, Laura Alvarez, did respond directly to the financial effort, thanking the "millions or people who support" her husband, and quote-tweeting a link to the crowdfunder.
Thank you to the millions of people who support my husband, friend and leader. we are corbynism! https://t.co/LmrX8vhid6

— Laura Alvarez (@LauraAlvarezJC) July 23, 2020
Evolve will bring you more news on this story as it develops over the coming days and week.