To say the past week has been tumultuous would be the understatement of the century. First we had Brexit, then the Prime Minister announced his resignation, and then to top off a week where the country desperately needed leadership and unity, the Labour shadow cabinet decided to mount a coup against their democratically elected leader, Jeremy Corbyn.
Whilst David Cameron's resignation caused few to raise an eyebrow after his catastrophic defeat in the EU referendum, the coup mounted against Jeremy Corbyn took almost everybody off-guard. Except that is for Jeremy Corbyn himself, who swiftly despatched of Hilary Benn, the man reportedly orchestrating the revolt against the Labour leader.
Despite the early morning sacking of Benn, Sunday saw a drip-feed of Labour Shadow Cabinet members resigning, one by one, in a clearly choreographed fashion – timed impeccably, with each resignation coming on the hour, every hour.
One MP who resigned in the orchestrated coup was Labour MP for Birmingham Yardley, Jess Phillips, relinquishing her post of Parliamentary Private Secretary to (the now former) Shadow Education Secretary Lucy Powell. After her resignation, Ms Phillips, ever-renowned for her confrontational nature, took to Twitter to vent her frustration at Corbyn's leadership – and believe me, it didn't end well.
The under-fire Labour leader Jeremy Corbyn, flanked by party-allies John McDonnell and Denis Skinner, addressed a swiftly organised crowd of around 10,000 supporters, activists, and trade-unionists outside Westminster on Monday evening. This event, organised in less than 24-hours by the Momentum movement, was the subject of the following tweet by Phillips, accusing the Shadow Chancellor McDonnell of missing an important vote in the House of Commons in favour of attending the rally: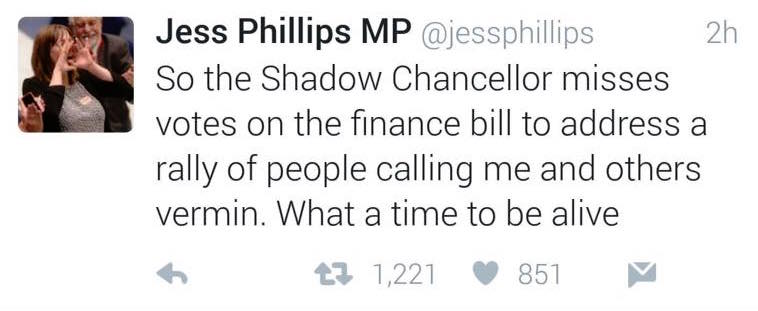 If true, this decision by John McDonnell would appear to be a clear conflict of political interests. However, unbeknownst to Jess Phillips, the Labour Shadow Chancellor has eyes and ears everywhere, and didn't entirely agree with Phillips' opinion on the situation. In fact, he caught her churlishly lying about him, and responded as such: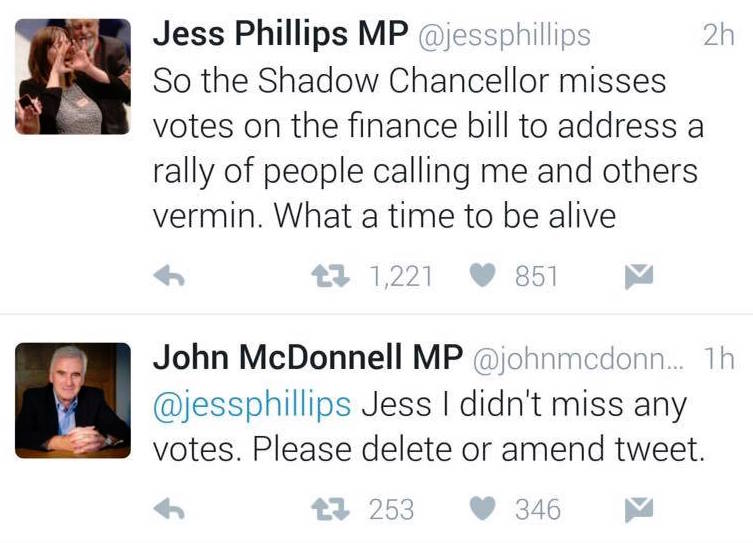 Despite being caught red-handed by a key ally to Corbyn, Jess Phillips was undettered by being found out. Astoundingly, despite having lied about the Labour leadership, the MP for Birmingham Yardley refused to remove the tweet, in spectacularly brazen and abrupt fashion: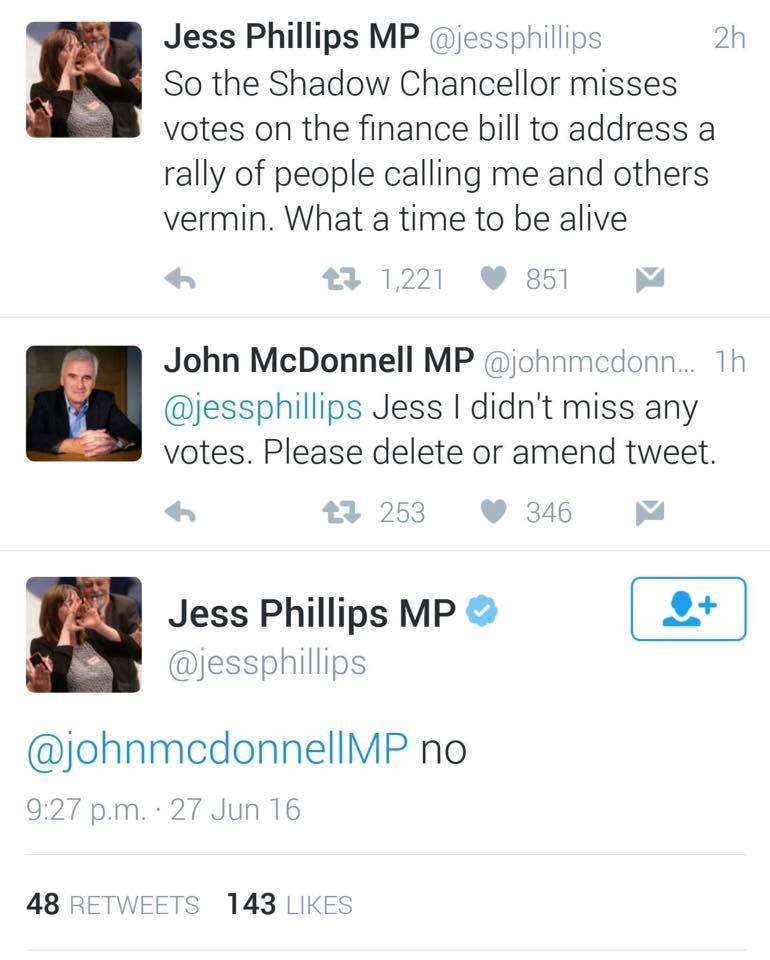 Minutes after this incident occurred, Phillips did decide to remove the offending tweet, and issued a retraction on Twitter.
However, embarrassingly, she failed to remember the correct spelling of the Shadow Chancellor's surname, and, even more shamefully, admitted that she didn't actually know if Mr McDonnell missed the vote at all: