Following December's disastrous election defeat, the Labour Party will be electing a new leader to replace the outgoing incumbent, Jeremy Corbyn. As part of the impending leadership election, Evolve Politics will be publishing in-depth profiles on each candidate to give Labour members and the general public the full picture of where they came from, what they stand for, where their priorities lie, and what to expect, should they be elected as Labour leader on April 4th.
The deadline for Labour MPs to put themselves forward as a candidate will pass on January 13th, and so far 6 candidates have officially thrown their hat into the ring: Keir Starmer, Jess Phillips, Emily Thornberry, Clive Lewis, Lisa Nandy and Rebecca Long Bailey.
Each candidate needs to receive the endorsement of at least 22 (10%) of their fellow Labour MPs and MEPs in order to get on the ballot paper. So far, only Keir Starmer has reached this threshold – reportedly managing to garner the backing of 23 colleagues already. However, all 5 of the other candidates are expected to reach the threshold in time for the deadline.
Keir Starmer is the current frontrunner to take over from Jeremy Corbyn, with bookies making him the clear favourite and many offering extremely short odds of 1/2.
As such, we will begin our first Labour Leadership Candidate Profile with the Shadow Brexit Secretary below.
Labour Leadership Election 2020 Profile: Keir Starmer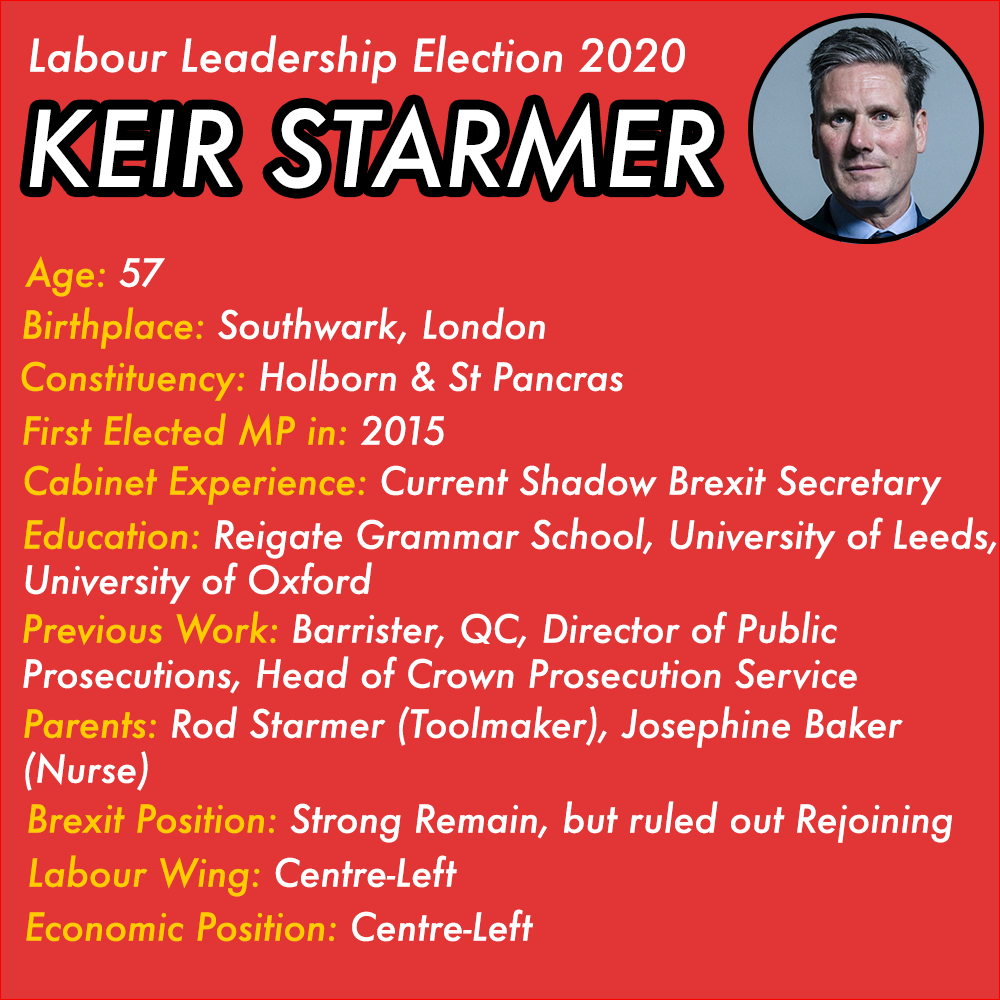 What is Keir Starmer's background?
Keir Starmer was born in 1967 in Southwark, London. His father, Rod Starmer, was a toolmaker, and his mother, Josephine Starmer (née Baker), was a nurse. Starmer's parents were both staunch Labour supporters, and they named Keir – their second son – after the first leader of the Labour Party, Keir Hardie.
Where did Keir Starmer go to School and University?
In contrast to his three siblings who all went the the local Comprehensive school, Starmer passed his 11-plus exam and gained entry into Reigate Grammar school. Starmer then studied law at Leeds University, where he graduated with a first-class Bachelor of Laws (LLB) in 1985, before winning a place at Oxford where he graduated with a Bachelor of Civic Law (BCL) in 1986.
What was Keir Starmer's career before becoming an MP?
A year after graduating from Oxford, Starmer became a Barrister at the highly distinguished Middle Temple. He was then appointed as a member of the Queen's Counsel (QC) in 2002, and moved to Doughty Street Chambers the following year.
Starmer's legal work primarily consisted of human rights issues, with one of his most notable successes being the so-called "McLibel" case where he assisted two environmental activists, Helen Steel and David Morris, in a highly contentious case brought against them by the US fast-food giants, McDonald's.
McDonald's had accused Steel and Morris of libel after they produced and publicised a factsheet which contained numerous claims that were highly critical of the company's ethics and practices. Both were refused legal aid in order to defend themselves, but received substantial pro-bono assistance from a number of lawyers, including Starmer.

During the trial, McDonald's initially argued that all the claims in Steel and Morris's pamphlet were false, but, after almost ten years of legal wranglings, a number of the claims in the document were eventually proved to be true – including the claims that McDonalds did "exploit children", that they were "culpably responsible" for unnecessary cruelty to animals, and that the company were "antipathetic" to the unionisation of workers and helped to "depress wages in the catering trade".
Starmer also conducted a number of eye-opening interviews for the documentary about the case which you can watch below:
In addition to his role in the McLibel case, Starmer undertook substantial legal work challenging the death penalty in the Caribbean and Africa, and he also worked as a human rights advisor to the Policing Board in Northern Ireland.
Following years of successful legal work in the field of human rights, and after being named QC of the Year in 2007, Starmer was named as the new Head of the Crown Prosecution Service (CPS) and the Director of Public Prosecutions (DPP) in 2008.
During his role as DPP, Starmer oversaw numerous highly successful cases, including the prosecution and eventual conviction of a number of MPs and Lords who abused their taxpayer-funded parliamentary expenses, and the successful retrial of the killers of Stephen Lawrence.
Criticism over the Jimmy Savile and John Worboys cases
Starmer has also encountered criticism for a number of decisions made during his time as DPP – including the failure to bring charges against the prolific paedophile, Jimmy Savile, whilst he was still alive. The decision was made despite the Crown Prosecution Service (CPS) receiving substantial evidence of his crimes from witnesses and victims several years before the disgraced former BBC presenter died in 2011.
In 2013, Starmer made a personal apology for the decision not to pursue charges against Savile, but a CPS review claimed that police errors and mistakes by the principal lawyer dealing with the allegations led to the ultimate decision, rather than Starmer himself.
Starmer has also encountered criticism over the CPS's decision to release the prolific serial rapist, John Worboys, from prison, as well as the decision not to pursue 75 further allegations made against him.
However, in 2018, the CPS issued a statement claiming the Starmer had no role in either of the decisions regarding Worboys.
And, speaking just a few days ago, Starmer reiterated the claim that it was the CPS who made the decisions in this case rather than him, stating:
"It is very important that if there are any allegations that anybody thinks have not been looked into sufficiently, or at all, that they go to the police so they can be looked into.
"It is really important that what is said is factually accurate. As you know the Crown Prosecution Service hold the file on this case. They made the decision in the case and it is really important that you go them to get an accurate read out of the decisions that have been made."
Is Keir Starmer working class?

A number of media outlets have already criticised Keir Starmer over his apparently "middle-class", "London liberal" status – claiming that Labour should be electing a working class voice in order to win back with their traditional voters. However, despite his distinguished career, Starmer actually comes from a far less privileged background than Boris Johnson, and even Jeremy Corbyn.
Starmer has previously described his background as working class, claiming his family "didn't have much money", and stating that his eventual success was not typical of someone with such a background:
"My background is not typical of a lawyer or a DPP. My dad was a toolmaker before he retired, so he worked in a factory all his life. My mum was a nurse, and she's been physically disabled for years. We didn't have much money, and they were Guardian-reading, Labour-leaning parents. That inevitably created an atmosphere where my thinking developed."
Starmer also revealed that his mother was diagnosed with Still's disease in her teens – a chronic and incurable illness which causes painful swelling to the joints and muscles. Shortly before his election as the MP for Holborn and St Pancras in 2015, Starmer opened up about his experience of his mother's illness growing up, saying:
"She is very ill and has been very ill for over 50 years. She's been on steroids for 50 years to deal with the disease. There have been huge and very damaging side-effects.
"She's been in and out of high-dependency units for as long as I can remember. It was something we grew up with. I certainly have seen the NHS from the inside for decades."
Starmer also cites his mother's health battles as an inspiration for his choice to become a human rights lawyer and to enter into politics, telling his local paper in 2015:
"I wanted to be a human rights lawyer to change things for individuals who most needed my legal help and assistance."
"I became DPP because I wanted to change and improve the way we prosecuted cases. It's always been a purpose-led route through my career. Doing things because there's a job to be done.
"I think a bit of it comes from the determination of my mother. What I can't stand is when people walk around a problem and can't solve it so I have resolved not to do that."
Whilst Starmer's current financial status clearly means he cannot be considered working class anymore, it is extremely hard to criticise him over his upbringing or question his true motivation for choosing the career path he has.
Is Keir Starmer a Blairite?
Quite simply, no.
Starmer only became an MP in 2015 – a full 8 years after Tony Blair resigned as Prime Minister. Furthermore, in 2003 – just 3 days before the Iraq War began – Starmer penned a Guardian article severely rebuking Blair and correctly stating that an invasion of Iraq would eventually be deemed illegal. Starmer also marched in protest against the war.

Whilst Tony Blair effectively capitulated to Thatcherite pro-greed, pro-war policies, Keir Starmer does appear to have consistently opposed them throughout both his legal and political career.
Whilst Starmer has not revealed much about his overall economic outlook, he has been quick to urge Labour not to lurch back to the right after the 2020 leadership election.
During his opening leadership pitch, Starmer also highlighted the fact that Labour must continue to oppose the "moral injustice of poverty, inequality, homelessness" whilst "advocating for internationalism and human rights."
Starmer also took a swipe at Tony Blair over how far to the right he took the party during his tenure, stating:
"A Labour party that strays too far from its values, loses. In the end, the Labour party strayed too far from its values between 1997 and 2010."
However, his record is not perfect. Starmer was one of the 184 Labour MPs to disregard the overwhelming view of the membership by abstaining on the Tories' disgraceful Welfare Bill shortly before the 2015 Labour leadership election.
The bill was a horrific piece of Tory legislation which abolished legally-binding poverty targets, slashed child tax credits, reduced the amount of housing benefit young people were entitled to, and implemented cuts to welfare payments for disabled people and the terminally ill.
Starmer has never apologised for his decision to abstain on the bill, and even tried to justify it after many of his constituents erupted in anger.
Starmer was also slammed by the Green Party's Natalie Bennett, who said at the time:
"I think many Holborn and St Pancras constituents, including many who voted for Sir Keir, will be astonished that given his background in human rights, he failed to oppose the cutting of the benefits cap, when even at its current level a High Court judge said it put Britain in breach of its obligations under the UN Convention on the Rights of the Child. Similarly, the bill, in cutting child tax credit for third or later children in a family, is penalising children for being born into circumstances in which they had no choice."
"This bill makes significant cuts to the family tax credit many workers rely on to survive in low-wage Britain where so many jobs are insecure and fail to provide the regular and full-time hours that workers want. Sir Keir has failed to oppose a Bill that will make it harder for many already struggling households to put food on the table and keep a roof over their head. I don't think this is what Labour voters expected when they cast their votes in May."
What are Keir Starmer's priorities?
Given his long career in the legal profession, Keir Starmer certainly cannot be accused of being a career politician. Furthermore, the challenges he faced during his early years appear to have instilled in him a core principle against injustice – one which he maintains to this day and which seems to have underpinned his career path from human rights lawyer to a politician seeking change.
Moreover, just days after being elected to his Holborn and St Pancras constituency in the 2015 General Election, a petition urging Starmer to stand in the leadership election to replace Ed Miliband garnered several thousand signatures. However, Starmer rejected the calls for him to throw his hat in the ring, stating that whilst he was very "flattered", he believed Labour needed someone with more "political experience" to take the helm.
V flattered by #keirforleader initiative and thanks for so many supportive messages but Labour needs s/one with more political experience.

— Keir Starmer (@Keir_Starmer) May 17, 2015
Throughout his career, Starmer appears to have a reasonably consistent track record of opposing injustice and standing up for what is right. However, in addition to abstaining on the 2015 Welfare Bill, Starmer does have another extremely large blot on his record.
During the infamous so-called "Chicken Coup" – where, less than a year after the Labour membership had handed Jeremy Corbyn a massive mandate to lead the party, numerous Labour Shadow Cabinet Ministers instigated co-ordinated resignations from the front bench in a deeply cynical attempt to remove him as leader.
In his resignation letter, Starmer – who was a Shadow Immigration Minister at the time – essentially claimed that because a lot of other Shadow Minister has resigned, he had decided to resign too:
In the opening paragraph of Starmer's letter, he claims that he initially "respected the mandate" that Labour members had given to Jeremy Corbyn to lead the party.
Starmer then uses two different excuses for his decision to disregard the democratic will of Labour members: claiming that the party needed a "louder voice" regarding Brexit, and that Mr Corbyn's position was "untenable" because so many Shadow Ministers had resigned.
Starmer then went on to support the astonishingly dour, former big pharma lobbyist, Owen Smith, in the subsequent 2016 Labour leadership election.
Unfortunately, Starmer's willingness to disregard clear democratic decisions in favour of what he thinks is right is not an isolated incident, with the Shadow Brexit Secretary becoming the architect of Labour's decision to change their Brexit policy from respecting the result in 2017 to supporting a second referendum in 2019 – a policy regarded as the main reason that the party lost huge numbers of seats in their pro-Leave heartlands to the Tories in December's General Election.
Whilst Labour may still have lost the election had they continued with their 2017 Brexit policy to respect the Brexit vote, they would unquestionably have been far closer to the Conservative Party in terms of votes – with the only genuine question being whether the Lib Dems would have been able to charge through the middle on their pro-Remain platform.

During the 2016 Chicken Coup, the right thing to do would have clearly been to trust the decision of Labour members, rather than an overwhelmingly right-wing and detached Parliamentary Labour Party (PLP), and support the democratically elected leader of the party. Had the PLP been united, Labour may well have been in a position to gain the few thousands extra votes necessary to have formed a government in the 2017 General Election campaign.
Moreover, at the 2019 General Election, the right thing to do – electorally speaking – would have been to continue to support the democratic decision of the British people regarding the Brexit vote. Labour's decision to support a second referendum is clearly not the only reason for their loss, but it was certainly a huge factor in the sheer scale of it – and Starmer was crucial in pushing the party towards it.
Keir Starmer is clearly not a careerist, and he is clearly not a Blairite. In fact, he seems like a very decent person and a highly principled man. However, in addition to blots on his record, there are very big questions regarding his political judgement.

Is Keir Starmer the best choice to be Labour leader?
If he is elected, Keir Starmer probably won't be a dreadful Labour leader. He certainly has decent principles, and he has consistently demonstrated a forensic ability to deconstruct and expose the garbage spouted by the Conservative Party during his time as the Shadow Brexit Secretary.

However, Starmer is also less radical than Jeremy Corbyn – and the lack of new ideas in Starmer's opening leadership pitch is worrying. Whilst Labour's manifesto is already chock full of popular policies, Starmer's personal vision – other than simply keeping a lot of Corbyn's policies whilst focusing on improving the image of the party to the electorate – is a complete unknown.
If Starmer is able to dramatically improve the image of the party, and he is then able to implement a lot of Corbyn's redistributional policies, this would clearly be an extremely good outcome for both the British people, public services, the economy, and the Labour party itself. However, Starmer's lack of personal political vision also raises questions about his long-term commitment to the current policy direction.

In terms of improving the image of the party, Starmer certainly has far less baggage than Jeremy Corbyn, and his legal career has only really thrown up a few extremely tenuous instances that the right-wing media could use against him. He will not be an easy man to smear – but his pro-EU history and his ardent support for a second referendum will almost certainly be used by the right-wing media to try and convince the public that they cannot trust Labour to respect Brexit after it has happened.
Jeremy Corbyn was clearly far from perfect, but so is Keir Starmer. Politics is a huge balancing act, and Brexit was a crystal clear example that doing the right thing economically is sometimes not the best thing to do electorally. Leaders must be able to balance both identity and the economy in order to win power – but, with Brexit hopefully soon to be off the public agenda, the new Labour leader will be able to focus entirely on the party's current hugely popular domestic platform.

With the Tories now entirely out of ideas on the domestic front – and without Brexit to distract the electorate and create a divisive culture war – the Labour Party will soon be clear to focus all their attention on ideas which will actually benefit people's lives.
Should the new Labour leader be Keir Starmer, and should he resist the temptation to reopen the EU debate and does indeed maintain the vast majority of Labour's domestic policies, it is entirely possible that Labour could gain power with him at the helm.

However, should a Tory Brexit create economic turmoil, Labour will almost certainly be subject to a relentless campaign from pro-EU organisations to support the prospect of rejoining. Will Starmer – who has always been unashamedly in favour of Britain being a member of the EU – be able to resist the urge to reopen the debate? It would – and still is – clearly be the right thing to do economically, but it would once again expose the party to significant electoral toxicity.

Whilst Starmer used his opening leadership pitch to rule out supporting any type of "Rejoin" campaign, it must be noted that it took him just a year to change his mind about respecting the will of the Labour membership over Jeremy Corbyn's leadership when he wrongly believed opinion had changed significantly. It also took Starmer just over a year to change his mind about respecting the will of the British people over Brexit when he believed opinion had changed significantly. If the economy suffers even marginally after Britain does finally leave the EU next year, all the evidence indicates that Starmer will again disavow his latest commitment and throw Labour's support behind an irrevocably toxic Rejoin campaign.
As much as I like and respect Keir Starmer, reopening the Brexit debate so soon – under any circumstances – will ensure Labour remain out of power.
Unfortunately, given his record for reneging on precisely these kind of commitments, I simply don't trust him to live up to his latest promise.