Following a 13 month battle, the DWP have finally been forced to release secret documents illustrating the tactics they use to control and manipulate the media.
The documents reveal that the DWP monitors and analyses both mainstream and social media to reduce and manage negative coverage.
And even more worryingly, the documents show the DWP have managed to kill hundreds of stories by making sure that they are not reported on.

Almost every month since March 2014 the DWP communications team has produced "Media Evaluation Reports" detailing the ways and methods that the DWP controls negative stories about them in the media.
The DWP refused to release the reports since the Disability News Service (DNS) originally requested them in September 2015 stating they were "commercially sensitive".
Finally after a struggle that took over a year, and a complaint by the DNS to the Information Commissioner's Office (ICO) the documents have finally been released.
The reports show that on a nearly monthly basis from March 2014 to September 2015 the DWP "spiked" (persuaded journalists not to run) a total of 385 stories.
The highest month for spiked stories was June 2015 when the department managed to successfully kill a massive 46 negative stories.

The second highest was March 2014 when the DWP terminated 44 stories.

In August 2015 the DWP "proactively briefed" the media about long-awaited statistics which showed the amount of ESA claimants who had died after being found fit for work, and successfully spiked coverage in a range of news outlets.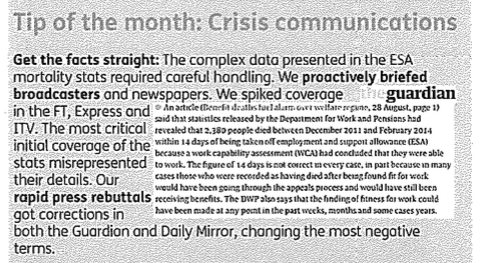 The reports confirm that the DWP considers the right-wing press to be supportive of them, and highlights cases where they have used them to "set the record straight" and further government policy.
The reports show that the DWP closely monitors media output, and compiles a "sentiment of articles" chart every month to make sure that they receive positive coverage.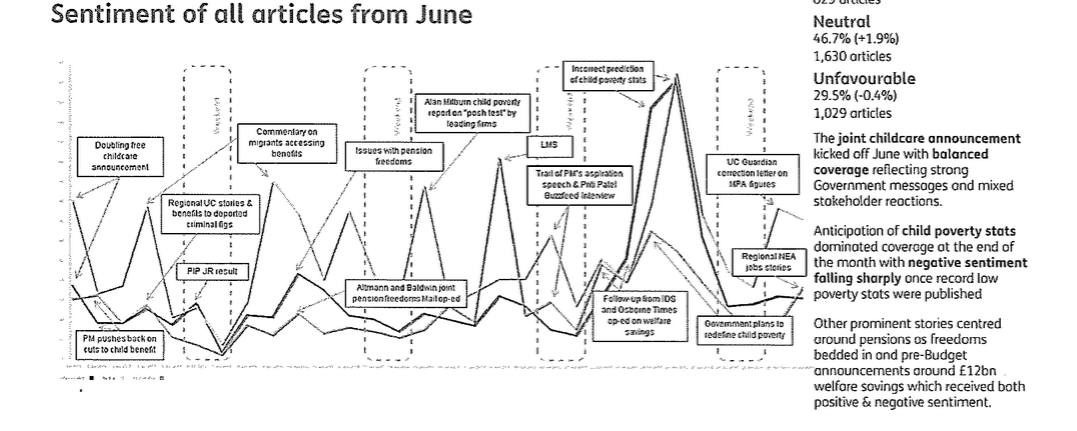 The reports give valuable insight into a department that is unhealthily focused on the press coverage they receive.
The fact that they have managed to kill so many stories that they don't approve of raises serious questions as to how the department is exercising its influence over the free press.
The role of journalism is to bring people the truth behind the DWP's rhetoric, not to act as the chief mouthpiece for it.