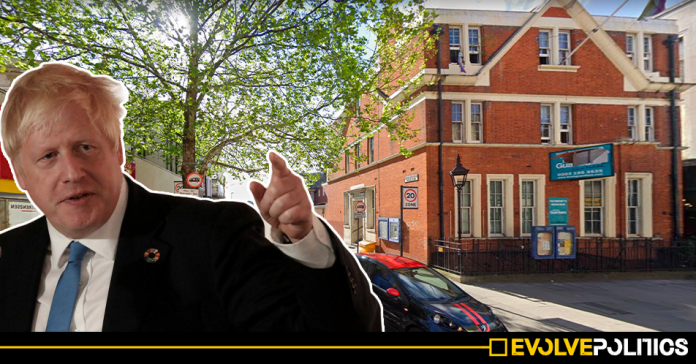 Yesterday's horrific terror attack in Streatham, which has left two people fighting for their lives in hospital and at least one other injured, occurred just yards away from a police station which Boris Johnson personally closed and sold off whilst he was Mayor of London.
In 2013, Streatham Police Station was shut down due to huge public service cuts imposed by the then Conservative/Lib Dem coalition government.
The decision to close to police station was personally approved and overseen by the then London Mayor – a certain Boris Johnson.
Despite Streatham being home to around 50,000 people, Johnson signed off the closure without even bothering to conduct a public consultation on the issue.
As a result, Streatham was left without a fully functioning police station, with only a so-called "police shop" – which simply consists of a front counter that is only available to the public between certain times – now being the only police presence in the area.
The former Streatham Police Station building, which was still publicly owned at this point, was eventually sold to a private buyer for £4.2m in 2015.
London's Metropolitan Police have been forced to sell off more than £1bn in publicly owned property over the last 10 years thanks to Tory cuts.
A 2014 petition calling for Johnson to reverse the decision to close Streaham Police Station was rejected by the then London Mayor, who argued that the closure wouldn't have any effect on the safety of residents.
However, yesterday's terror attack happened virtually on the doorstep of the now defunct Streatham Police Station building.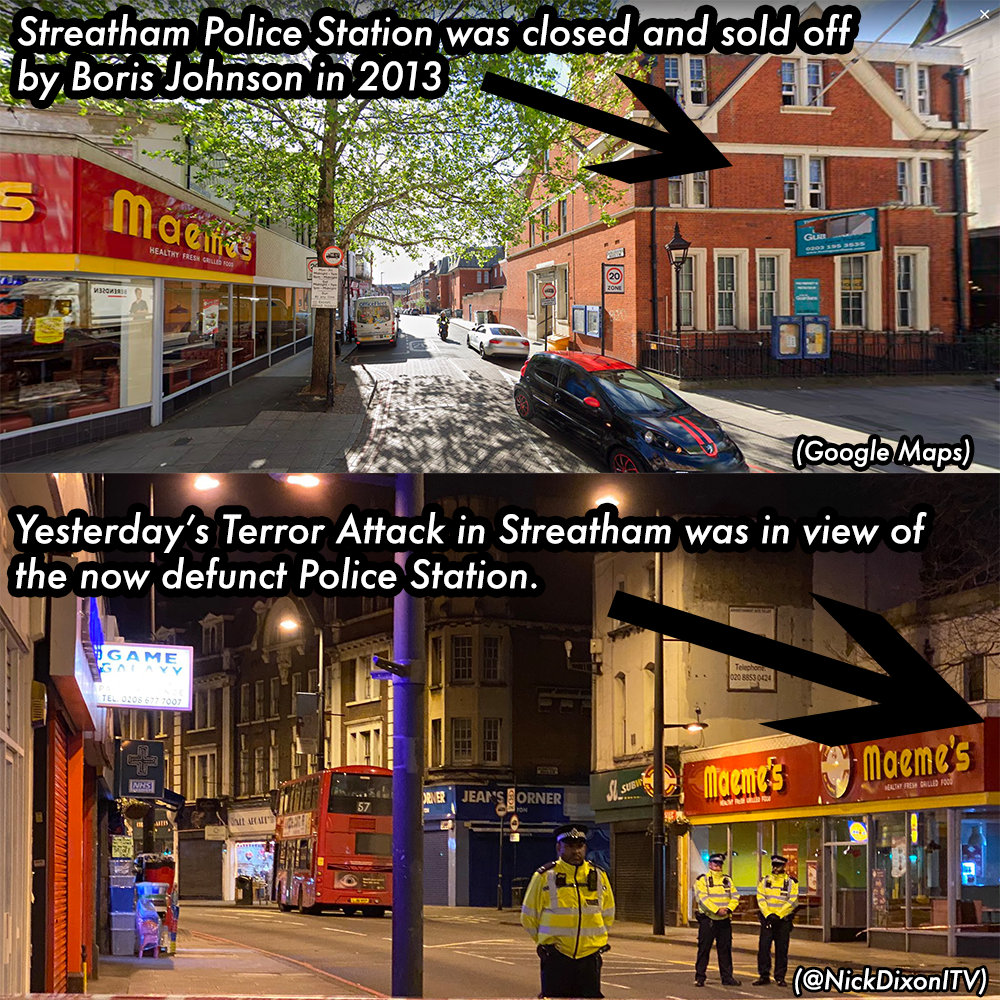 Unsurprisingly, people were absolutely furious at Johnson and the Tories:
The #Streatham terror incident happened metres away from the police station which was closed, and sold, without public consultation when Boris Johnson was London Mayor in 2013. It's uncanny. My thoughts are with anyone affected by today's events. pic.twitter.com/CY7EG4vsmH

— Nadine White (@Nadine_Writes) February 2, 2020
Streatham nick, 140 yards from where a knifeman attacked the public and had to be shot by police. It was sold due to funding cuts by the #Conservatives. Its up for sale again. Maybe the government could buy it and fill it with officers. #Streatham #CutsHaveConsequences pic.twitter.com/f0chL6RV2T

— Mutton Shunter (@muttonshunter) February 2, 2020
140 yards from where the person attacked members of the public with a knife in #Streatham, there use to be a police station but it was closed due to funding cuts imposed by the Conservative Government.

— Freddie (@FreddieBailey96) February 2, 2020
Streatham police station was closed in 2013 when he was mayor.

It's in view of the incident.

I've lived here 43 years – seen with my own eyes many incidents de-escalate cos the police were just there. https://t.co/eIGvc4UcGU

— Meryl O'Rourke (@MerylORourke) February 2, 2020
I wonder how quick the response would have been- or even if the incident would have happened here at all if @BorisJohnson hadn't sold off #Streatham Police station (literally across the road from the site) in 2013 with all the rest… #CheersBoris pic.twitter.com/rQptRWKocW

— Watson (@DoktorWatson) February 2, 2020
The closure of Streatham Police Station is not the only criticism that Johnson and the Tories have faced regarding yesterday's attack.
The attacker, who had previously been jailed over numerous terrorism offences, was released from prison just last week after serving just half of his sentence.
His release came despite Johnson personally vowing to crack down on prisoners convicted of terror offences in the wake of the terror attack on London Bridge in November.
The London Bridge attacker, Usman Khan, had also been released from prison after serving just half of his sentence.