Stay in touch!
Sign up to be updated with Evolve's latest stories, and for opportunities to get involved.
Jo Swinson's Liberal Democrats are specifically targeting Facebook adverts at fans of the former Conservative Party Prime Minister and the architect of some of the country's most socially destructive policies, Margaret Thatcher, it has been revealed.
The BBC's Technology Correspondent, Rory Cellan-Jones, wrote in a tweet that the Lib Dems are paying for adverts on Facebook which are specifically micro-targeted at people who are fans of Thatcher who live in Bedford:
Here's an interesting piece of targeting from our election.ads@bbc.co.uk project – LibDems seeking Thatcher fans in Bedford pic.twitter.com/OUi1L95qyq

— Rory Cellan-Jones (@ruskin147) November 18, 2019
The targeted Lib Dem adverts claim that "Only the Liberal Democrat can beat Corbyn's Labour in seats like yours."
Despite the claim made by the Lib Dems in the advert, the constituency of Bedford is essentially a straight two-horse race between Labour and the Tories.
In 2017, Labour managed to take the seat from the Tories, gaining 22,712 votes compared to the Conservative total of 21,923.
Meanwhile, the Liberal Democrats finished a hapless third with just 2,837 votes.
The Liberal Democrats have been keen to promote themselves as a progressive political party in recent years, but both their current policies and their track records shows that this is far from the case.
The Lib Dem leader, Jo Swinson, was previously heavily criticised after writing an article for the Daily Mail calling for a monument in honour of Margaret Thatcher to be erected.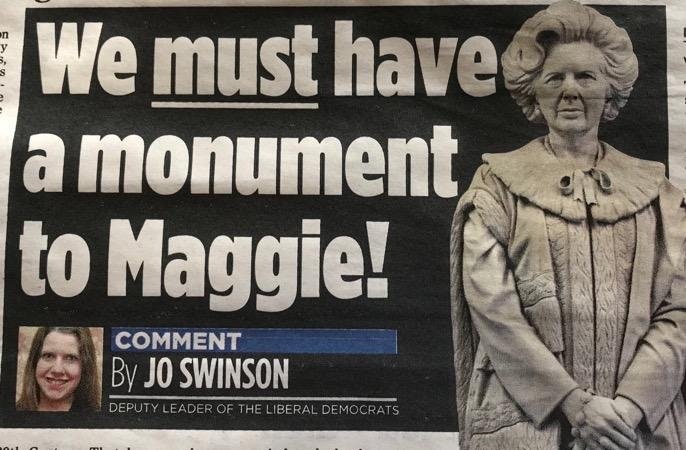 Furthermore, today's revelation that the Lib Dems are seeking to influence fans of the widely-reviled former Tory PM also comes just days after the party announced they would impose a state of permanent austerity on the country if they gained power.
The Lib Dem's economic plans, which were announced by their Economic Spokesman Ed Davey last week, have been widely intepreted as an attempt to outflank the Conservative Party to the right on the economy.
Many have also predicted that the Lib Dem's plans for further austerity measures would be far harsher and far more destructive to the UK's public services than were implemented under David Cameron and George Osborne from 2010-2015.
In addition to yet more austerity, the Lib Dems have no plans to scrap tuition fees – which they hiked to £9,000 during their time in the coalition government and which Jo Swinson herself voted in favour of.
The Lib Dems are also refusing to reintroduce the Educational Maintenance Allowance (EMA) – which they voted to abolish during 2010-2015.
In contrast, the Labour Party have pledged to scrap Tuition Fees entirely, and to reintroduce EMA.