Stay in touch!
Sign up to be updated with Evolve's latest stories, and for opportunities to get involved.
Today at PMQs, Jeremy Corbyn launched a scathing attack on the Tory government's agenda of cuts to local authorities, and the causal effect they had on the Grenfell disaster, saying:

When you cut local authority budgets by 40% we all pay a price in safety.

Fewer inspectors, fewer building control inspectors, fewer planning inspectors. We all pay a price.

And Mr Speaker, those cuts to the fire service have meant that there are 11,000 fewer firefighters. The public sector pay cap is hitting recruitment and retention right across the public sector. What the tragedy of Grenfell Tower has exposed is the disastrous effect of austerity.

This disregard for working-class communities, the terrible consequences of deregulation and cutting corners, I urge the prime minister to come up with the resources needed to test and remove cladding, retrofit sprinklers, properly fund the fire service and the police so that all our communities can truly feel safe in their own homes.

This disaster must be a wake-up call.
However, rather than actually respond to Corbyn's attack, Prime Minister Theresa May simply attempted to try and shift the blame onto Labour.
May claimed that the cladding of tower blocks began, not under the Conservatives, but under Tony Blair's New Labour government:
The cladding of tower blocks did not start under this government, it did not start under the previous government. The cladding of tower blocks began under the Blair government.
You can watch the exchange below:
However, Theresa May did not just misjudge her statement about cladding beginning under Tony Blair's government in 1997, she has in fact told an outrageously brazen lie to the entire country.
As the following video from 1984 shows, the cladding of tower blocks began under Margaret Thatcher's Conservative government during yet another period of Tory public spending cutbacks.
[embedyt] https://www.youtube.com/watch?v=upViHb8z4wY[/embedyt]
As ever, notoriously bottom-feeding pro-Tory comic Guido Fawkes jumped on the fake news without doing any research whatsoever: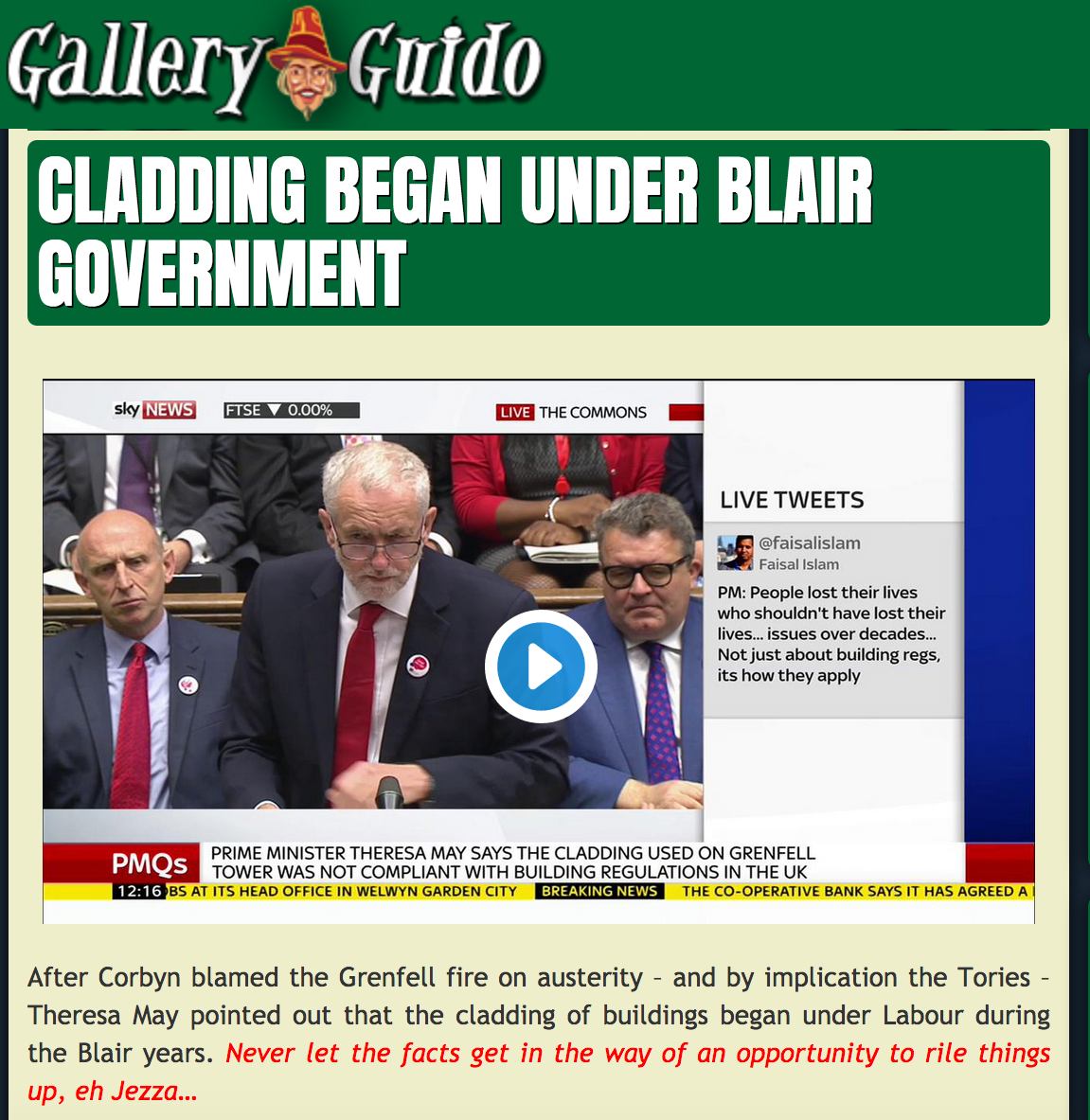 Yes Guido, 'never let the facts get in the way of an opportunity to rile things up'.
Why not take your own advice, eh.