Reports are starting to filter out of Tory towers suggesting that all is not well as some MPs begin to face the backlash from constituents fed up with cuts and austerity.
The debate over public sector pay continues to rage with nurses, firefighters and police officers being seen to bear the brunt of several recent disasters for which they are simultaneously praised by ministers and then lambasted for asking to be paid a decent wage.
While prominent Tory figures, not least the likes of Boris Johnson and Philip Hammond are becoming more vocal about their apparent opposition to the public sector pay freeze, the question that hangs in the air like a stale fart in a spacesuit is why did these people vote to maintain something that they now claim to disagree with.
This political cognitive dissonance seems to be rife in the Tory party and is becoming ever more evident in the responses from local MPs to fears over the ongoing NHS reorganisation.  A kind of ideological schizophrenia seems to pervade amongst many MPs who rail against closures of local hospitals in public, yet vote through the very policies that will ensure their demise.
Slash, Trash and Privatise
Even after criticising previous governments for constantly re-organising the NHS, the Tories set about doing exactly the same thing under the banner of 'sustainability' in the hope that no one would notice it was repeating the same script as before.  The intention is to slash £26bn off the healthcare budget to close off the predicted £30bn shortfall in NHS budgets by 2020.
The current Sustainability and Transformation Programmes or STPs were recently more aptly dubbed by members of the BMA as "Slash, Trash and Privatise".  They have rightly identified this process as a not so subtle means of softening up the NHS to be sold off to private care companies in the future.
The STPs have also been criticised for having no formal legal or governance structure, with the both Labour and the Green Party calling for a halt to the process during the recent general election.
But as always the government mantra is that they are spending more on the NHS than any previous government.  It is technically true, but this calculation generally leaves out the salient fact that with a rising population and inflation the overall amount will naturally follow a similar trajectory.  Contrary to claims by the government that we're spending comparable amounts to other developed economies on healthcare our budget per capita is behind many other countries including Austria, Luxembourg, Belgium and Japan.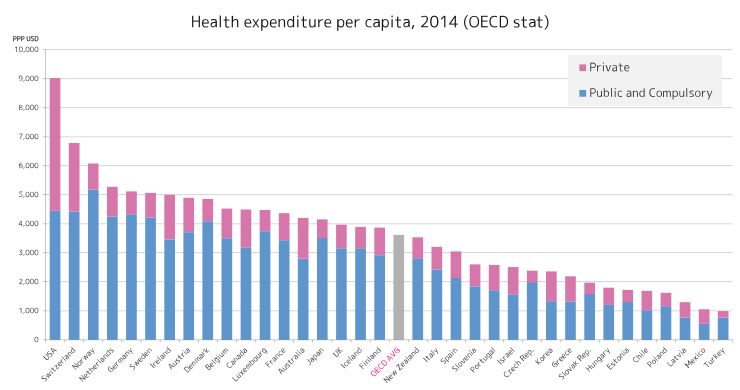 The top of the pile though is the USA, which gives us a clue as to where a substantial amount of this money goes.  Average administration costs in US hospitals are around 25% of the total budget, whereas in the UK the figure is a more modest 16%.  But even that is pretty high with admin costs rising steadily since the introduction of the internal market in the 90s.  Back then it was as low as 6%.
Wasted Billions
As we've seen time and time again it's re-organisations that cost the NHS billions that could be spent more fruitfully on treatment and care.  One recent estimate put the loss to the NHS as a direct result of the internal market at £10bn per annum.
And the STPs are no different.  Another report from the BMA recently highlighted eye-watering costs to the health service after an army of consultants and management experts were drafted in to implement the government's plans.
A BMA News investigation recently revealed that health leaders have created more than 150 jobs, with annual salaries amounting to at least £8.5m, despite funding for frontline services being slashed at every turn.
Other STP planners have advertised jobs for agency staff, or private consultants haemorrhaging at least £1.1m of NHS money to external firms.
These figures were said by the BMA to be the tip of the iceberg as many trusts and CCGs had failed to respond fully to their requests for information.  Yet from the figures that are available it's easy to see that staggering costs already being imposed in what are, as yet, the early stages of this process.
These range from STPs in Derbyshire where only two staff have been employed at a cost of a mere £68,000 to those in North-east London where 37 job roles were created with a whopping bill of £2.3m.
Tower Hamlets GP Jackie Applebee has commented that the 'astronomical' figures in north London were 'shocking' and that the STP there is creating another level of NHS bureaucracy which 'overwhelms' patients and doctors.
She added:
I'm appalled. The NHS in our area is falling apart. We are being told that the number of GPs is being cut drastically but they are prepared to spend all this money on people who aren't even necessarily tied to our area.
Snouts in the Trough
It's clear that the STPs are already being used as a major plank in the Tories privatisation by stealth process.  They're clearly facilitating the introduction of multiple private snouts into the public health service trough as money that is supposed to be spent on patient care is siphoned off into the pockets of yet another layer of management.
This further undermines government claims on health spending increases, if substantial portions of any increase are being diverted into yet another ill-conceived re-organisation process. It's also ironic that amidst claims from ministers that huge savings need to be found by the NHS, much needed funds are being thrown at exactly the people who are supposed to be facilitating improved fiscal fortitude.
While local MPs perform ever more convoluted stunts of cranio-rectal denial, our treasured NHS and local health services are being sliced and diced by the men and women in shiny suits looking to sell off assets and resources to justify their own massive fees.
In that context this re-organisation, as with so many before it, is simply engineering a scenario that is anything but sustainable.  As the BMA and many other healthcare specialists and professionals have already highlighted, that has probably been the intention all along.
Become An Evolve Politics Subscriber



Your subscriptions go directly into paying our writers a standard fee for every article they produce. So if you want to help us stay truly independent, please think about subscribing. We literally couldn't function without the support of our fantastic readers.
Subscribe
Or a One-Off Donation to Evolve Politics



If you don't want to subscribe, but still want to contribute to our project, you can make a one-off donation via the donate button below. All your donations go directly to our writers for their work in exposing injustice, inequality and unfairness.
Donate