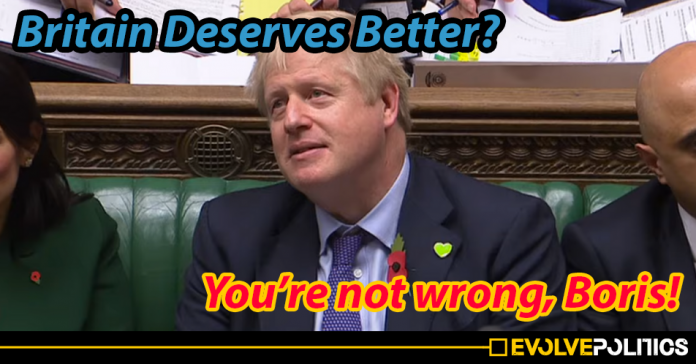 The Conservative Party – who have been in government for the past 9 years and whose policies have unleashed unprecedented level of chaos, misery and poverty in the UK – have been well and truly lambasted on social media after genuinely making the decision to use the ridiculously ironic and completely self-oblivious campaign slogan 'Britain Deserves Better'.

In his first tweet following Parliament's decision to accept a snap General Election on Monday, Boris Johnson outlined his potential campaign platform, before ending with the hashtag "#BritainDeservesBetter":
Parliament & Jeremy Corbyn have blocked everything — we need a new Parliament so we can #GetBrexitDone and the country can #MoveOn to focus on the cost of living, NHS, clean energy, violent crime and higher pay #BritainDeservesBetter

— Boris Johnson (@BorisJohnson) October 29, 2019
However, many were quick to point out that Boris Johnson is definitely the encumbent Prime Minister, and that the Tories had definitely been the ruling party for the past 9 years – something which doesn't exactly put their own record in good light by using the phrase 'Britain Deserves Better'.
Labour MP Jess Phillips tweeted her own incredulity at the Tories' astonishing choice to use the slogan, stating:
"The absolute bantz of the Tories using the tag line #BritainDeservesBetter after being in Government for 9 years. You're not wrong lads."
The absolute bantz of the Tories using the tag line #BritainDeservesBetter after being in Government for 9 years. You're not wrong lads.

— Jess Phillips Esq., M.P. (@jessphillips) October 30, 2019
Sign up to be notified of new Evolve Politics articles
And numerous other Twitter users also spotted the ridiculously obvious problems with the serving government using such a phrase – with various hilarious comebacks gaining large numbers of retweets:
No stop.

This is just too inspired.

After being in power

For 9 years,

The Conservatives Party

actually came up with,

agreed on,

and

released,

their

General Election Slogan: #BritainDeservesBetter

You couldn't make this up.

You just couldn't. pic.twitter.com/mn02LNjQSK

— Dr. Jennifer Cassidy (@OxfordDiplomat) October 30, 2019
https://twitter.com/Michael_Dunn4/status/1189444727625703426?s=20
For an incumbent Prime Minister leading a party that has been in power for nine years, #BritainDeservesBetter might not be the best campaign slogan. https://t.co/BmvPNEuvKW

— Mikey Smith (@mikeysmith) October 30, 2019
The Conservatives have been in Government for 9 years.

There will be some who question how wise it is for them to campaign with the hashtag: #BritainDeservesBetter https://t.co/x4MbEA530s

— Paul McNamara (@PGMcNamara) October 30, 2019
#BritainDeservesBetter is literally the slogan you use if you've been in opposition for years.

It's probably designed get traction through hateshares, but I'm happy to oblige & amplify because it simply doesn't work for the party of austerity & Brexit failure.#GE2019

— Mike Hind (@MikeH_PR) October 30, 2019
https://twitter.com/gletherby/status/1189337449920630784?s=20
Boris Johnson's right for once and #BritainDeservesBetter. Kick him out https://t.co/kDzlkZQqFQ

— Kevin Maguire (@Kevin_Maguire) October 30, 2019
.@BorisJohnson is tweeting with the new Tory slogan #BritainDeservesBetter

For once, on this particular point, I agree with the charlatan

— Tom London (@TomLondon6) October 30, 2019
https://twitter.com/corbynnow/status/1189442765144375296?s=20
Is the Conservative Party campaign hashtag really #BritainDeservesBetter? After 9 years in power. pic.twitter.com/vmPUxr7bgA

— Paul Doomster, Esq. (@paulj71) October 30, 2019
Even the Tories' feircest opponents in the upcoming General Election, the Labour Party, agreed with the Prime Minister's slogan:
We agree, after a decade of Tory cuts #BritainDeservesBetter.
Britain Deserves #RealChange. #VoteLabour pic.twitter.com/url0uXpLUB

— The Labour Party (@UKLabour) October 30, 2019
The former Prime Minister, Theresa May, was widely ridiculed during her disastrous 2017 General Election campaign for robotically churning out the increasingly irritating "Strong and Stable" slogan ad nauseum during interviews and speeches.
Following the criticism of her Strong and Stable slogan, May quickly dropped the catchphrase – but her campaign went from bad to worse, culminating in her losing her majority, failing to deliver on her one major election promise to deliver Brexit, and then essentially being booted out of Number 10 by her own party after numerous humiliations in and out of Parliament.
However, if Boris Johnson's first campaign slogan is anything to go by, the Tories' 2019 General Election campaign is already in severe danger of becoming an even bigger farce than it was two years ago.
We Need Your Help!
Evolve Politics can only continue publishing our truly independent journalism because of the financial support of our readers. If you value our work, please consider subscribing or donating any amount you can afford. Every penny you contribute goes directly to our writers for their work.