Stay in touch!
Sign up to be updated with Evolve's latest stories, and for opportunities to get involved.
Today saw the worst mass shooting in recent US history as a lone gunman killed at least 50, and injured 53 at the Pulse nightclub in Orlando, Florida.
The horrific crime has sent shockwaves across the world, with US president Barack Obama calling the shooting 'heartbreaking', and vice president Joe Biden offering his 'prayers and condolences to all the families and loved ones of the victims'.
And as news of the killer's identity emerged, speculation over his motivation was rife on social media. Many suggested it was religiously motivated, whilst others saw it as a direct hate crime against the LGBT community.
Republican nominee Donald Trump took time out of his schedule to tweet (extremely insensitively) about the event, causing a huge backlash from many twitter users:
Appreciate the congrats for being right on radical Islamic terrorism, I don't want congrats, I want toughness & vigilance. We must be smart!

— Donald J. Trump (@realDonaldTrump) June 12, 2016
shut the actual fuck up. People DIED. It's time to mourn. Not radically brag, you insensitive sensationalized asshole.

— Sophia Bush (@SophiaBush) June 12, 2016
You're repugnant.

— (((Rachel Sklar))) ❄️ (@rachelsklar) June 12, 2016
You are a stain on your children and humanity!!! You are the lowest of the low!!!!!!!

— Perez (@ThePerezHilton) June 12, 2016
But whilst the arguments and anger raged on, solidarity for the LGBT community was slowly breaking through on social media.
This was Guardian commentator Owen Jones' immediate response to the tragedy: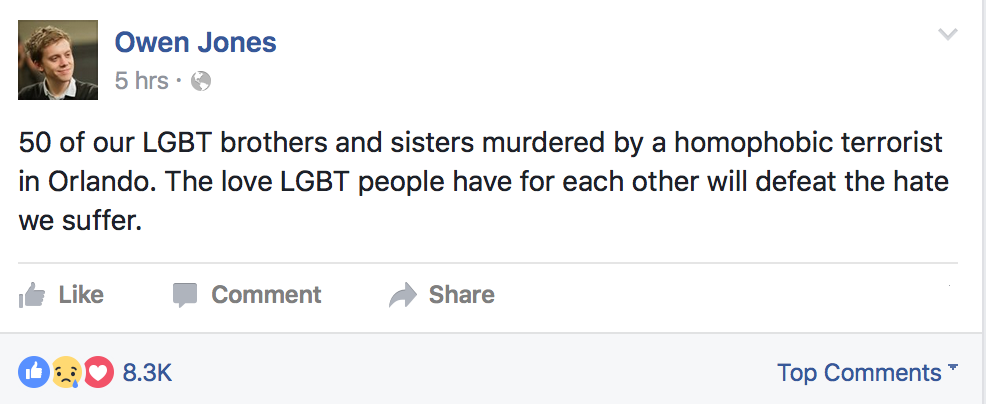 And a deeply heartfelt post from Michael Burcham.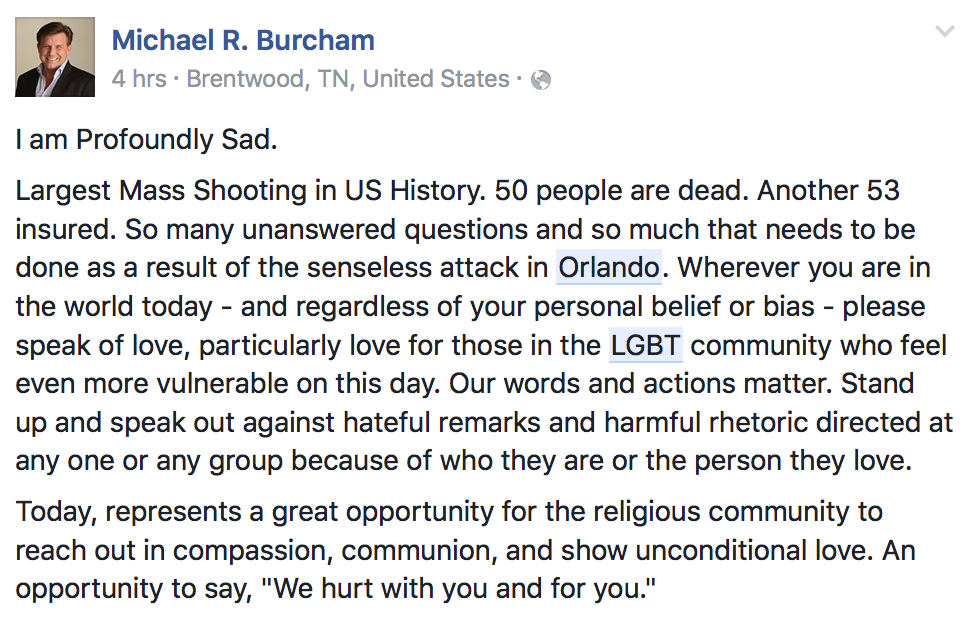 And on Twitter, the hashtag #LoveIsLove is trending at number 2, and has now had over 300k tweets so far today.
On what has been a truly dreadful day for the LGBT community, here are our pick of the most uplifting tweets that give us hope for a more unified future.
Be proud of who we are. #loveislove pic.twitter.com/RDgEox3UOH

— h (@halsey) June 12, 2016
https://twitter.com/NevSchulman/status/742078441063866368
Homosexuality exists in 450 species.
Homophobia is found in only one.

Which seems unnatural now?#LoveIsLove pic.twitter.com/nD02UCqQ2I

— Gustavo (@TheMendesMoon) June 12, 2016
https://twitter.com/AllTheFkinLove/status/742068700048674816
they all look so happy with the person that they love. I don't see what the problem is? #LoveIsLove pic.twitter.com/fB7Rp8fxBv

— yaz (@yvngroses) June 12, 2016
https://twitter.com/666joshler/status/742067687157846017
everybody deserves to be loved and to be in love #loveislove pic.twitter.com/wVQKWEH3lt

— sara luvs nikolai || isa's day !! (@intomahoran) June 12, 2016
so upset with this world right now #PrayForThisWorld #LoveisLove pic.twitter.com/Z91DuNFR1y

— ella (@3LLATIGH3) June 12, 2016
Love is a beautiful thing, and no one can help who they fall in love with! Always be you, no matter what anyone thinks! #LoveIsLove ❤️

— Concept (@ConceptOfficial) June 12, 2016