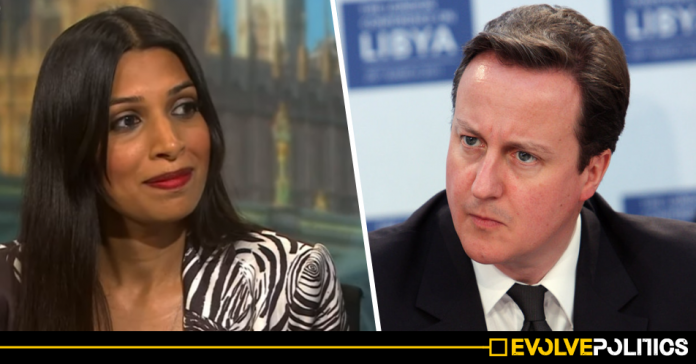 Labour's Prospective Parliamentary Candidate for Chingford and Woodgreen, Faiza Shaheen, sparked hilarity on social media after labelling the former Prime Minister, David Cameron, a tw*t, live on the daytime BBC programme, Politics Live.
Responding to a question about what Cameron's legacy would be, Shaheen said:
"I mean I watch these sorts of interviews and think Eton's got a lot to answer for!"
"I feel incredibly angry to hear him say that he's got no regrets about austerity and the cuts that have had huge implications for this country – and in fact there's good academic studies to show [the cuts] are linked to the Brexit vote; where there were bigger spending cuts around the country there was a higher Brexit vote."
"And this sense of "oh, well we did the right thing", when we know that people have suffered [and that] there have been 130,000 lives [lost] connected to that austerity."
"So, you know, I have to agree with Danny Dyer's take on this – that he's a tw*t."
You can watch the incredible clip below:
Sign up to be notified of new Evolve Politics articles
We Need Your Help!
Evolve Politics can only continue publishing our truly independent journalism because of the financial support of our readers. If you value our work, please consider subscribing or donating any amount you can afford. Every penny you contribute goes directly to our writers for their work.