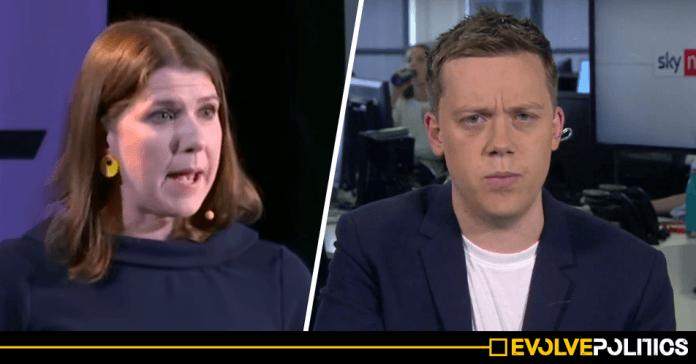 The Liberal Democrats, and their new leader Jo Swinson, have encountered a monumental backlash on social media after refusing to support Labour's plans to form a caretaker government with the sole intention of stopping a 'disastrous No Deal Brexit'.
Yesterday, the Labour leader Jeremy Corbyn wrote to all opposition leaders and numerous senior backbenchers laying out his plan to stop Boris Johnson from implementing a No Deal Brexit by default.
I've written to the leaders of other political parties and senior backbenchers from across Parliament to lay out my plan to stop a disastrous No Deal Brexit and let the people decide the future of our country. pic.twitter.com/Jz1MjXCrqk

— Jeremy Corbyn (@jeremycorbyn) August 14, 2019
The Scottish National Party, The Green Party and Plaid Cymru – all of whom are staunchly anti-Brexit – have all given their backing to Corbyn's plan.
Furthermore, even some Tory MPs are beginning to warm to the idea, with former Tory Minister Guto Bebb giving his backing to Corbyn's idea of a caretaker government to stop No Deal:
"A short-term Jeremy Corbyn government is less damaging than the generational damage that would be caused by a no-deal Brexit"

Conservative Guto Bebb says MPs opposed to leaving the EU without a deal must take the Labour leader's #Brexit plan seriouslyhttps://t.co/9zQcRnmwmc pic.twitter.com/befrhx2mV5

— BBC Politics (@BBCPolitics) August 15, 2019
Tory MPs Dominic Grieve, Ken Clarke and Oliver Letwin have also all agreed to meet with Mr Corbyn to discuss the plan.
Sign up to be notified of new Evolve Politics articles
However, despite stopping Brexit being their only major policy, and despite basing their entire electoral strategy on being anti-Brexit, the Lib Dems' newly elected leader Jo Swinson described Corbyn's plan as "nonsense", and indicated her party would do everything they could do stop a No Deal Brexit except supporting a Corbyn-led caretaker government.
Swinson stated:
"Jeremy Corbyn is not the person who is going to be able to build an even temporary majority in the House of Commons for this task – I would expect there are people in his own party and indeed the necessary Conservative backbenchers who would be unwilling to support him […] It is a nonsense."
The Lib Dem leader went on to state that she would only be prepared to support centrist backbenchers, such as Harriet Harman or Ken Clarke, leading a National Unity government instead of Mr Corbyn.
Unsurprisingly, Swinson's stance has come in for criticism from right across the political spectrum, with even vast swathes of Lib Dem supporters said to be apoplectic at their newly elected leader's refusal to do everything to stop a No Deal Brexit.
And speaking on Sky News, Guardian journalist and Corbyn supporter Owen Jones summed up the absurdity of the Lib Dems' position perfectly, stating:
"The Lib Dems have to decide whether they want to be the handmaidens of No Deal chaos. I mean, they're the Meat Loaf party aren't they: 'I would do anything to stop No Deal, but I won't do that.'
And this is the party that was prepared, for five years, to prop up David Cameron, austerity, the bedroom tax, cuts to disabled people and benefits, trebling tuition fees etc etc, but they're not prepared to countenance a five-week long – if that – government headed by the leader of the opposition to stop No Deal and then call a General Election.
And we've already seen, actually, the Greens and the SNP have condemned Jo Swinson for ruling this out. Several Labour MPs, who can in no way be described supporters of Jeremy Corbyn, have also called on the Lib Dems to do this. And even Guto Bebb, who is a Tory backbencher, has already come out and suggested that this is one option.
This is kind of going back to what you kind of expect the great tradition of the Liberal Democrats: one of their flagship policies, as we remember back in 2010, was to scrap tuition fees – then they trebled them.
Now their only policy that anyone in the country knows anything about is Brexit: stopping No Deal, which is obviously a national emergency at the moment, and they're not prepared to take action to stop No Deal from happening.
Of course it would have to be, constitutionally, the leader of the opposition – who obviously got 40% of the vote and has his own internal democratic mandate – the idea of just doing some backroom deal to install some random backbencher as leader of a so-called national unity government is just absurd."
The Lib Dems are prepared to throw Britain off the No Deal cliff for their own cynical, party political ends. pic.twitter.com/Zxb5JsMvf6

— Owen Jones🌹 (@OwenJones84) August 15, 2019
 Following the backlash against her stance, Swinson has now offered to meet Mr Corbyn for talks, but stopped short of offering her backing to him as a potential caretaker PM:
I've offered to meet Jeremy Corbyn to discuss how we can work together on a deliverable plan to stop no-deal, including the option of uniting behind an MP who can command a majority in the House.

— Jo Swinson (@joswinson) August 15, 2019
All the evidence is that Jeremy Corbyn does not have the support of enough Conservative MPs to command that majority, so I would urge him to be open to supporting alternative candidates for that role. pic.twitter.com/D7v8FRyDCp

— Jo Swinson (@joswinson) August 15, 2019
We Need Your Help!
Evolve Politics can only continue publishing our truly independent journalism because of the financial support of our readers. If you value our work, please consider subscribing or donating any amount you can afford. Every penny you contribute goes directly to our writers for their work.