Stay in touch!
Sign up to be updated with Evolve's latest stories, and for opportunities to get involved.
The hugely popular "Ohhhhhh Jeremy Corbyn" chant has been banned at this year's Wimbledon tennis tournament.
The exclusive All England Lawn Tennis Club (AELTC), which runs the tournament, has issued strict guidelines banning any displays of support for Corbyn, or any other political expression at this year's Wimbledon.
The AELTC boasts significant links to Royalty. The patron of the club is Catherine, Duchess of Cambridge (Prince Bill's wife Kate Middleton), and the President is Prince Edward, the Duke of Kent. The club has a strict membership policy that only allows 375 hand-picked members of the elite class.
Furthermore, the Lawn Tennis Association (LTA), who also support the tournament, received nearly £3.5 million of public money in 2015-16.
Meaning that public funds are being used to support the tournament in multiple ways, yet the public is banned from expressing themselves.

List of banned things at Wimbledon — they may as well replace it all with just the word "fun".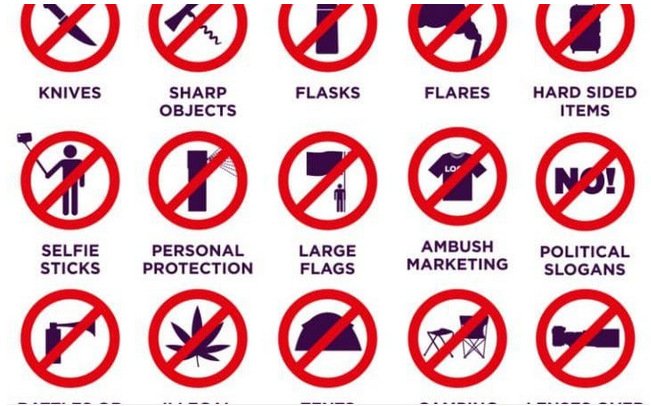 One of the rules issued for spectators is that must they must not wear:
any objects or clothing bearing political statements
A threatening sign has also been erected outside the entrance gate to the grounds to warn us plebs, saying: "no political slogans!"
An AELTC spokeswoman told the Daily Telegraph:
We wouldn't want people to use this kind of event as a platform for their specific views or causes.
The rules also apply to chanting, and officials have warned that match umpires would stop any political chanting. If this measure failed, then so-called "noise stewards" would get involved.

Rumours are abound that Jeremy Corbyn has been invited to watch one of the matches from the Royal Box.

It is not known what day, or if he will attend.

The ban on anything political at Wimbledon certainly is interesting. I wonder if umpires and bouncers will also be employed to throw out people spontaneously singing God Save The Queen, or wearing a T-Shirt of the Queen's face? She is, after all, a political figure who comes with a ready-made chant.


Widget not in any sidebars


The Corbyn chant has amplified in popularity over the course of June's snap General Election, culminating in perhaps the biggest rendition of the chant this year: at last week's Glastonbury festival.

The pro-Corbyn ban at this years Wimbledon has been met with some interesting and hilarious comments from the Twitter world:
Let's get "Oh, Jérémy Chardy!" Chanting at #Wimbledon and see how the authorities get knickers in a twist #corbyn https://t.co/8Z8k9RHmtK

— Danny Braverman (he/him) (@DannyBraverman) July 1, 2017
The same Wimbledon suits that permitted Cliff Richard to torture Centre Court with impunity, now banning Corbyn chants. #Wimbledon #Corbyn

— Jason Kennedy (@savior_cinco) July 1, 2017
Can't the crowd at Wimbledon just gently hum Seven Nation Army whilst waving Red Flags instead?

¯_(ツ)_/¯#corbyn #ToriesOut #wimbledon

— Gavin Black (@gavb1ack) July 1, 2017
One massive point that Wimbledon organisers are missing is that the British people really don't like being dictated to in this manner, so we do envisage some creative solutions being found to the ban.

WATCH: THE ARTIST TAXI DRIVER'S HILARIOUS TAKE ON THE WIMBLEDON CORBYN CHANT BAN
[embedyt] https://www.youtube.com/watch?v=Fq2wMKkSnMI[/embedyt]
Become An Evolve Politics Subscriber



Your subscriptions go directly into paying our writers a standard fee for every article they produce. So if you want to help us stay truly independent, please think about subscribing. We literally couldn't function without the support of our fantastic readers.
Subscribe
Or a One-Off Donation to Evolve Politics



If you don't want to subscribe, but still want to contribute to our project, you can make a one-off donation via the donate button below. All your donations go directly to our writers for their work in exposing injustice, inequality and unfairness.
Donate