Stay in touch!
Sign up to be updated with Evolve's latest stories, and for opportunities to get involved.
Yesterday, a family of four faced homelessness after their landlord served them an illegal eviction notice on 30th June. Whilst many families would have had no choice but to bow down to the Landlord's demands, things were different for the Sheffield-based Khan* family – they had tenant's union ACORN backing them.
Shocking condition
ACORN is a very special union that demand decent, secure, affordable homes for all. They originally became involved to help raise awareness to the sorry state of the Khan's home – a damp, pest infested flat above a takeaway – after repeated attempts for the landlord to maintain it had gone ignored.
The Khans had not been provided with gas and electricity safety certificates, the walls were crumbling and the property had not been decorated for 30 years.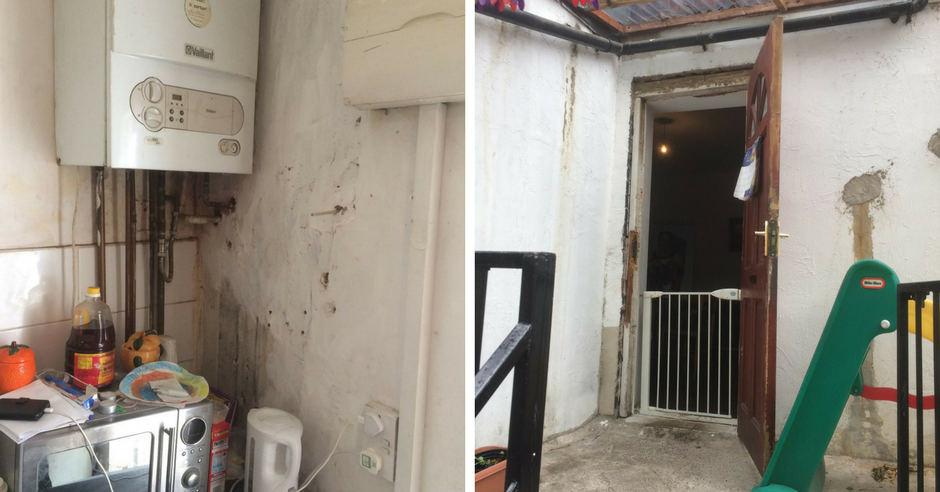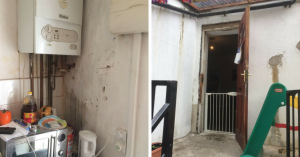 Many tenants will understand the anxiety the Khans must have felt every time they asked their landlord to simply do what was required of him, by law. Fear of eviction is a tactic regularly used by landlords in order to avoid having to spend money on maintaining a property.
Instead of putting right the accommodation, he followed through on the threat that keeps so many tenants in silence… he presented them with an illegal 4-weeks notice eviction.
ACORN vowed to do all they could to protect the family, telling their followers that:
"When the landlord comes knocking in 4 weeks time he'll face not only the family but the full force of our organisation"
Of seeking action through a tenants union, Mr Khan said:
"This is the last option we have. We would like to move because the place is bad but it is
difficult to find an affordable home near our children's nursery and school."
While it shouldn't have been the Khan's last option, it will certainly not surprise many renters that it was. Rent has soared, and references and good credit ratings are often required in order to secure accommodation. In the increasingly corrupt world of private renting these can be exceedingly hard to come by.
"We're tenants united. We'll never be defeated."
In the face of ignorance from the government and rising corruption from landlords, ACORN tenants union have taken things into their own hands. 
Yesterday, it was the eviction day for the Khans. Had the landlord had his way, at 5.45pm they would be ejected from their home and facing "literally sleeping on the streets". However, ACORN committed to stopping this action… and they came through.
With members of the union on nearby streets from 10am, the level of dedication was admirable. They refused to risk the landlord arriving early and the family being left alone.
By 5.45pm a huge crowd of around 100 protestors had formed a blockade around the property. The solidarity was enlightening, as many stood arm in and arm and said they will not allow this to happen.

Fantastic results
This fantastic, peaceful protest against this total system failure worked. The Khans did not spend the night on the streets, instead keeping their home, and the landlord agreed to meet ACORN to further discuss this situation. It is safe to assume that he will no longer be trying to intimidate the family he has taken advantage of.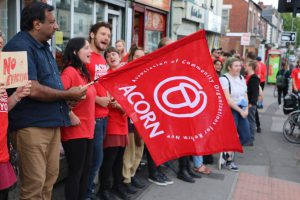 Of course, this is not the end of this story. The results of the meeting between the tenants union and the landlord are eagerly anticipated by many, but for now hope has been instilled. In the face of the leaders of the country turning their backs on the most vulnerable of society, a community can – and will – come together to protect one another. 
Jonny Butcher, organiser of the Sheffield protest, told Evolve Politics that:
"Last night was incredible. To have a hundred ACORN members take action to protect a family from life on the streets shows that community solidarity is alive in Sheffield. We've already had plenty of people join as members overnight, which shows that people are thirsty for action in this great city, and they know they'll get it with ACORN"
1 million families will face eviction by 2020
Sadly, this incredible outcome is not common. With reports predicting that a million families will face eviction by 2020, illegal eviction and intimidation techniques are sure to continue to rise unless something is done about it. While Labour vowed to protect renters, the Conservatives have done no such thing. 
Last night's protest has shown that by taking it into our own hands, peacefully and legally, there are ways to stop the unjust practices of rogue landlords. If you rent and live in fear, or know people who do, do not continue to stand for it.
Join ACORN now – with higher numbers of active members they will be able to see more local campaigns that will protect vulnerable tenants. With the state of private renting, it isn't that unlikely that you may find yourself needing their help.
Landlords who bully, intimidate and neglect their tenants must be stopped, and it is clear that the current Tory government will not do a thing about it. We must stand together and work towards change.
* The family's name was changed in order to protect their identity
Get involved
Join ACORN tenants union for free as an associate member. Donate as little as £1 per month to become a full member. The more donations they receive, the more families they can help

Volunteer with ACORN. There are many ways you can help, for example fundraising, organising events, campaigning, social media

Remember that there are better options for renters – we just need to campaign for a government who will ensure renters are protected
Become An Evolve Politics Subscriber
Your subscriptions go directly into paying our writers a standard fee for every article they produce. So if you want to help us stay truly independent, please think about subscribing. We literally couldn't function without the support of our fantastic readers.
Subscribe
Or a One-Off Donation to Evolve Politics
If you don't want to subscribe, but still want to contribute to our project, you can make a one-off donation via the donate button below. All your donations go directly to our writers for their work in exposing injustice, inequality and unfairness.
Donate