On the evening of 29 April 2013, an 82-year-old British Muslim man was leaving his Mosque. He was followed home by a far-right neo-Nazi terrorist who stabbed him to death on the steps of his house.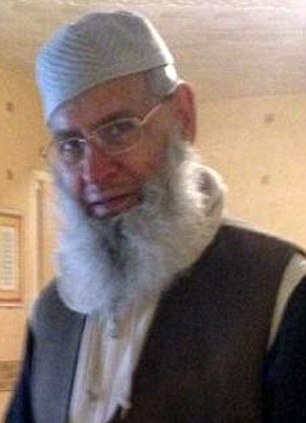 Following the brutal murder of Mohammed Saleem, the terrorist went on a 3-month long bombing campaign, planting and exploding bombs outside of 3 mosques in the West-Midlands.
This was one of the biggest acts of terrorism in the UK, yet many people have never heard of it, or know of the terrorist behind the attacks.
Maz Saleem, the daughter of the elderly victim, has told her shocking account of terrorism in a new online video from the Double Down News Network.
Maz explains that the media was virtually silent about this far-right neo-Nazi's reign of terror, and was shocked by how different the media's response was to her story as opposed to that documenting Fusileer Lee Rigby's attack.
Following the Rigby attack, Theresa May (then Home Secretary) sprung into action and instantly chaired emergency Cobra meetings.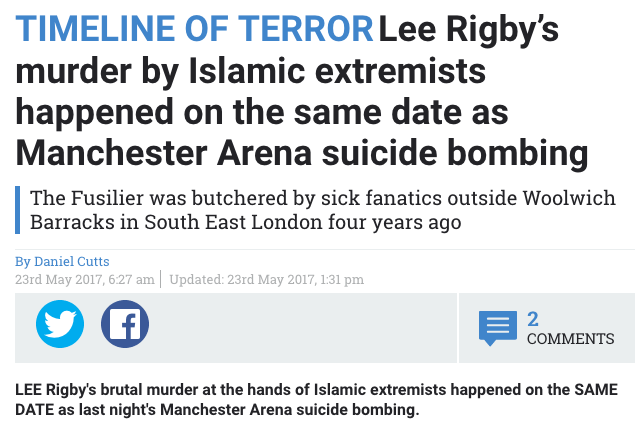 Maz says that her family and community received terrible treatment from the establishment following her father's brutal murder.
Maz says:
I remember sitting in my flat and when I heard the news that my father was brutally stabbed, my second oldest sister called me and said "Dad's been stabbed", and then within minutes my oldest sister called me and said "Dad's dead.

And I just could not believe it….

I ran to the station — I was literally not even properly dressed. Me and my sister — we drove to Birmingham, and we got to the hospital.

When the surgeon described the injuries — he'd never seen such horrifying injuries on an elderly man.

You know, it completely broke our hearts.
Maz explains the pain and fear that she feels on a daily basis as a result of this brutal attack:
You just don't expect this to happen on a road where you've lived all your life.
Maz also says that her father was a British citizen who:
Loved and respected this country.
Following the tragic stabbing of her Father, Maz has dedicated her life to fighting the forces of Islamophobia and fascism which she says has "sadly, got worse" since the attack.
Maz says that:
Islamaphobia is rife — it's burning through the world right now.
Pavlo Lapshyn, the terrorist behind this rampage was sentenced to 40 years for the murder and bombings.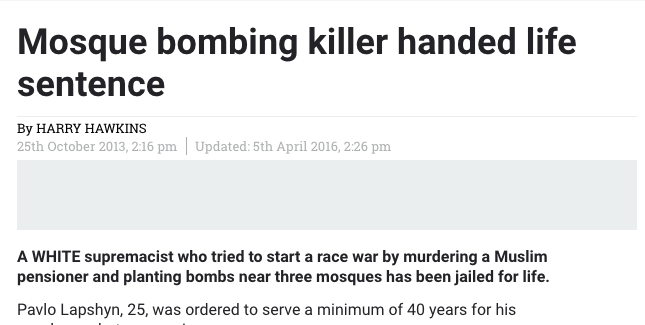 Maz says that Lapshyn was essentially radicalised by the media and that one of her primary concerns is the way that the media spreads Islamophobic hate on a daily basis:
Lapshyn…read a lot of anti-Muslim media: this is what spewed his hatred.
She cites the recent, disgusting article by Trevor Kavanagh in The Sun in which he describes 'The Muslim Problem" with reference to "predatory Muslim men towards white women" as an example of the way the media demonises Muslims.
And Sarah Champion's equally vile article for The Sun (anybody see a theme here?), in which she also demonises Muslims – inferring that all British Pakistani men are dedicated to raping white girls.
This is, of course, absurd, and a clear racist demonisation of the Muslim population.
As Maz notes, the phrase "Muslim problem" has a clear association with Nazi propaganda, which often referred to the "Jewish problem".
I doubt we need to go into a full history lesson to understand where this kind of demonisation can lead us.
Many parallels can be drawn between the way that the Nazis demonised and dehumanised the Jews and the way that Muslims are portrayed by the mainstream media today.
Groups like ISIS feed off of this kind of fear-mongering and use it to help justify their stance as so-called 'defenders' against the lies and corruption of the West.
Maz' tragic story is sadly not that uncommon, and it shows us how the establishment defines terrorism and thus who they see as important.
When we bomb innocent civilians in illegal wars, we aren't terrorists — our leaders simply 'made mistakes'. The dead, in the eyes of the media and politicians, are simply collateral damage.
When an ISIS affiliate bombs someone in the West or stabs someone, they are a terrorist, and the media reacts as such, as does the rest of the Establishment.
But when the same kind of attack is carried out by a far-right, white nationalist, neo-Nazi, such as in this case, or Charlottesville then the establishment media generally treats them as cases of mental disturbance.

The establishment simply uses terrorism to describe any act of terror that they don't approve of.
In the case of Islamic terror, the subsequent media hysteria allows the establishment to justify illegal and neverending wars carried out in some of the poorest parts of the world.
As well as this, it promotes division between cultures and fuels a sense of superiority in many Westerners.
After all, when one of 'ours' does it, they aren't really a terrorist, but when one of 'theirs' does it, they are a real terrorist.
And all of this nonsense, this insanity, all it does is breed more hatred and more terrorism.
WATCH: MAZ TELLS HER HEARTBREAKING STORY
Until we can have a sane conversation as a nation about terrorism, its roots, its forms, who funds it, who really spreads the hate, then I don't see how we can really overcome terrorism itself.
Luckily, thanks to people like Maz, we are starting to get glimpses of the wider problem – glimpses which may slowly bring humanity closer together, unifying us as one against all acts of terrorism.

Become An Evolve Politics Subscriber
Your subscriptions go directly into paying our writers a standard fee for every article they produce. So if you want to help us stay truly independent, please think about subscribing. We literally couldn't function without the support of our fantastic readers.
Subscribe
Or a One-Off Donation to Evolve Politics
If you don't want to subscribe, but still want to contribute to our project, you can make a one-off donation via the donate button below. All your donations go directly to our writers for their work in exposing injustice, inequality and unfairness.
Donate