Content warning: this article contains references to violence and sexual assault, which some readers may find distressing.
Patrik Liljeglod, a group leader of the Left Party in Falun, Sweden, has revealed in a Facebook post that he was raped by a knife-wielding attacker because of his socialist beliefs.
Mr Liljeglod says the attack happened at the end of July during the evening, while he was walking home.
He said he would have preferred to bury what had happened so deep that nobody but him would ever know, but felt he needed to speak out because the attack had been motivated by his political beliefs.
In the Facebook post, he wrote:
I stand here because, given my deeply rooted belief that democracy is an integral part of our society, I feel that I must.
He also spoke about the assault at a council meeting on Thursday evening, where he said:
I was brutally treated and raped at knifepoint on the pretext that I was a left-wing [expletive], that people like us like this, and finally that I was a traitor.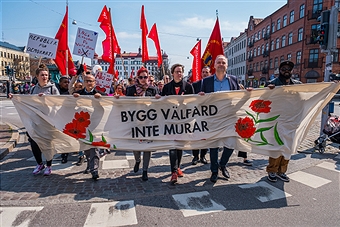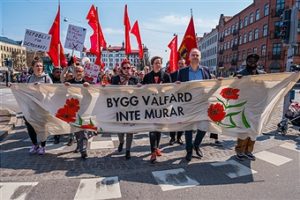 SVT, the Swedish national broadcaster similar to our BBC, says there have been no arrests made so far, and the National Forensic Centre is working on the case. A spokesman for the Swedish police, Stefan Dangardt, spoke to the TT news agency and said the scene of the incident had been examined, and the results sent off for forensic analysis:
If it turns out that the motive is his political allegiance then it is obviously a hate crime.
Patrik says he will not abandon his agenda, but instead will fight even harder for the socialist cause after the traumatic event. Writing on his Facebook page about his intention to continue promoting a left-wing ideology, he said:
Nothing is more important than democracy, people die for the right to democracy every day – and the right we have inherited through our parents' struggles, we have to continue fighting for.
Sweden's Left Party is the sixth largest in the country, and describes itself as socialist and feminist. They are totally against privatisation, particularly in the education system, healthcare and care homes for the elderly. Jonas Sjöstedt, leader of the party, has said that they intend to ban all profit-making companies from those welfare sectors.
In recent years the Left Party have seen a surge in support, which is not dissimilar to the rise of Jeremy Corbyn and Labour in the UK over the last two years.
It is sad, but not wholly surprising, to see the right using violence like this, motivated by their hateful ideology and enabled by their sheer lack of compassion or sense of decency.
Too many sexual assault cases don't end in a conviction, so hopefully this vile rapist is brought to justice soon, and this horrific incident does not dissuade activists from speaking their mind and fighting for a fair society.
Become An Evolve Politics Subscriber



Your subscriptions go directly into paying our writers a standard fee for every article they produce. So if you want to help us stay truly independent, please think about subscribing. We literally couldn't function without the support of our fantastic readers.
Subscribe
Or a One-Off Donation to Evolve Politics



If you don't want to subscribe, but still want to contribute to our project, you can make a one-off donation via the donate button below. All your donations go directly to our writers for their work in exposing injustice, inequality and unfairness.
Donate