Tory MP James Cleverly has been ridiculed on social media after comparing people who agree with Jeremy Corbyn's policy of scrapping the Tories' public sector pay freeze, with mass-murdering Communist dictators such as Stalin.
Seriously.
Yes, the outspoken Tory MP made the ridiculous outburst when replying to a particularly innocent tweet from Jeremy Corbyn.
Corbyn's tweet simply asked for public sector workers affected by the Tories' public sector pay freeze to get in touch and tell their story to the Labour leader's team.
However, the Tory MP for Braintree seemed to take serious offence to Corbyn's polite request, replying in a manner more befitting of a seasoned far-right troll than an elected Member of Parliament.
Writing for The New Statesman about Cleverly's outrageous tweet, John Elledge wrote;


Is he (James Cleverly) saying that asking for a 2 per cent pay rise for nurses and firemen literally makes you as bad as the actual, literal Stalin?

No, but is he really saying that though? 

Because that's self-evidently ridiculous but I can't work out how else to interpret that tweet.
Tweeting yesterday, and linking to a page on the Labour Party website, Corbyn simply wrote:
Have you been affected by the @Conservatives' unfair public sector pay cap? We want to hear your story.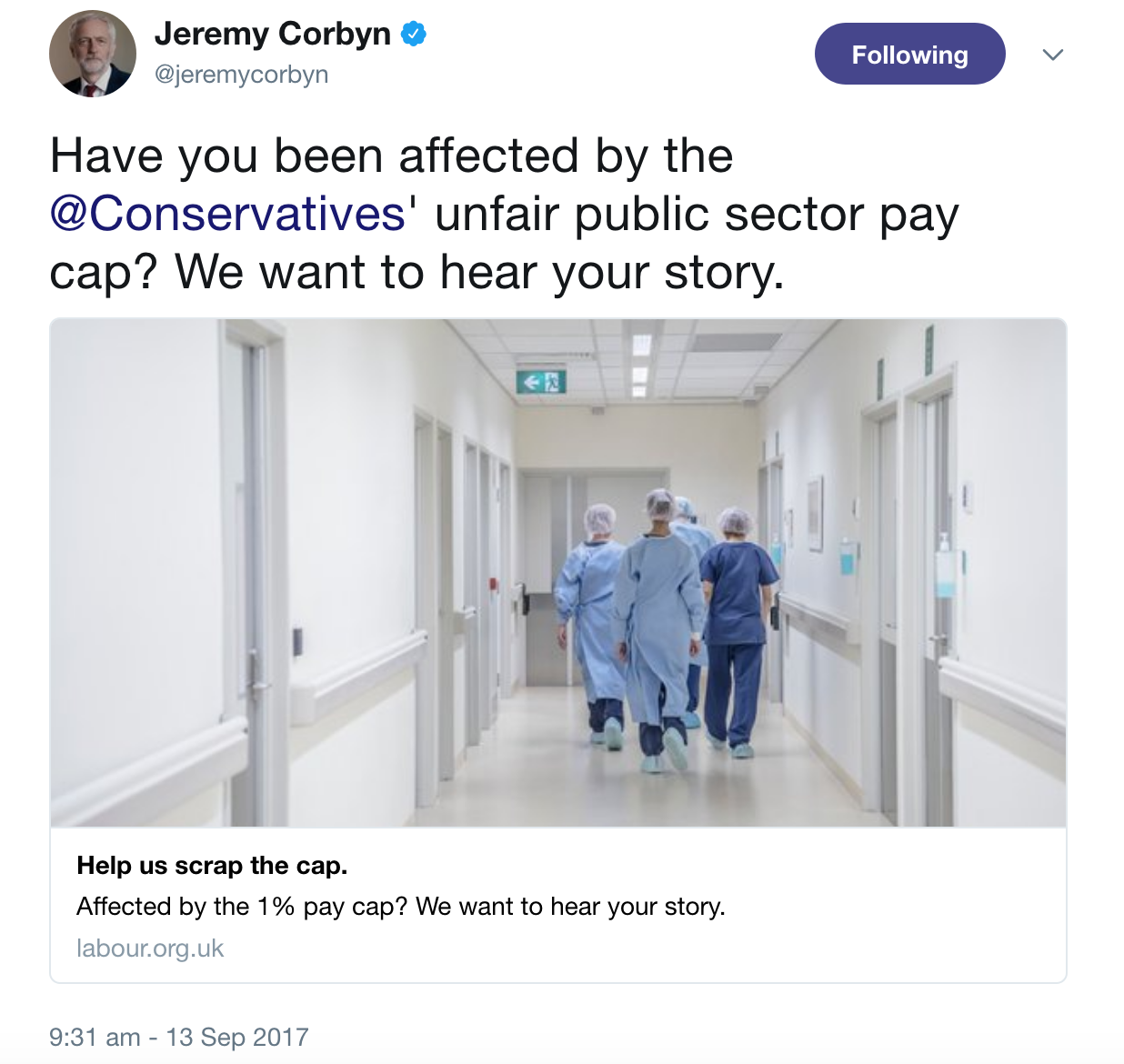 However, it appears that Corbyn's use of the word 'unfair' seems to have really riled Tory MP Cleverly, whose response was more than a little exaggerated.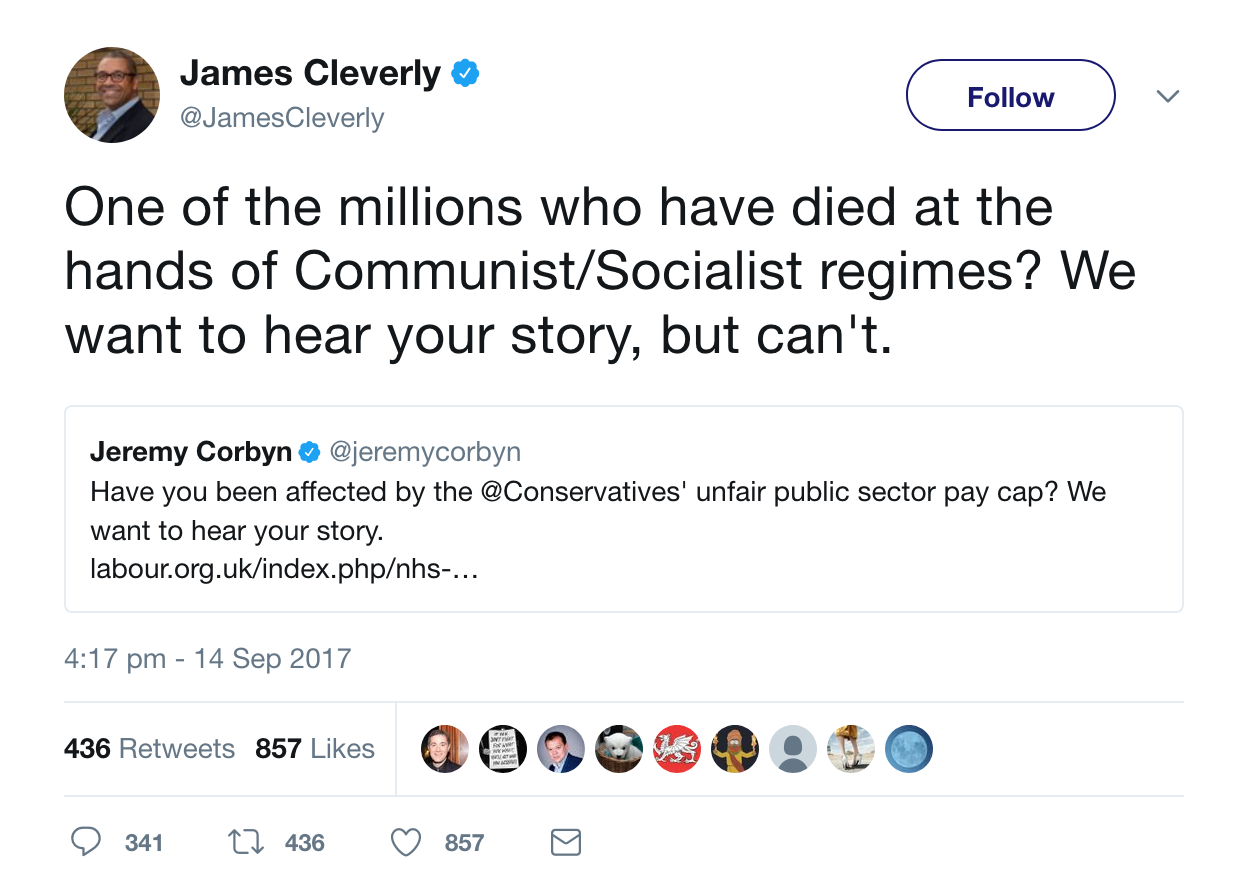 Yes, you read that correctly.
We have a Tory MP who seems to think that anybody who wants to scrap the public sector pay freeze to give our hard working nurses, teachers, soldiers, firefighters, etc, a well-deserved pay rise, are as bad as mass murdering Communist dictatorships.
It truly is incredible that elected representatives are allowed to get away with this utter nonsense.
Cleverly may as well have gone the whole hog and compared Corbyn to Hitler – because, as all far-right keyboard warriors keep trying to tell us;
HITLER WOZ A SOCIALIST!!
What's worse is that there really are people out there who believe this utter tripe.
But, far be it for right-wing trolls to do any amount of research, you literally only have to type into Google "Was Hitler a Socialist" to find this on the top link: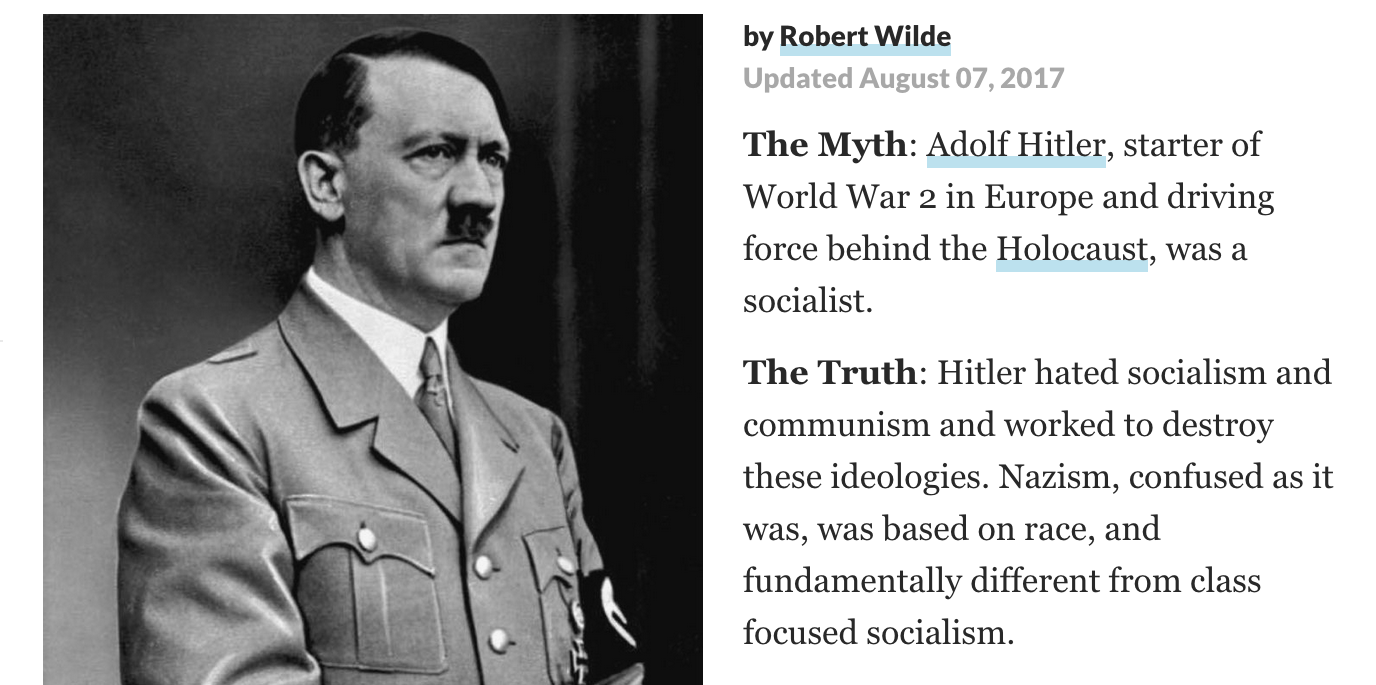 Yes, James Cleverly – a man who also once said that he'd like to 'snog' Theresa May – was brazenly trying to lump Corbyn's particularly mainstream (at least in much of Europe) social democratic views into the same category as brutal authoritarian Communist dictatorships – a linguistic political tactic more commonly spewed by to those whose political education consists solely of Britain First Facebook posts and EDL newsletters.
The replies to Cleverly's ridiculous assertion were particularly scathing of the Tory MP:
If you're still puzzled why the public are giving Corbyn a hearing, look at the state of the blithering cobblers that is your own rhetoric

— Matt Zarb-Cousin (@mattzarb) September 15, 2017
https://twitter.com/UKIPBLACKPOOL_/status/908658663501557760
Equating mass murder with opposing the pay cap. Nice

— Simon Taylor (@simontaylor71) September 15, 2017
Rather than attacking Corbyn personally, maybe Tory MPs should start attempting to debate the actual policies. Because it wasn't so long ago that a certain Conservative leader said: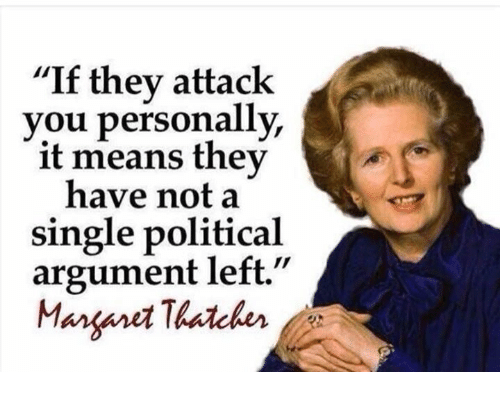 Oh yeah – if modern-day Tories tried to do that, especially on such downright obvious policies as giving our heroic emergency service workers a deserved pay rise, the Tories would lose the debate catastrophically.
No wonder Tory MPs like Cleverly have resorted to spouting absolute bona fide bullsh*t. Because they literally have absolutely no political arguments left.
Become An Evolve Politics Subscriber



Your subscriptions go directly into paying our writers a standard fee for every article they produce. So if you want to help us stay truly independent, please think about subscribing. We literally couldn't function without the support of our fantastic readers.
Subscribe
Or a One-Off Donation to Evolve Politics



If you don't want to subscribe, but still want to contribute to our project, you can make a one-off donation via the donate button below. All your donations go directly to our writers for their work in exposing injustice, inequality and unfairness.
Donate