The BBC's supposedly impartial Chief Political Editor, Laura Kuenssberg, has come in for intense criticism after retweeting an entirely fake story falsely smearing the Labour leader, Jeremy Corbyn, over the current furore surrounding antisemitism within the Labour Party.
The anecdotal Twitter thread in question was published by a former Regional Communcations Officer for the Labour Party, Bernie Keavy, and claimed that in the wake of allegations of antisemitism made against Ken Livingstone, the Labour leader Jeremy Corbyn was supposedly 'unable and unwilling to understand the issue of antisemitism' surrounding the former Labour Mayor of London's comments.
In the 7-tweet thread, Keavy claimed to have been present with Mr Corbyn when the Labour leader was informed about accusations made against Mr Livingstone, and claimed that the Labour leader did not see any issue with the former London Mayor's comments alleging Hitler supported Zionism.
Keavy's full thread, which has now been deleted (but can still be viewed on the ThreadReaderApp website here), stated:
"1) In my old job I was a regional Labour press officer and happened to be with @jeremycorbyn the day Ken Livingstone did his LBC 'Hitler' interview. Corbyn was doing a Q&A with some 6th formers in Grimsby while that, and John Mann's subsequent confrontation with Ken, unfolded…
2) When the Q&A finished we took Jeremy to an empty staff room to brief him on what had been going on. He was told what had happened and that then-mayoral candidate @SadiqKhan was among several politicians who'd called for Livingstone to be suspended.
3) He had 2 members of his staff with him and they dialled up his Commons office to get his senior advisors on speaker phone. One of the staff read Jeremy the transcript of what Ken had said on @LBC. When they had finished, Jeremy responded: "What's the issue?"
4) He asked several times which part of the interview was causing consternation. Once that was explained to him, they moved onto considering what to do next. One of his staff said that whatever action they took, they must be careful to avoid upsetting pro-Palestinian campaigners.
5) They eventually came to the conclusion that it was inevitable that Ken had to be suspended, but Jeremy was adamant that this should only happen if @JohnMannMP was suspended too. He repeated this several times.
6) (I believe the then-chief whip Rosie Winterton got ahead of the game and gave Mann a dressing down so they could tell LOTO, when their demand came, that the issue had been dealt with and they had reminded him of his responsibilities.)
7) So @jeremycorbyn's reluctance to act today, and his inability and/or unwillingness to understand the issue of antisemitism among his allies, does not surprise me in the slightest."
Unsurprisingly – given the thread's relation to yesterday's similar furore surrounding the now-suspended Labour MP Chris Williamson – Keavy's thread quickly gained traction among various right wing journalists.
Shortly after the thread went viral – and seemingly without even bothering to contact the author to check the veracity of the claims – the BBC's Political Editor Laura Kuenssberg retweeted it to her 923,000 Twitter followers, adding her own caption which stated:
"If you've been following Labour anti-Semitism story over the last couple of years it's worth reading this thread"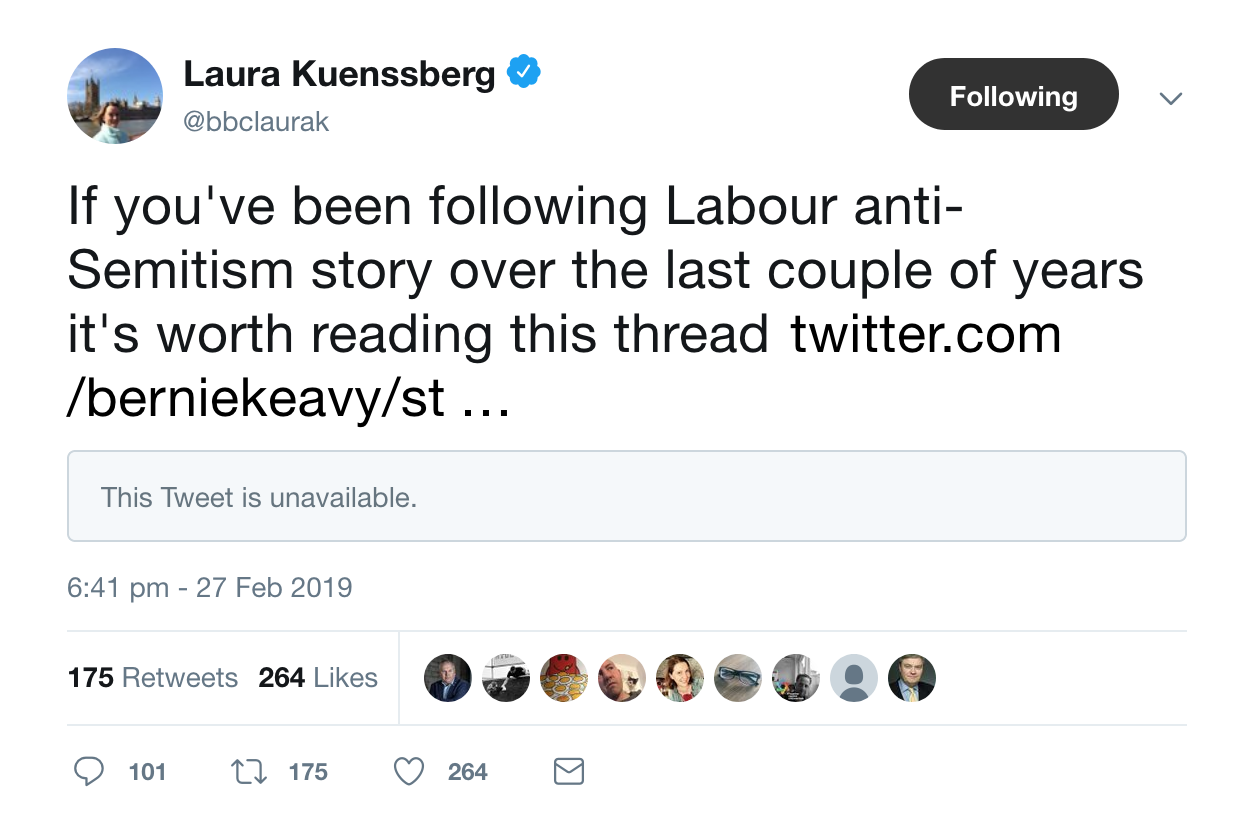 However, unfortunately for both Kuenssberg and Keavy, Mr Corbyn's former Head of Media – who *was actually* with the Labour leader on the fateful day in question, spotted Mr Keavy's fake thread, tweeting:
"[Keavy's] 2016 story is false…I briefed Jeremy about what had happened with Livingstone on a train and the staff member named wasn't present for his reaction….and here's proof"
Attached to Slocombe's tweet was a link to this Guardian article which meticulously details the day in question – and, guess what, Bernie Keavy was not with Mr Corbyn at the time!
In a follow-up tweet, Slocombe clarified this fact, stating:
"I showed Jeremy the transcript [of Livingstone's comments] on the train, Bernie Keavy not there, and as reported by Anushka Asthana, Jeremy clearly unhappy and concerned about Ken Livingstone comments. Bernie's claims are just not true: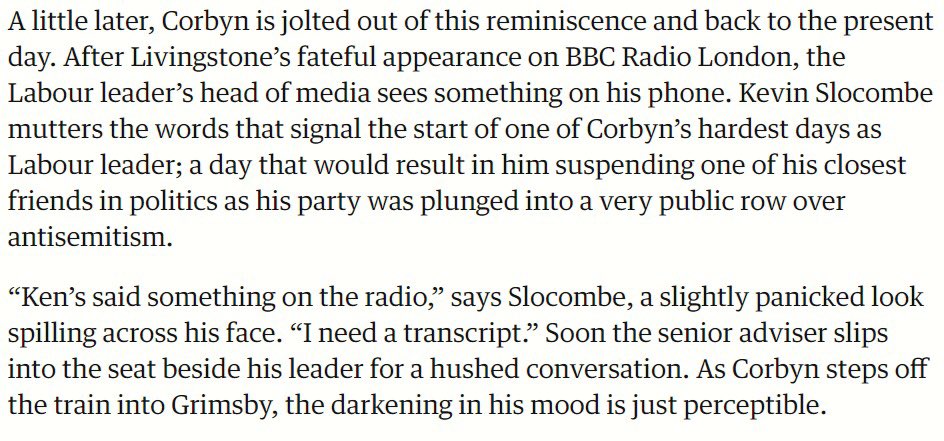 I showed Jeremy the transcript on the train, Bernie Keavy not there, and as reported by Anushka Asthana, Jeremy clearly unhappy and concerned about Ken Livingstone comments. Bernie's claims are just not true pic.twitter.com/L75qqaMUm6
— Kevin Slocombe (@KevinSlocombe) 27 February 2019

Despite the fact that Mr Keavy's attempt to smear Jeremy Corbyn has been proven to be nothing but lies – to the point where Keavy has completely deleted the original thread and set his Twitter account to 'Protected' – the BBC's Political Editor has so far refused to remove her retweet, instead simply retweeting Slocombe's rebuttal:
Evolve Politics contacted the BBC to ascertain the following:
Does the BBC endorse Mr Keavy's account of the situation?

Does the BBC endorse Ms Kuenssberg's sharing of Mr Keavy's clearly false story?

Will the BBC be taking any action to ensure Ms Kuenssberg takes more care in researching the veracity of what she shares on social media to her almost 1,000,000 followers in future?

Will the BBC be instigating any action against Ms Kuenssberg for her clear breach of BBC reporting guidelines?
However, the BBC declined to comment.