Stay in touch!
Sign up to be updated with Evolve's latest stories, and for opportunities to get involved.
The BBC's Political Editor, Laura Kuenssberg, was invited to speak at the Conservative Party Conference on October 1st, sparking fresh concerns about the BBC's 'cosy' relationship with senior members of the Tory party.

As first reported by The Canary, Kuenssberg was asked by former Tory leader Iain Duncan Smith's thinktank, The Centre for Social Justice (CSJ), to speak at a Tory Conference fringe event entitled "Britain's productivity problem: Solving the puzzle for low paid jobs".

Had the invite been accepted, the BBC's Political Editor Kuenssberg would have been speaking alongside the Chancellor Philip Hammond and the CSJ Chairman and former Tory DWP Secretary Iain Duncan Smith himself.
Despite the fact that the BBC have already confirmed that Kuenssberg will not be allowed to speak at the event, the fact that a Tory thinktank thought it might be possible to coerce the BBC's central political figurehead to speak at their Conference speaks volumes about the cosy relationship between our state broadcaster and senior figures within the Conservative party.
The BBC said on Twitter that:
@bbclaurak is not speaking at this @csjthinktank event. At Labour & Conservative conferences to report impartially for @BBCNews
@bbclaurak is not speaking at this @csjthinktank event. At Labour & Conservative conferences to report impartially for @BBCNews

— BBC News Press Team (@BBCNewsPR) September 27, 2017
However, Evolve Politics have contacted the Centre for Social Justice and they agreed to send us a statement via email detailing their reasons for sending the invite to Ms Kuenssberg – however, this statement has not been forthcoming.

Evolve Politics also contacted the BBC who told us the decision to list Laura Kuenssberg as a speaker on the EventBrite website was a mistake by The Centre for Social Justice.
The Centre for Social Justice have since removed Kuenssberg from the listing on the EventBrite website, and tweeted that their decision to list her on the event in was down to 'wishful thinking'.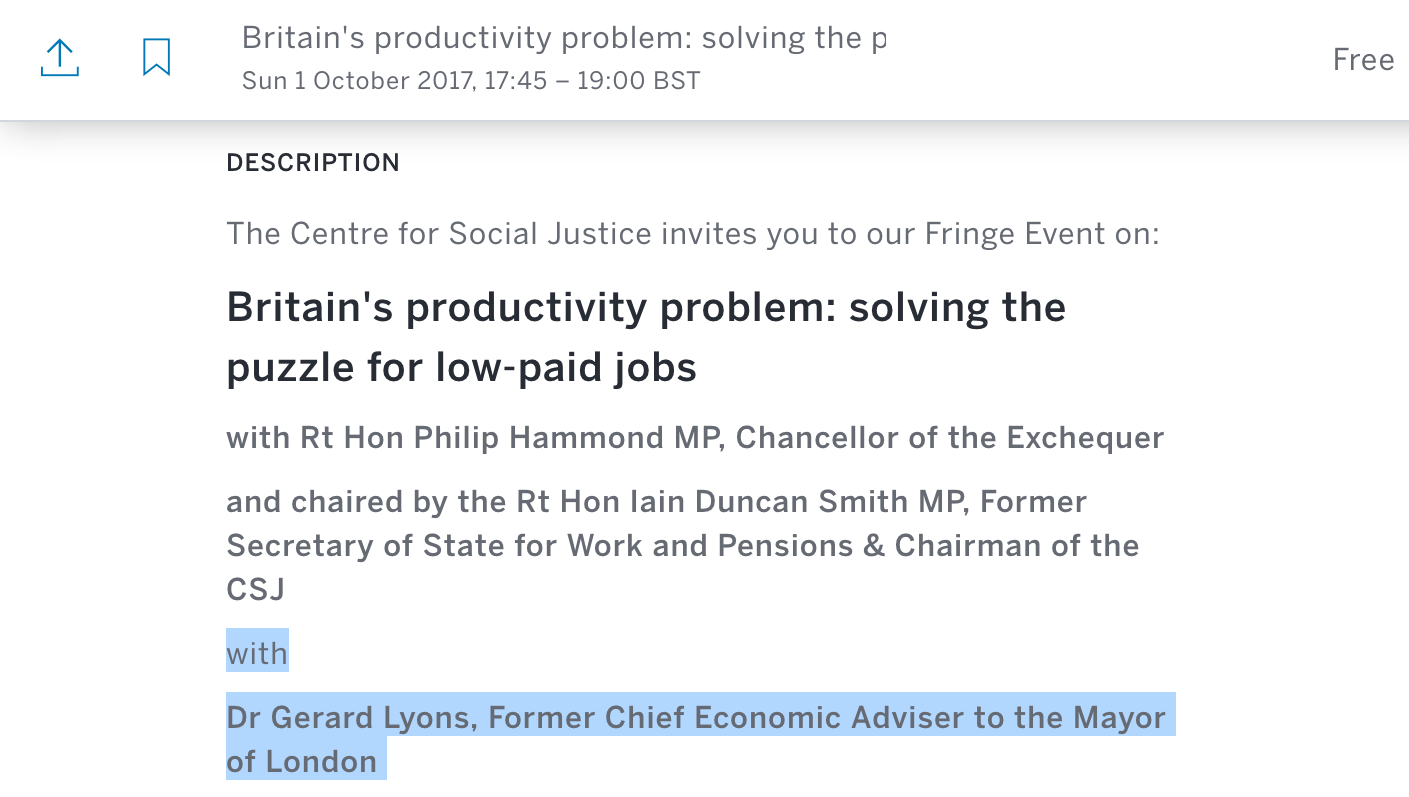 The full list of speakers at the Conservative Conference does show a broad array of political opinions, with left wingers such as Guardian Columnist Owen Jones and TUC General Secretary Frances O'Grady also listed, but exactly why a Conservative thinktank thought the BBC's impartial Political Editor would be allowed to speak at the event remains to be seen.
Kuenssberg has recently been the centre of attention at the Labour Conference for very different reasons – with the BBC said to have hired a bodyguard for their Political Editor.
A BBC source reportedly told The Sun that:
We take the safety of our staff extremely seriously. Laura is a well-known public figure. She and her team will be covering events with big crowds where there can be hostility, so we want to ensure adequate precautions are taken.
So whilst the BBC feel that Kuenssberg's safety was at severe risk from Labour members at their conference in Brighton this week, the Tories' CSJ thinktank obviously had no qualms about her safety at the Tory conference given the fact they thought their invite was appropriate.
We will leave it up to you to decide exactly why there is this level of disparity between the BBC's relationship with the two main political parties in Britain today.
Become An Evolve Politics Subscriber



Your subscriptions go directly into paying our writers a standard fee for every article they produce. So if you want to help us stay truly independent, please think about subscribing. We literally couldn't function without the support of our fantastic readers.
Subscribe
Or a One-Off Donation to Evolve Politics



If you don't want to subscribe, but still want to contribute to our project, you can make a one-off donation via the donate button below. All your donations go directly to our writers for their work in exposing injustice, inequality and unfairness.
Donate