A firm of bookmakers has refused to delete a highly controversial tweet endorsing a white man who had 'blacked up' to look like Labour MP Diane Abbott.
In an apparent attempt to mock the Labour MPs past numerical gaffes, the blacked-up darts fan – who wore a red dress and a Labour rosette – held aloft a Sky Sports flyer that had the number '190' written on it.
Betting company Star Sports posted a picture of the man to their official Twitter feed, accompanied by the tagline:
An early contender for best fancy dress costume at the #PDC #WorldDartsChampionships tonight at #AllyPally'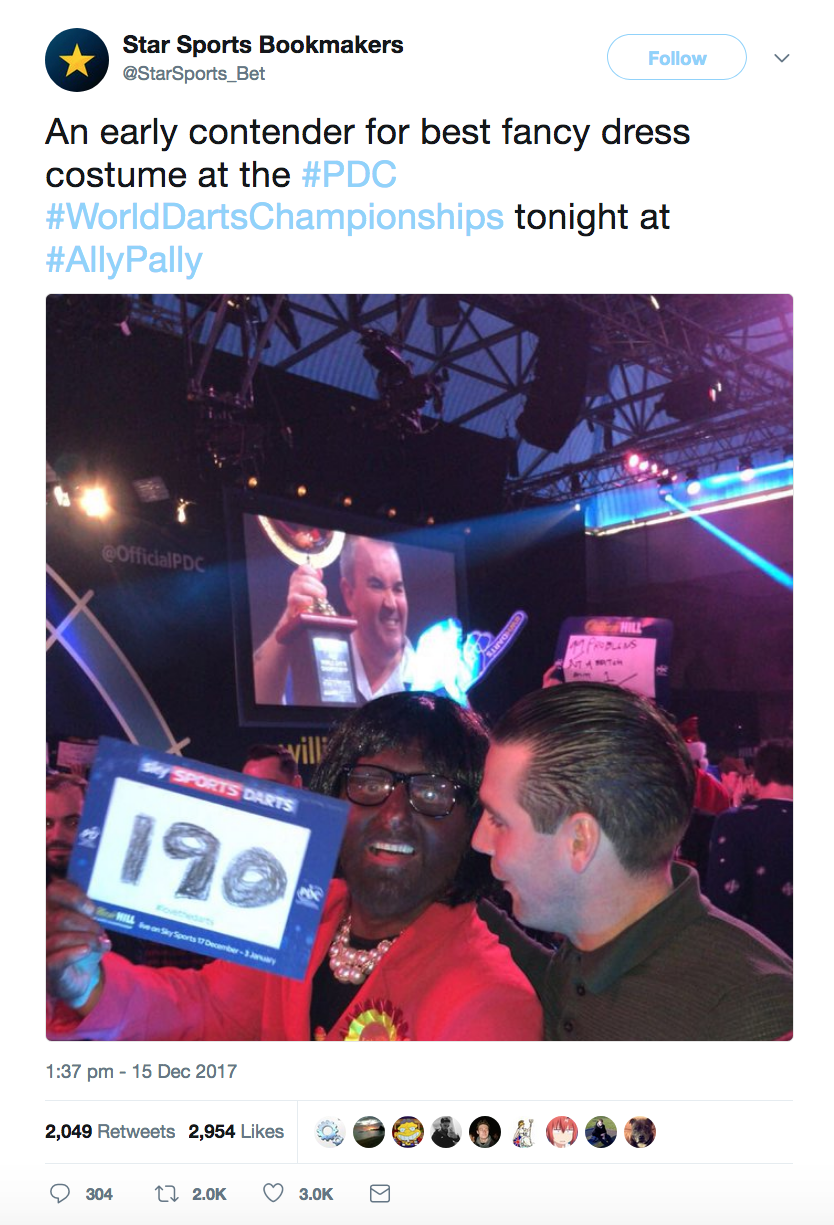 However, just minutes after posting the tweet, the company became inundated with complaints that they were endorsing racism.
The tweet has so far received more than 2,000 retweets and over 300 comments – with the majority of comments blasting the company's decision to stand by the ill-judged post.
Labour MP Stella Creasy was one of those responding to the tweet, furiously replying:
Wow @StarSports_Bet – guess it says what you really think of your customers that you promote this..hoping @Yourallypally expect better about those using their beautiful venue …as bookies or punters… #21stcenturycalling
However, the betting company stood firm, refusing to accept that their tweet was in any way ill-judged.
Star Sports, were unapologetic, replying to Creasy on Twitter by saying:
This wasn't some guerrilla marketing stunt Stella, one of our team attended on a social night out. We thought it was a very impressive attempt at fancy dress and merely shared it with our followers. Please stop taking things so seriously.
To which the Labour MP for Walthomstow, Ms Creasy, responded:
Ah yes, of course – promoting casual racism is all so TERRIBLY hilarious that anyone who thinks its wrong is just a snowflake ey @starsports_bet..blah blah…As said, if you don't get why out of order, really hope @Yourallypally do…#jogon #21stcenturycalling
Star Sports' flat out dismissal of the complaints also prompted a furious backlash from numerous other Twitter users:
"Stop taking racism so seriously"

— EL4C (@EL4JC) December 16, 2017
Meanwhile, in the year 2017, it is usually poorly educated souls or Year 4 pupils that tend to find this hilarious. But at least you got some retweets.

— Rachael Swindon (@Rachael_Swindon) December 16, 2017
"It was one of our team" – how is that meant to make it better??!!

— Anthony (@ChadleyWBC) December 16, 2017
who the actual fuck thought this would be funny

— hansol⁷ (한솔) (@meowatz) December 16, 2017
Evolve Politics have contacted Star Sports for comment via their media email. They have so far yet to respond to our questions.
Become An Evolve Politics Subscriber



Your subscriptions go directly into paying our writers a standard fee for every article they produce. So if you want to help us stay truly independent, please think about subscribing. We literally couldn't function without the support of our fantastic readers.
Subscribe
Or a One-Off Donation to Evolve Politics



If you don't want to subscribe, but still want to contribute to our project, you can make a one-off donation via the donate button below. All your donations go directly to our writers for their work in exposing injustice, inequality and unfairness.
Donate