A Bristol resident who described his one-bedroom flat as a "cave" has gone on rent strike in protest against his rogue landlord.
Callum Hay moved into the Bristol property over two years ago after being promised by landlord Zahoor Ahmed that the completely broken front door would be fixed.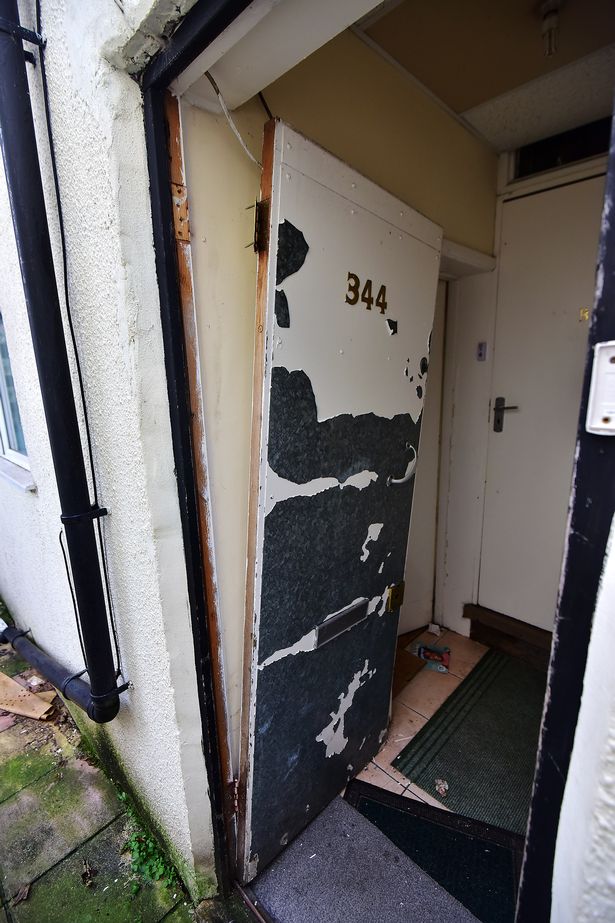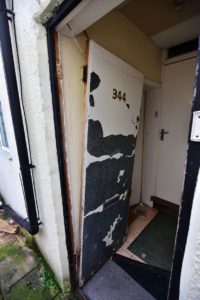 However, in 2017, the door still hangs off its hinges.
The furious tenant has finally decided to take action against Ahmed, who owns another £500,000 property in Westbury-on-Trym, after the landlord cut off Hay's electricity supply following the rent strike. 
Hay stopped paying rent in April in protest against his rogue landlord, who was also found to lack the proper licence required in the St George West property area.
Hay told the Bristol Post that his landlord:

didn't answer my calls, never gets back to me, but suddenly, on the day my rent is due, his phone will start working again.
Unacceptable
After threatening to evict the tenant, Ahmed chose to stop paying the property's electricity bills, leaving the resident no other option than to use battery-powered camp lights to light his home.
Although a protest organised by Hay and members of the Acorn Bristol tenants union outside Ahmed's half-a-million-pound property on Tuesday prompted the landlord to finally pay the electricity bill, Hay's nightmare is far from over.
The biggest issue with the house, he said, has been the boiler, which has left the property permanently damp since it broke down last winter and remained unfixed for three months. 
Has the council done enough?
Ahmed has since applied for a landlord licence – however, a spokesperson for the council has said it is unlikely that this will be accepted, "due to these circumstances and the unsatisfactory management of the property." 
And while the council sympathised with Hay's concerns that restarting the electrical supply might take up to a month, they could not act much further, with a council spokesperson saying "we have taken legislation into account and feel that the tenants are not in imminent risk of serious harm at this time", due to Hay and his partner having "access to a gas hob for cooking" which "can also be used for hot water".
Mr Hay told the Bristol Post that his case highlighted the unacceptable state that some landlords allow their properties to fall into – and unfortunately, his situation is far from unique across Britain today. 
A National Problem 
Between 2014 and 2015, 7,000 tenants contacted the housing charity Shelter's hotline about landlord harassment, citing issues such as verbal abuse and even threatening behaviour (including the cutting off of utilities to intimidate tenants) as reasons for complaint. 
However, it is important to note that far more tenants have issues with their landlords than these figures might suggest, with a recent study finding that almost 50% of UK rentors have fallen out with their landlords. 
Taking Advantage
It is thought that migrant and refugee tenants are particularly likely to be targeted by slum land-letting, as members of these groups may be less likely to know who they can contact should an issue arise.
Subsequently, the government is dispatching a new team of enforcers to attempt to reduce the exploitation of migrants by landlords in Britain. 
Meanwhile, Mr Ahmed's future remains uncertain. Although Hay's electricity has been switched back on, Ahmed has been issued an improvement notice on the flat pressing for the solving of other hazards in the property. 
However, with "conditions in many rented homes" being "as bad as we've seen in decades", Bristol Council's awareness of Ahmed's incompetence is unfortunately a very small victory in a nationwide war.

Become An Evolve Politics Subscriber



Your subscriptions go directly into paying our writers a standard fee for every article they produce. So if you want to help us stay truly independent, please think about subscribing. We literally couldn't function without the support of our fantastic readers.
Subscribe
Or a One-Off Donation to Evolve Politics



If you don't want to subscribe, but still want to contribute to our project, you can make a one-off donation via the donate button below. All your donations go directly to our writers for their work in exposing injustice, inequality and unfairness.
Donate