Yet again, if you blink you are sure to miss The Sun newspaper's minor coverage of another major issue. And when The Sun tries to play down something big, it's usually because Murdoch doesn't want the public to know about it.
Housing and homelessness charity Shelter have revealed that more than 320,000 homes lie unbuilt, resting as "phantom homes" despite having residential planning permission – meaning that the rent and mortgage payments you pay are kept artificially high due to the increased demand.
The Sun's coverage of this shocking report amounted to the snippet of text below as well as a short article on their website which, at the time of writing, has not been promoted by either The Sun's Facebook or Twitter accounts. Even the article's author, Tom Newton Dunn, hasn't promoted the story on his personal Twitter account – something he usually does on a regular basis with his own stories.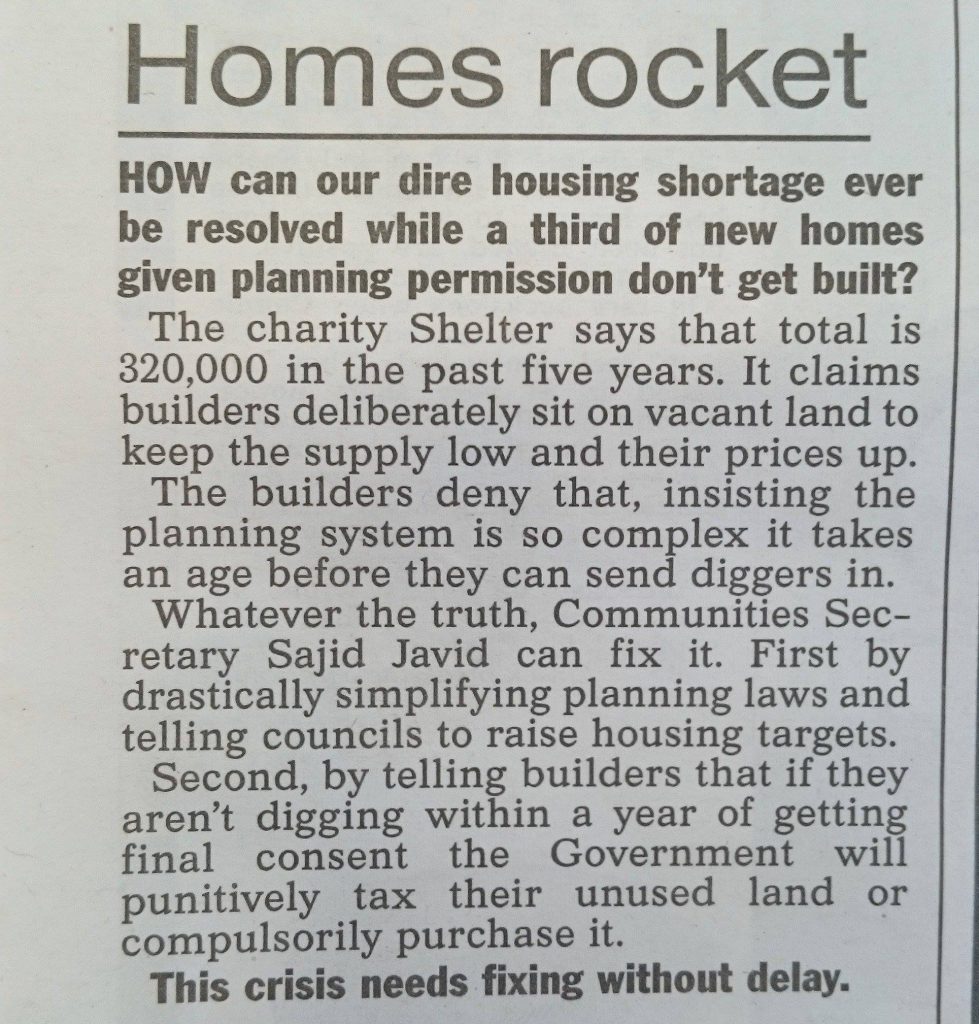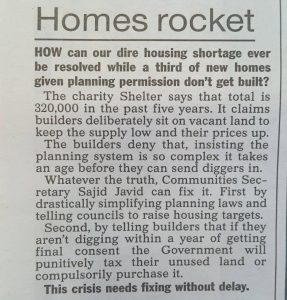 The process of writing articles for their website and not promoting them has become standard practice for much of the right-wing mainstream media over recent years. It gives them plausible deniability when challenged about their failure to cover topics that they can't easily spin into their right-wing agenda.
Retaining control
But how would a shortage of new homes even benefit Murdoch, you might ask. Well, could it be because he could potentially profit from this huge lack in newly built housing? More housing stock will deflate the housing market, resulting in Murdoch's property empire being worth less than it is now.
And whilst the public are busy fighting each other to secure a ridiculously expensive house for their families to live in, Murdoch and his minions in the press are able to utilise the public's righteous anger for their own devious ends – by attempting to stoke division against minorities and those powerless to defend themselves who the right-wing media consistently blame for 'taking all the council houses'.


Anne Baxendale, Head of Communications, Policy and Campaigns at Shelter said:
House builders are trickling out a handful of poor-quality homes at a snail's pace, meaning there are simply not enough affordable homes and ordinary working families are bearing the brunt

 
Whatever the reason, it certainly feels like The Sun are trying to make this appear unimportant. And when The Sun are trying to cover something up, there's usually a sinister reason behind it.
1 in 3 approved houses remain incomplete
It is infuriating that while the public find themselves having to fight for homes, Shelter have found that there are one in three houses that have been approved to be built during the last five years still remain incomplete. Shelter believe that the house-building system is encouraging developers to sit on land. This results in prices staying artificially high.
Shelter have told the government to "get tough". They suggest providing power to councils to tax those who are not building homes within a certain time limit. They also propose planning permission only to developers with a trustworthy track record.
Yet the Home Builders Federation (HBF) remain insistent that there is improvement in the housing supply. They blame the slow progression on delays in planning permission. David O'Leary, HBF's policy director, went as far as to imply that the Shelter analysis was simply ideological, claiming that:
"Oversimplified and ideological driven analysis distracts from the efforts of builders large and small, public and private, to tackle the housing crisis."
In actual fact, the Shelter analysis is a result of calculations made from figures from the Department for Communities and Local Government, as well as other data. It also allowed a one year gap between the go-ahead and the completion of the build.
Potential corruption
The Sun playing down the importance of this lack of new homes may not seem like an evil masterplan, but with a million families facing the threat of eviction by 2020 we are experiencing a severe housing crisis. The effects are devastating and it is exceptionally important that the public are aware of the potential corruption by land sitting that Shelter may have uncovered.
The data shows that something is seriously wrong. Will Shelter's advice to the government on how to tackle this problem be heard? If Murdoch is trying his best to hide it in unnoticed corners of The Sun, then then it feels unlikely.
After all, what master Murdoch wants, underling May strives to provide.
Become An Evolve Politics Subscriber



Your subscriptions go directly into paying our writers a standard fee for every article they produce. So if you want to help us stay truly independent, please think about subscribing. We literally couldn't function without the support of our fantastic readers.
Subscribe
Or a One-Off Donation to Evolve Politics



If you don't want to subscribe, but still want to contribute to our project, you can make a one-off donation via the donate button below. All your donations go directly to our writers for their work in exposing injustice, inequality and unfairness.
Donate