After Sadiq Khan's overwhelming victory in the race to become Mayor of London, it appears that a portion of the Conservative Party are still intent on continuing the racist, dog-whistle politics put forward by Zac Goldsmith and Tory spin chief Lynton Crosby during the campaign.
Conservative Party member and chairman of the Tamil Conservatives, Aru Sivananthan, has faced a barrage of criticism for a racist outburst in a tweet which was swiftly deleted after it picked up widespread attention and condemnation on social media.
In the tweet, Sivananthan makes a ludicrous assertion about Sadiq Khan's so-called "jihadi associates now being placed in close proximity to influence the Metropolitan Police".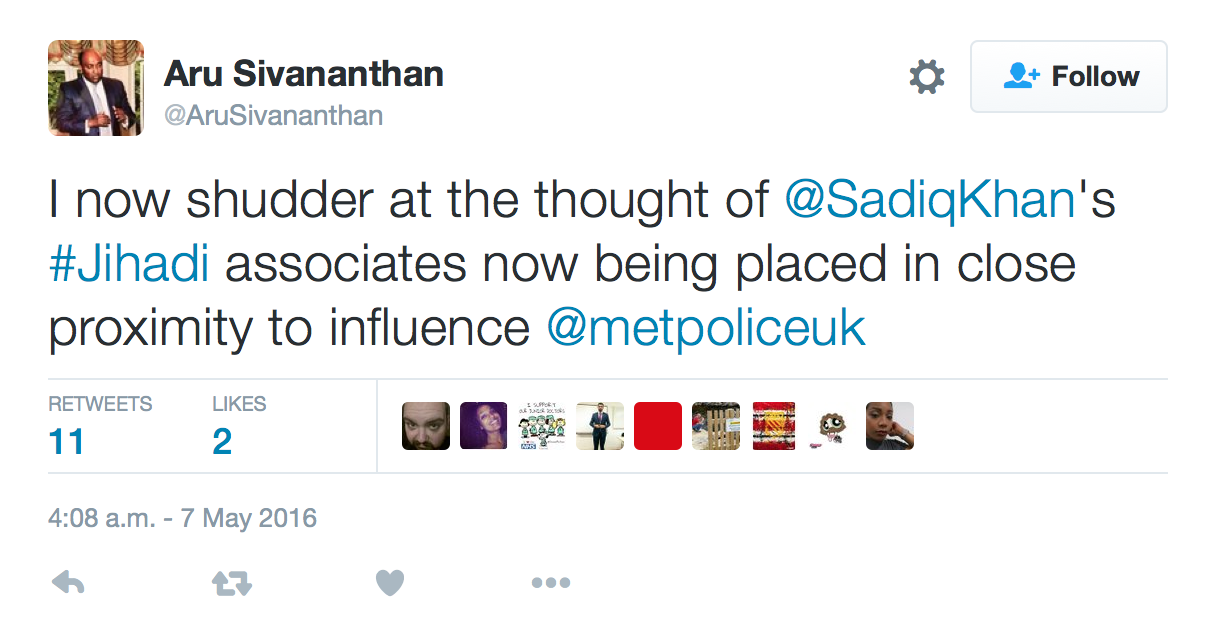 Ignorant at best and inciting racial hatred at worst, Sivananthan's tweet was quick to receive criticism from commentators on both the left and the right.
Owen Jones was one high profile commentator to join the debate, retweeting this reply to Mr Savananthan's tweet.
Others to reply had similar condemnation of the tweet from the British Tamil Conservative Vice Chairman.

The tweet will now raise fresh questions about how systemic the Islamophobia evidently present in the Conservative Party really is.
There were immediate calls for the suspension of Aru Sivananthan from the party, as well as a fresh inquiry into the seemingly ubiquitous racial hatred displayed throughout Zac Goldsmith's horrendous mayoral campaign. Rather than building bridges, Goldsmith and the Conservative Party have knocked them down in place of fear and hatred.

At a time when the Labour Party have taken firm action in suspending members who have allegedly made anti-Semitic comments, it is now clear that the Conservative Party must take similar decisive action. The repugnant racism that is not only endemic, but actively encouraged by Zac Goldsmith's bigoted campaign strategy which Sadiq Khan slammed as "straight out of the Donald Trump playbook". This must be rooted out and condemned by senior Tories, however they seem to have other ideas.
George Osborne recently made the ludicrous claim that Goldsmith's spiteful and divisive campaign was just "political rough and tumble", insinuating that the Conservative Party hierarchy are not going to take Islamophobia in their party seriously at all.
This is not the first instance of Islamophobia directed at Sadiq Khan since his landslide victory. Social media has been a hotbed for xenophobic sentiment and as the results were announced, Britain First candidate Paul Golding turned his back on Khan as he was announced the winner. Of course, the right-wing would have you believe that discrimination is just a problem on the left. The last few days have demonstrated that is far from the truth.
EvolvePolitics asked Aru Sivananthan for a statement on his deleted tweet. He declined to comment.