A number of 'centrist' Labour MPs are threatening to quit the party  but remain in Parliament as an independent bloc until the next election in protest at Labour's proposed democratic reselections of Parliamentary candidates, according to today's Times (paywall).

The threats come after yesterday's landslide election of Jon Lansman, Rachel Garnham and Yasmine Dar to Labour's National Executive Committee.
The election of all three left-slate candidates saw them poll 196,533 votes in total – nearly twice the figure of the other six candidates combined. Their elections onto the Commitee will firmly tilt the NEC's balance in Corbyn's favour.
The supposedly 'independent' slate of Eddie Izzard, Johanna Baxter and Gurinder Singh Josan (actually backed by Labour First and Progress) could only manage 91,966 votes. Much, it seems, to the fury of Corbyn's opponents.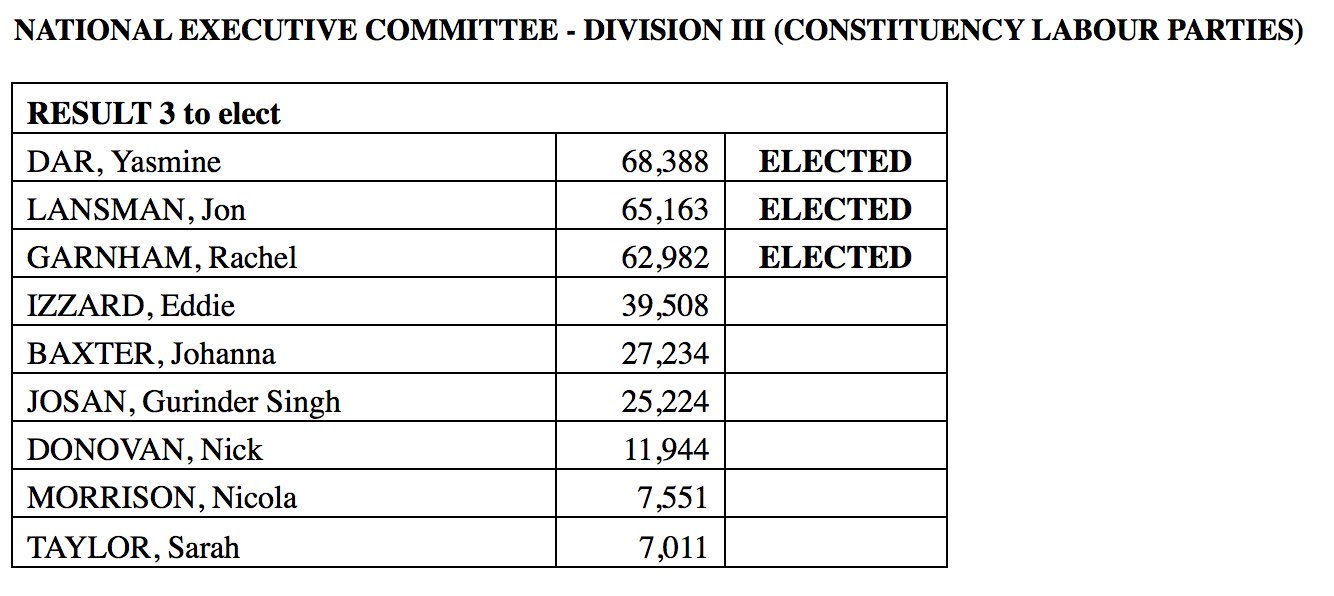 Fear and loathing among the centrists.
The anti-Corbyn lobby really aren't pleased with the results of Labour's internal democratic process. They're angry, scared, rattled and already scheming – much to the detriment of a Labour party essentially on the cusp of power.
To quote one anti-Corbyn Labour MP exactly;
There's no reason to wait it out (in Labour) for years when we disagree with the direction of the party. If we're deselected we would have no interest in towing the line.
Translation;
'If we don't get what we want we'll take our bat and ball home, doing as much damage to the party as possible, whilst being quite happy that our actions will ensure the Tories remain in power as opposed to a Jeremy Corbyn-led Labour Party.'
Increasing lobbies within Momentum and the Labour Party favour more accountable selection for Parliamentary candidates. Some favour candidates securing a minimum two-thirds of votes from local branches and affiliated trade unions to be selected. Support for mandatory reselection, forcing incumbents to justify their continued position by towing the party line, is also growing.
The threats don't end there. Another anonymous Labour 'centrist' reportedly goes further, listing ways to harm Labour's electoral prospects;
Corbyn has a lot to lose by going down this route. If people start being deselected, what's to stop them standing against him for the leadership? Or finding other jobs and causing by-elections which Labour might lose? If you want to look like a united government in waiting, the last thing you want is a whole load of bitter selection rows.
Translation;
'Try curbing our influence or removing our pro-neoliberal candidates through legitimate democratic means and we'll use all our energy trying to ensure the Tories stay in power'
Democratic centrists? Certainly not.
It seems that, for these 'centrists' and their supporters, democracy is more an obstacle than a process, especially when it might threaten their privileged positions. Voters elected them as Labour candidates, NOT independents. The Labour Party and its rank-and-file members put them where they are, they weren't placed and supported by an independent political group.
If deselected they would be free to leave Labour and stand as independents. Their anonymous spokesperson makes clear, however, that they have no intention of doing so.
They reportedly intend to retain their seats as an independent bloc, regardless of which party their constituents actually voted for. Their disrespect for the Labour Party, Labour voters, and perhaps democracy in general, is both palpable and wholly disturbing.
Jon Lansman's actions have regularly undermined democracy. His election to the Labour NEC would be a nightmare for the party.

Our deputy director @stephanielloyd1, quoted here https://t.co/eo4NRAcmcW

— Progressive Britain (@progbrit) January 14, 2018
Ironic really, especially considering Richard Angell – from the anti-Corbyn group Progress which quietly backed the anti-Corbyn 'independent' slate – couldn't wait to accuse a victorious Jon Lansman (a man who had just won a legitimate democratic vote to sit on the NEC) of supposedly undermining democracy.
Become An Evolve Politics Subscriber



Your subscriptions go directly into paying our writers a standard fee for every article they produce. So if you want to help us stay truly independent, please think about subscribing. We literally couldn't function without the support of our fantastic readers.
Subscribe
Or a One-Off Donation to Evolve Politics



If you don't want to subscribe, but still want to contribute to our project, you can make a one-off donation via the donate button below. All your donations go directly to our writers for their work in exposing injustice, inequality and unfairness.
Donate