This isn't satire, we promise.
Financial Times columnist and George Osborne's fawning biographer, Janan Ganesh, has been nominated for a Political Commentator of the Year award. The Comment Awards, run by Editorial Intelligence, are meant to celebrate the very best of British social commentary. There's only one problem with that.
Ganesh, like the vast majority of the mainstream commentariat, have utterly failed in understanding and analysing the state of British politics in 2017 – as well as the rise of Jeremy Corbyn over the last two years. Instead of genuinely trying to understand Corbyn's movement, the state of Labour, and the wider dissatisfaction with mainstream politics rooted in the centre-ground, Ganesh flippantly labelled his supporters "thick and pigsh*t" in a childish Twitter rant. Political Commentator of the Year, eh?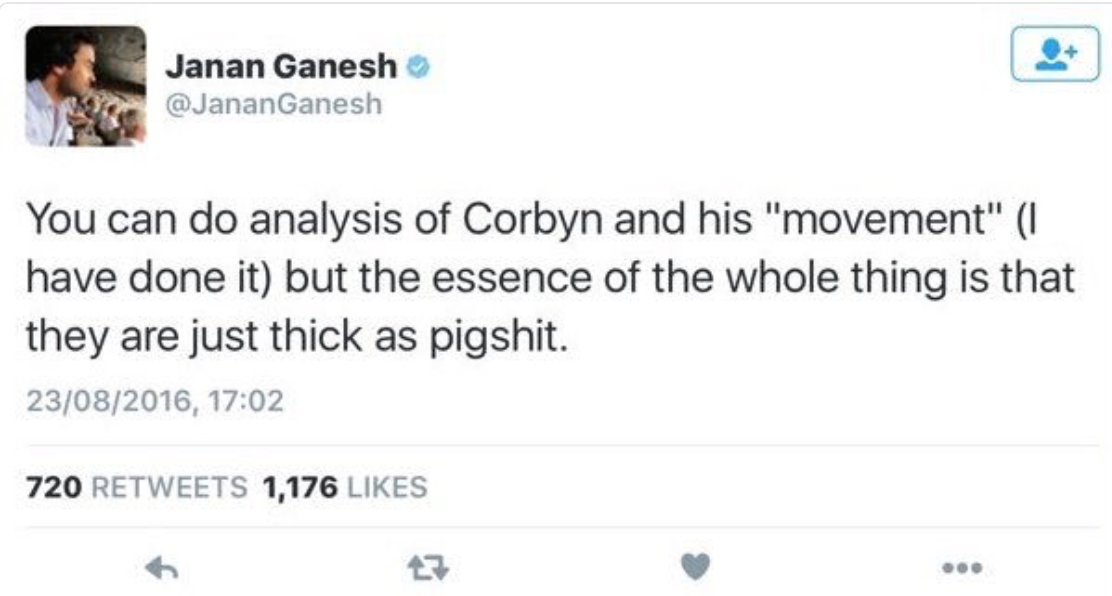 Not only that, but anti-Corbyn columnist Nick Cohen has also been nominated for an award. In his regular Sunday column for The Observer, Cohen manages the amazing feat of writing the same anti-Corbyn article every single week. Moreover, in his piece on the Labour Party conference last month for The Spectator, he went as far as comparing Labour MP Chris Williamson to Benito Mussolini.
https://twitter.com/MattTurner4L/status/913113323910107136
It is beyond belief how these columnists could warrant such adulation for being so crass and offensive about 40% of the electorate, as well as being embarrassingly wrong about Jeremy Corbyn and the Labour Party. The fact that mainstream pundits like Ganesh and Cohen are still getting rewarded for the guff they come out with tells you all you need to do about the state of British journalism in 2017.
Become An Evolve Politics Subscriber



Your subscriptions go directly into paying our writers a standard fee for every article they produce. So if you want to help us stay truly independent, please think about subscribing. We literally couldn't function without the support of our fantastic readers.
Subscribe
Or a One-Off Donation to Evolve Politics



If you don't want to subscribe, but still want to contribute to our project, you can make a one-off donation via the donate button below. All your donations go directly to our writers for their work in exposing injustice, inequality and unfairness.
Donate