A damning new in-depth study conducted by a highly respected independent Media Reform organisation has exposed that all wings of the British media deployed "myriad of inaccuracies and distortions" in their reporting on the ongoing antisemitism row within the Labour Party.
The astonishing new report, conducted by the Media Reform Coalition, claims that in reporting the controversial Labour antisemitism row, the UK media were guilty of "marked skews in sourcing, omission of essential context or right of reply, misquotation, and false assertions made either by journalists themselves or sources whose contentious claims were neither challenged nor countered."

The report, entitled "Labour, Antisemitism and the News – A disinformation paradigm", found an astonishing "95 clear cut examples of misleading or inaccurate reporting on mainstream television and online news platforms".
The Media Reform Coalition's research summary states that during their work they found:
29 examples of false statements or claims were identified, several of them made by anchors or correspondents themselves, six of them surfacing on BBC television news programmes, and eight on TheGuardian.com
A further 66 clear instances of misleading or distorted coverage including misquotations, reliance on single source accounts, omission of essential facts or right of reply, and repeated value-based assumptions made by broadcasters without evidence or qualification. In total, a quarter of the sample contained at least one documented inaccuracy or distortion.
Overwhelming source imbalance, especially on television news where voices critical of Labour's code of conduct were regularly given an unchallenged and exclusive platform, outnumbering those defending Labour by nearly 4 to 1. Nearly half of Guardian reports on the controversy surrounding Labour's code of conduct featured no quoted sources defending the party or leadership.
The report studied over "250 articles and news segments from the largest UK news providers", and found that over a third of all the reports contained at least one inaccuracy or misleading statement.

The BBC's Television News output was one of the worst offenders, only being beaten into third place proportionally by the persistently inaccurate right-wing outlets, the Daily Mail and The S*n.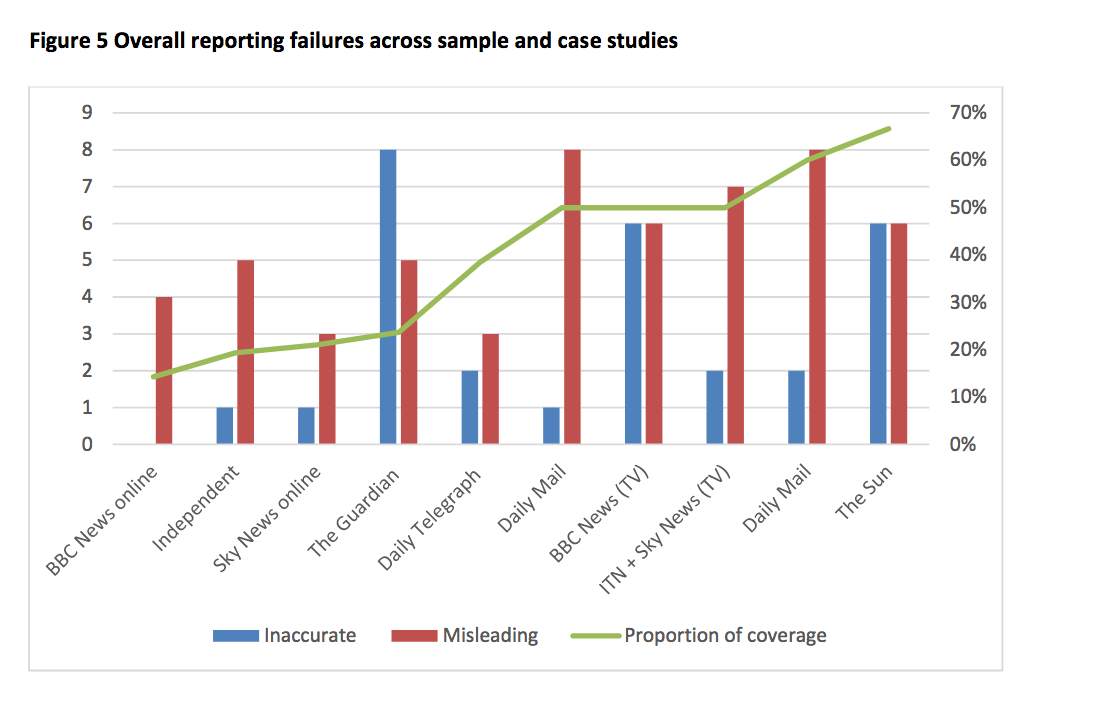 From the 95 examples found, the report states that "27 examples of misleading and 28 examples of inaccurate reporting [were] made [specifically] in regard to the IHRA definition. Half of the latter were found on TheGuardian.com and BBC television news programmes alone":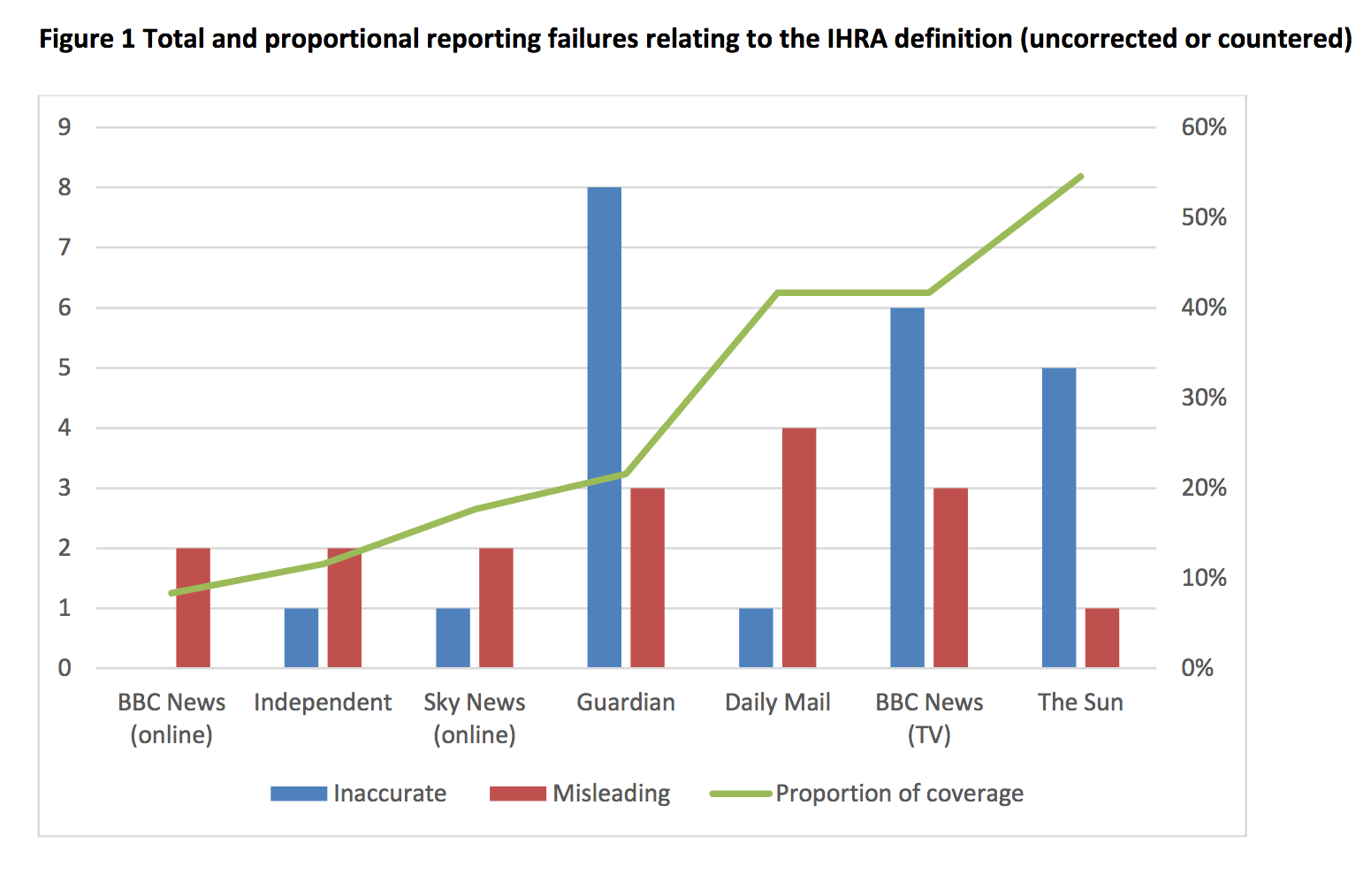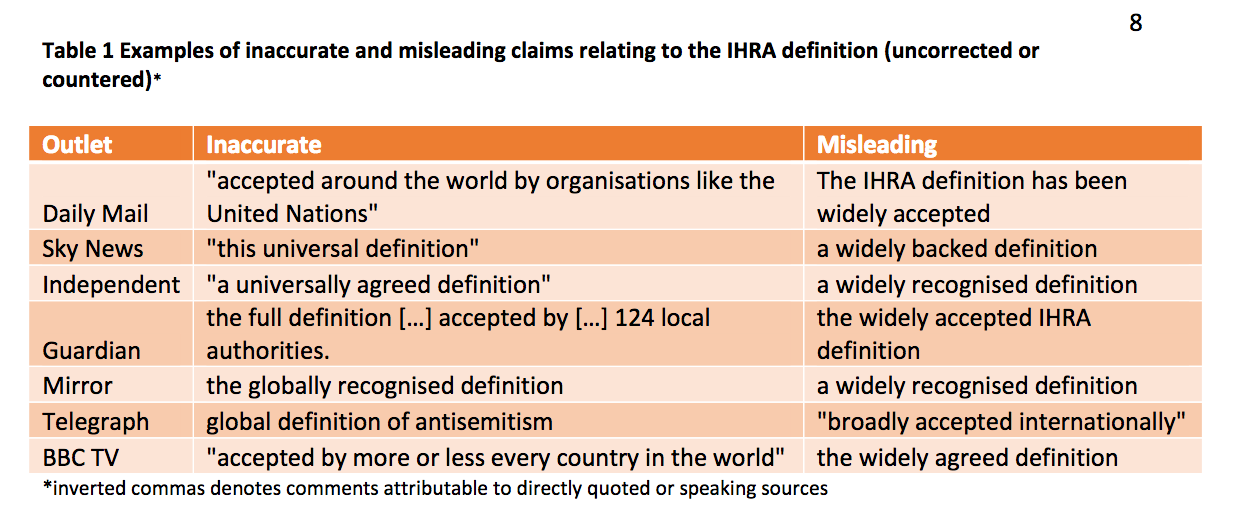 The Media Reform's report was jointly conducted by Dr Justin Schlosberg, a Senior Lecturer in Journalism and Media at Birkbeck, and freelance journalist Laura Laker, and goes on to claim that underlying the damning figures "was a persistent subversion of conventional news values", stating:
• Several reports focused on a controversial social media post by Jeremy Corbyn omitted any mention that it was made six years ago, with some emphasising a sense of currency and recency that failed to make clear the historical context of the post.
• Journalists covering the launch of Labour's antisemitism report in 2016 routinely misquoted an activist in ways that were entirely removed from his original comment, in spite of a video recording of the event that was readily and immediately accessible.
• Above all, coverage of Labour's revised code of conduct during the summer of 2018 often entirely omitted critical discussion of the 'working definition' of antisemitism put forward by the International Holocaust Remembrance Alliance (IHRA), and wrongly characterized it as consensual and universally adopted.
In fact, we established through background case research that

• although the IHRA is an international body with representatives from 31 countries, only six of those countries have, to date, formally adopted the definition themselves.
• In spite of a call for local authorities to adopt the definition by the UK's central government in early 2017, Less than a third of councils have responded and several of those have chosen not to include any of the controversial examples contained within the working definition.
•Several high-profile bodies have rejected or distanced themselves from the working definition, including the EU's Fundamental Rights Agency (a successor to the body that drafted the original wording on which the definition is based) and academic institutions including the London School of Economics and School of Oriental and African

Studies.
• Mainstream academic and legal opinion has been overwhelmingly critical of the IHRA definition, including formal opinions produced by four leading UK

barristers.

Virtually none of this essential context found its way into news reports of the controversy. Instead, the Labour Party was routinely portrayed by both sources and correspondents as beyond the pale of conventional thinking on the IHRA definition.
In regards to commentary, the report also found that "most outlets were far more likely to give an exclusive platform to critical voices [of Corbyn's position]", and that "At the extreme end, all three of the code-focused reports on the Huffington Post gave no voice to defensive sources at all":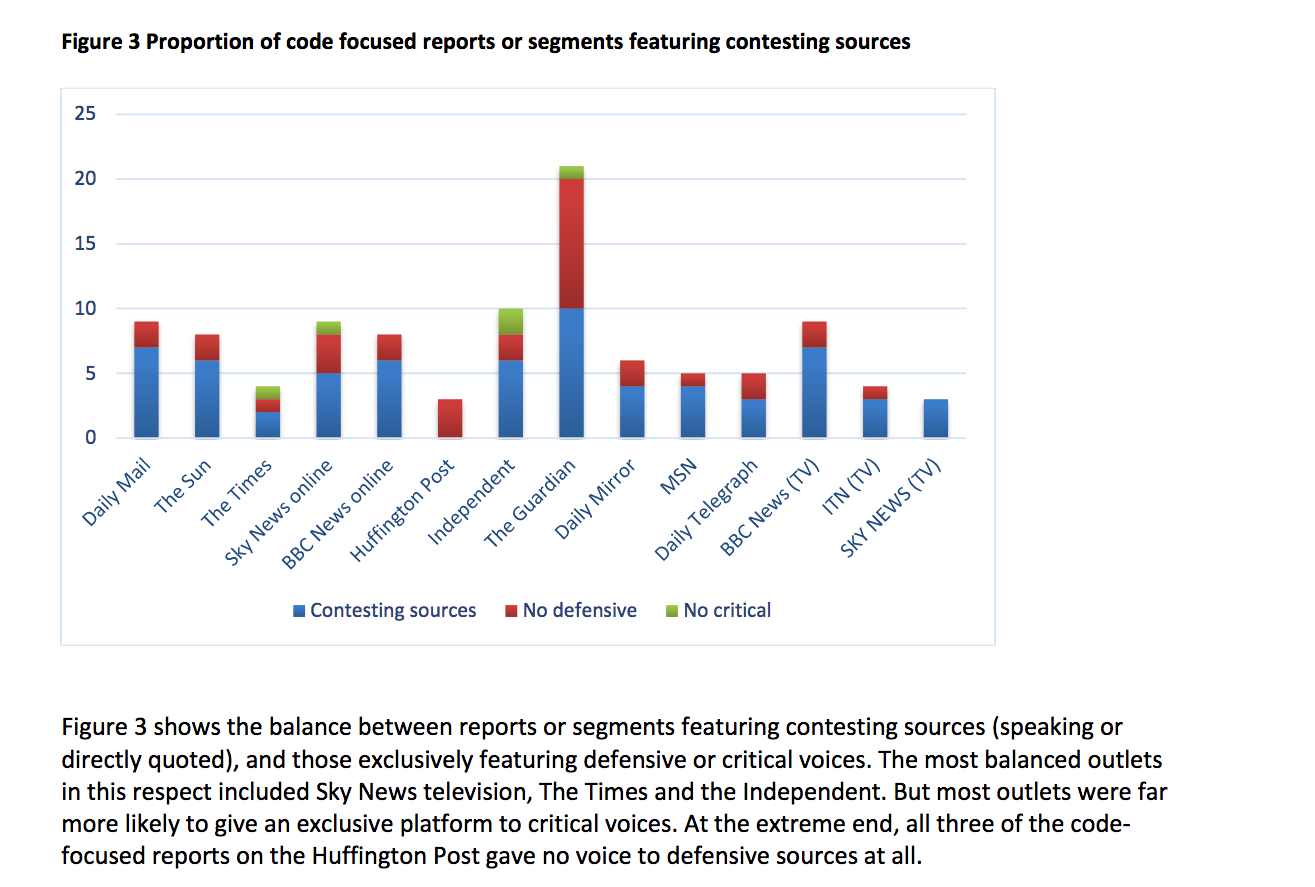 The report then goes on to state that:
"Perhaps more seriously, we observed that television news anchors and correspondents tended to subject defensive sources to relatively fierce scrutiny and challenge. Indeed, defensive sources that adopted relatively moderate positions were met with notably confrontational questioning whereas critical sources adopting relatively extreme positions were often not challenged at all in live or recorded interviews."
Before singling out the BBC's Andrew Neil for specific criticism, stating:
Consider for instance the approach taken by Andrew Neil on the BBC's Daily Politics show when questioning John Mann, a Labour MP who had long been outspoken in his criticism of his party and the leadership on antisemitism:
Andrew Neil: "The Chief Rabbi in the United Kingdom says that your party is treating Jews with contempt. Margaret Hodge, one of your fellow Labour MPs…has said that Jeremy Corbyn himself is an antisemite and a racist. What do you say to that?"
John Mann: "It's not just the Chief Rabbi. For the first time ever we've had rabbis across the entire Jewish

spectrum – from the liberal rabbis through to the ultra-orthodox rabbis – combining together in one letter. It's never happened before. And it's quite extraordinary to have that unanimity across the Jewish community."



In the same programme, Neil subjected Peter Dowd – a Labour backbencher who has been broadly supportive of Jeremy Corbyn's leadership – to considerably more pointed and aggressive questioning such as "[in respect of the IHRA definition] why wouldn't you just do what everyone else does? What's different about Labour?"
What's most significant here is not just the distinction in tone between

the two interviews, but the fact that Margaret Hodge (referenced in Andrew Neil's opening question to John Mann) had adopted a relatively extreme position within the spectrum of views among Labour MPs whilst Peter Dowd was comparatively moderate.

He had not, for instance, been as outspokenly defensive of Labour's revised code of conduct as other MPs, including Richard Burden [sic] and Chris Williamson. This is important because we would expect journalists to be especially probing in relation to sources that adopt relatively extreme positions in a political controversy. But in this case, the inverse appeared to be the case and this pattern was broadly observed across the television sample.
Alongside Andrew Neil, the report also criticises the BBC's Political Editor Laura Kuenssberg, accusing her reportage of overlooking "legitimate concerns about whether all of the IHRA examples were fit for purpose in a formal disciplinary code of conduct", going on to state that:
"Underscoring [Kuenssberg's reporting] was a particular and consistent characterization of opposing camps, pitting a 'hard left' cabal that had secured its 'grip' on the party against an invoked mainstream consensus among Labour MPs, the Jewish community and the British public at large. Typical in this respect were repeated references to 'moderates' both within the Parliamentary Labour Party and the NEC, juxtaposed with the party's 'high command' occupied by Corbyn and his team of special advisors.
As with the examples of misleading and inaccurate reporting, this positions the Labour leadership in extremist terms, either rejecting or giving in to that which is universally or 'widely accepted'. It erases the essential context of controversy and disagreement that has surrounded the IHRA definition since it first surfaced. And it conforms to a wider narrative that has painted the party, under Jeremy Corbyn's leadership, as beyond the pale of public opinion on a range of issues. This is in spite of Labour achieving a higher share of the popular vote in the 2017 general election compared to the last election the party won under Tony Blair."
The report concludes by slamming the UK media's coverage, stating:

"In sum, although our findings do not engage directly with the controversy – shedding no further light on what is antisemitism nor how prevalent it is within the Labour Party – we can say with some certainty that there have been prevalent errors, omissions and skews in the mainstream coverage.
This was no anomaly: almost all of the problems observed in both the framing and sourcing of stories were in favour of a particular recurrent narrative: that the Labour Party has been or is being lost to extremists, racists and the 'hard left'. Some of the most aggressive exponents of this narrative were routinely treated by journalists – paradoxically – as victims of aggression by the party's 'high command'."
A recent survey revealed that the British public's trust in the UK media had dropped to an historic low in recent years – and the Media Reform Coalition's latest damning report on the media's clearly biased approach to such a sensitive and serious subject will surely do nothing to change the public's perception.
Get Involved