James Chapman, former Chief of Staff to Tory Brexit Secretary David Davis, has exposed a series of startling revelations about his former boss.
In a series of damning tweets this morning, Chapman claimed that he once caught Davis 'leering' at Diane Abbott in a 'bullying and aggressive' manner, as well as exposing that the Brexit Secretary had former UKIP leader Nigel Farage on speed dial, and most worryingly of all, that the Tory MP got 'easy rides' during BBC interviews because of his close personal relationship with top Beeb presenters.
BBC bias
Chapman claims that Davis is extremely close to top BBC presenters John Humphrys and Andrew Neil. He describes Humphrys conducting Brexit interviews as 'totally inappropriate' on account that he goes on holiday with David Davis:
It is totally inappropriate for Humphrys to conduct Brexit interviews. Mail has to be prised out of his hands and he holidays with DD

— James Chapman (@jameschappers) August 15, 2017
DD would never prep for @bbcradio4 as he knew Humphrys would do Brexit chums act then hector and interrupt @labour spokespeople #byebyejohn

— James Chapman (@jameschappers) August 15, 2017
DD was also relaxed about @afneil as they drink (lots) together regularly and his producer Robbie Gibb is a deranged Brexiteer now at No10

— James Chapman (@jameschappers) August 15, 2017
These claims will certainly not come as a surprise to many of Evolve Politics' readers. Independent media publications worked tirelessly throughout the election campaign to expose BBC bias, yet it was stringently denied by right wing publications and their followers. How they will be able to deny it now is unclear.
Surely, Chapman's claims of top BBC names showing blatant favourability towards the Tories will demand a serious investigation into the impartiality of the Corporation? This information seems to suggest the BBC are clearly not following the terms of their impartiality charter.
These claims must be addressed.
Sexism
Chapman claims that he has also witnessed David Davis 'leering' over Diane Abbott in a 'drunk, bullying and inappropriate' manner:
I was with DD when he leered over @hackneyabbott. He was drunk, bullying and inappropriate #thedemocrats #wemarchon

— James Chapman (@jameschappers) August 15, 2017
This isn't the first time that Davis has attacked Diane Abbott. In February, private text messages were leaked to the Mail on Sunday in which he insulted her. According to The Guardian, Davis 'texted a friend to say reports that he had tried to embrace the Hackney MP were untrue, because "I am not blind"; and if he had done so, it would have made "a good Optical Express advert". Not only outing himself as a raging sexist, but also lacking in any knowledge of popular culture (everybody knows it's the Specsavers ads).

Sexism seems ingrained in Davis. In 2005, he posed with 'busty' women in "It's DD for me" t-shirts and 'declared that he preferred blondes to brunettes' in a radio 4 interview.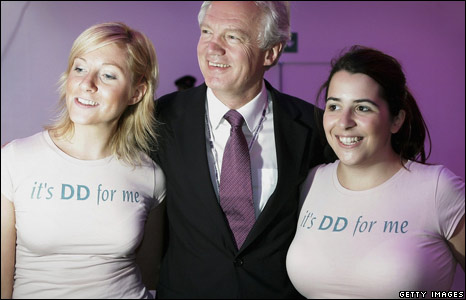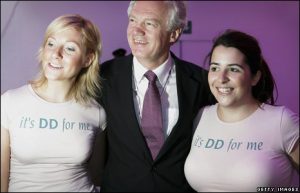 Lazy
Chapman also implies that Davis is lazy:
Wish I could say the same for DD. He's been working 3 day week since day one #byebyeconkip #thedemocrats https://t.co/nga2K6POxO

— James Chapman (@jameschappers) August 15, 2017
This claim follows Dominic Cummings, former head of the Vote Leave campaign, recently branding Davis 'thick as mince' and 'lazy as a toad'.
'Insider turned whistleblower' 
James Chapman's revelations have come out of the blue, although everything claimed has been strongly suspected. So how have the mainstream media reacted to his scathing attacks?
.@jameschappers is an insider turned whistleblower.
I expect the Establishment will now start the usual vile whisperings about mental health

— Tom London (@TomLondon6) August 15, 2017
Isabelle Oakeshott, political commentator and ex Daily Mail editor-at-large, was quick to defend her Tory overlords, calling Chapman's claims 'contemptible':
"These slurs … are contemptible " – From the author of pig gate…

— Scott (@edacuk) August 15, 2017
Yet many have praised him for the series of tweets, and rightly so. One thing is for sure, this 'insider turned whistleblower' should be celebrated for his actions today.
It seems undeniable that David Davis, who according to Chapman has 'Nigel Farage on speed dial', is a horrible character. Does Davis show any signs of being suitable to lead the Brexit negotiations? It certainly doesn't seem like it.
UPDATE: Since the publication of the article, a BBC Spokesman has told Evolve Politics that they strenuously deny there is any 'huge row' engulfing the BBC, and that the claims made by James Chapman are entirely "unsubstantiated."
Moreover, figures involved in James Chapman's claims have come out on social media to deny the allegations. 
Not true. John has never been on holiday with David Davis.

— sarah sands (@sarahsands100) August 15, 2017
You claimed DD and I were regular drinking buddies. We've not met for a drink for at least 20 years. It's simply not true. https://t.co/w78Ya9FwcR

— Andrew Neil (@afneil) August 15, 2017
 Become An Evolve Politics Subscriber
Your subscriptions go directly into paying our writers a standard fee for every article they produce. So if you want to help us stay truly independent, please think about subscribing. We literally couldn't function without the support of our fantastic readers.
Subscribe
Or a One-Off Donation to Evolve Politics
If you don't want to subscribe, but still want to contribute to our project, you can make a one-off donation via the donate button below. All your donations go directly to our writers for their work in exposing injustice, inequality and unfairness.
Donate