A woman suffering from chronic discoid lupus has offered what she believes is the 'clearest evidence yet' of healthcare professionals lying about severely ill claimants during benefits assessments.
CeaJay Clem, from Gloucestershire, was shocked to discover that the 'doctor' who assessed her on behalf of the Department for Work and Pensions (DWP) had written in her report that her complexion was "normal" and that "she looked well".
In reality, the disease has led to a 'significant facial disfigurement' and means that she is extremely sensitive to UV-light, which is used is nearly all work places.
"Proof positive" that assessors are lying
Assessed for the out-of-work disability benefit, Employment and Support Allowance, Clem lost eligibility for the benefit – despite the assessor stating she had "current firm detailed plans for self-harm" and that Clem was unable to go outside for more than 15 minutes at a time without her skin burning.
Though the decision was covered widely by the media in February, the coverage neglected to highlight the claims of dishonesty.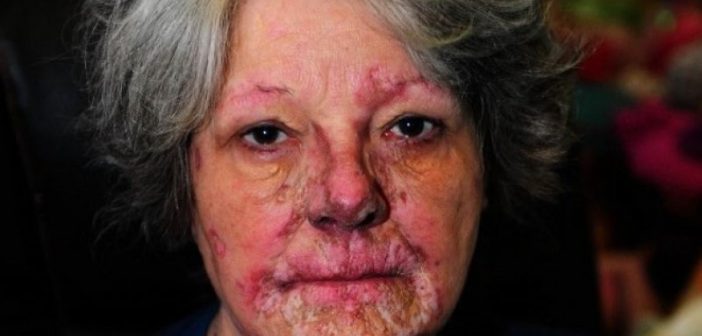 Clem contacted DNS after reading of 200 other claims of dishonest assessment reports for personal independence payments (PIP). 
She claims that the entire report was "littered with lies and inaccuracies". According to DNS, reports sent to Clem referred to her 'skin condition', 'skin complaint' and 'skin problem'. She said that she was:
"absolutely mortified that a medical professional would lie and downplay my conditions."
Depression and anxiety
Alongside the disease, Clem also suffers from complex post-traumatic stress disorder, asthma and other health conditions. She has to use a mobility scooter as she is unable to stand or walk for long periods of time.
Yet it's the way that the decision was made which has led Clem to suffer with "deep depression and anxiety":
I was expecting to fail on the assessment, it happens, but fail due to deliberate lies? That shook me to my boots and was a total emotional crusher for me.

It put me into a deep depression and such a state of high anxiety I didn't know which way to turn. I just wanted to explode.
PIP Investigation
Though she may feel isolated and distressed by the outcome of the DWP's despicable approach to benefits claimants, Clem is certainly not alone in experiencing their dishonest practices.
A DNS investigation in January revealed that numerous assessors had 'lied, ignored written evidence and dishonestly reported the results of physical examinations'.
Compiling evidence from 20 disabled people, DNS found that:
The alleged dishonesty includes assessors: refusing to accept further written evidence from medical experts; wrongly claiming that detailed physical examinations had been carried out during the assessment; refusing to list all of a claimant's medications; ignoring or misreporting key information told to them during the assessment; and reporting that a claimant had refused to co-operate with a physical examination, when they were unable to complete it because of their impairment.
In 2015 DWP figures showed that 2,380 people died between 2011 and 2014 shortly after being declared fit for work. In face of the figures, it is extremely hard to understand how the DWP are still getting away with presenting people with clearly absurd decisions.
Become An Evolve Politics Subscriber
Your subscriptions go directly into paying our writers a standard fee for every article they produce. So if you want to help us stay truly independent, please think about subscribing. We literally couldn't function without the support of our fantastic readers.
Subscribe
Or a One-Off Donation to Evolve Politics
If you don't want to subscribe, but still want to contribute to our project, you can make a one-off donation via the donate button below. All your donations go directly to our writers for their work in exposing injustice, inequality and unfairness.
Donate