Hundreds of people in Grimsby have been threatened with eviction by their landlord over concerns that their tenants will be forced into arrears once moved over to Universal Credit (UC).
Ahead of the rollout in the town, GAP property sent all its tenants a Section 21 notice, the first step in the eviction process. The company cited concerns that once transferred onto Universal Credit, tenants would default on their rent.
The company attempted to defend its actions by saying that:
GAP Property cannot sustain arrears at the potential levels universal credit could create (this affects the vast majority of our tenants), therefore we find it necessary to issue your Notice Seeking Possession (Section 21 'Notice to Quit') that has been enclosed.
It went on to say (in block capitals so nobody could be left in any doubt):
IF YOU DO NOT PAY YOUR RENT WE WILL HAVE NO OPTION BUT TO ASK YOU TO LEAVE AND RECOVER LOSSES FROM YOUR GUARANTOR
Tenants are required to be given two months notice before being evicted under a Section 21 notice, but the owner of GAP Property, Guy Piggott, explained that by serving the notice in advance, anyone who defaulted on their rent could be evicted sooner.
However, Piggott blamed the Tory government for forcing his hand, saying:
We are not planning to throw people out, but the prime minister should read this and recognise the problems, and see how people are not going to be able to feed themselves.
Universal Credit will be rolled out in Grimsby from December 13 with more than 13,000 people likely to be affected by the move to the new benefit.
Great Grimsby MP and Shadow Housing Minister Melanie Onn pointed out that in Universal Credit pilot areas, some people had been left waiting for more than 13 weeks before receiving their first payment.
Onn said:

Now these eviction notices are even clearer evidence that the universal credit rollout will push more people into debt, evictions, and homelessness.
Jeremy Corbyn raised the eviction notices at Prime Minister's Questions in the Commons yesterday, saying:
Will the Prime Minister pause universal credit so it can be fixed? Or does she think it is right to put thousands of families through Christmas in the trauma of knowing they are about to be evicted because they are in rent arrears because of universal credit?
In an utterly pitiful response, Theresa May said she would 'look at the issue of this particular case', but evidence suggests that the Tories will go to some lengths to avoid looking at the issue.
Last month, the Tory government abstained en masse from voting on a motion from Labour calling on the government to pause the rollout of Universal Credit until the problems with it were fixed. 
Meanwhile, Work and Pensions Minister, David Gauke, recently insisted that Universal Credit was 'working', even though he admitted that:
I have seen the hard cases of people who have apparently gone weeks and weeks and weeks, sometimes months, without support.
That wasn't a problem however, he said, as people could simply apply for a loan to see them through.
In fact, Gauke recently suggested that a sign of success was that 50% of new claimants were taking out an advance loan. He justified the six week wait for the first payment of Universal Credit by saying that it would cost the DWP money to shorten the period; better – he implied – to let people getinto debt.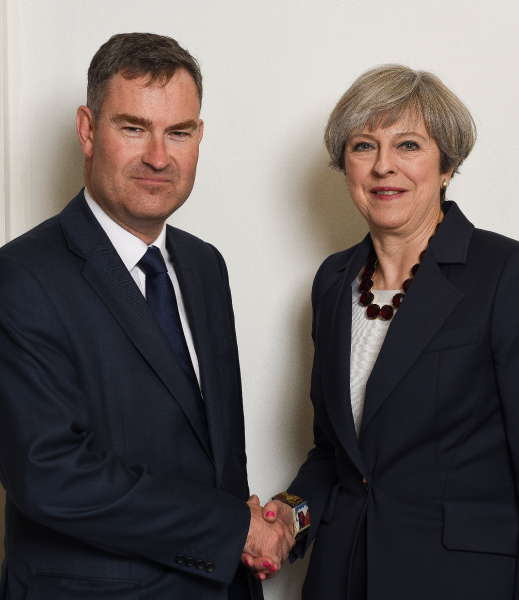 A recent report found that rent arrears amongst people receiving Universal Credit are three times higher than those still on the old system of working tax credits. Eight out of ten people moved on to UC are falling into arrears or increasing the level of pre-existing arrears.
Housing charity Shelter recently said that:

Shelter's advisers are hearing from more and more people whose lives are being turned upside down by the many flaws with Universal Credit. Not only are people forced to go without basics like food and electricity, but the delays mean they get into debt, cannot pay their rent and risk being evicted and made homeless.
Hundreds of people in Grimsby face an uncertain Christmas, with the threat of eviction hanging over them. Thousands more around the country are in the same situation. It's utterly shameful that even when some of the poorest people in the country are being sent pre-emptive eviction notices on the assumption that they'll get into arrears because of Universal Credit, the government still insists that the system is working.
Become An Evolve Politics Subscriber



Your subscriptions go directly into paying our writers a standard fee for every article they produce. So if you want to help us stay truly independent, please think about subscribing. We literally couldn't function without the support of our fantastic readers.
Subscribe
Or a One-Off Donation to Evolve Politics



If you don't want to subscribe, but still want to contribute to our project, you can make a one-off donation via the donate button below. All your donations go directly to our writers for their work in exposing injustice, inequality and unfairness.
Donate