Stay in touch!
Sign up to be updated with Evolve's latest stories, and for opportunities to get involved.
A former advisor to the ex-UKIP leader Nigel Farage could be sued for libel after falsely accusing the wrong BAME Labour MP of employing their son in their constituency office despite him being convicted of drugs offences.
Far-right political activist Raheem Kassam – who was previously the Chief Advisor to the former UKIP leader Nigel Farage – declared to his 154,000 Facebook followers that Labour MP Fiona Onasanya had supposedly been employing "her son in Parliament on the public dime after he was done for taking a huge stash of drugs to a music festival":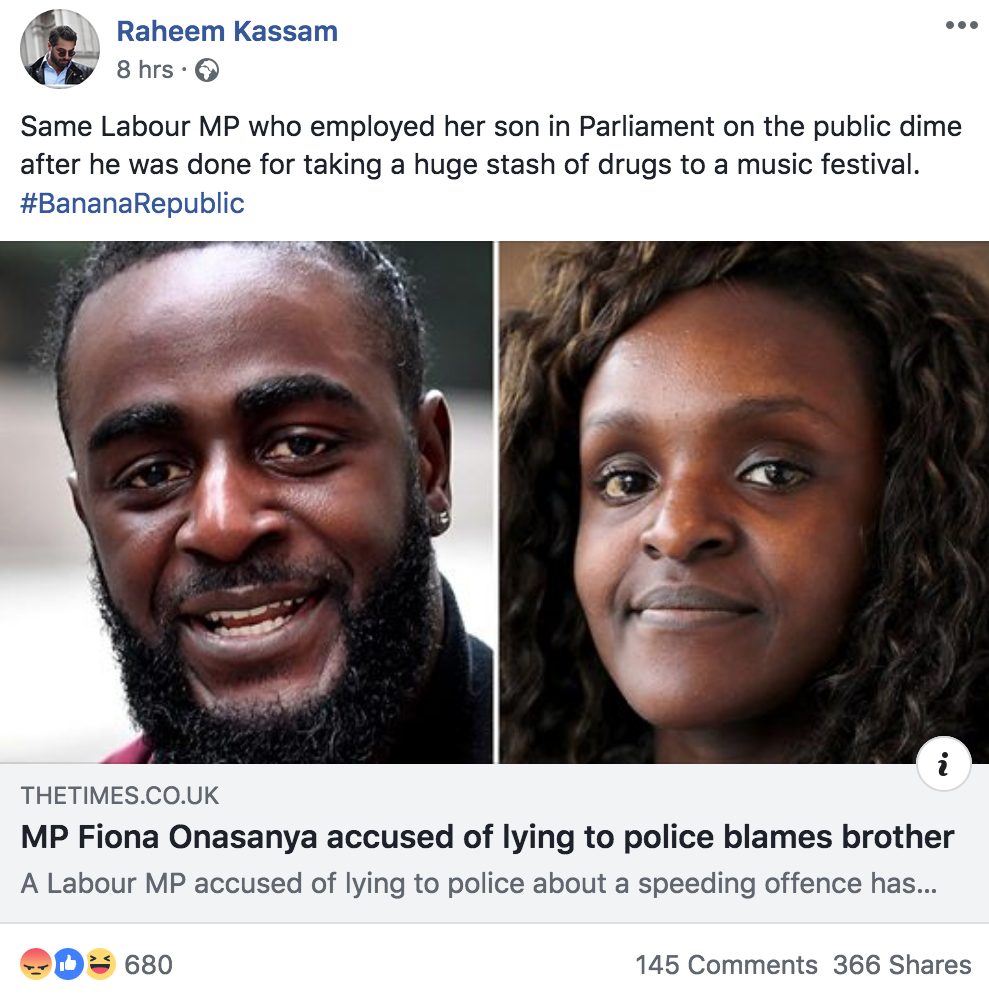 However, Kassam's accusation against Ms Onasanya is completely untrue, with the former UKIP advisor appearing to have confused the Peterborough MP with another BAME Labour MP, Kate Osamor.
Several commenters on Kassam's post did attempt to make the former Breitbart journalist aware of the fact that he had confused two different BAME Labour MPs, but after 9 hours, the post has still not been removed.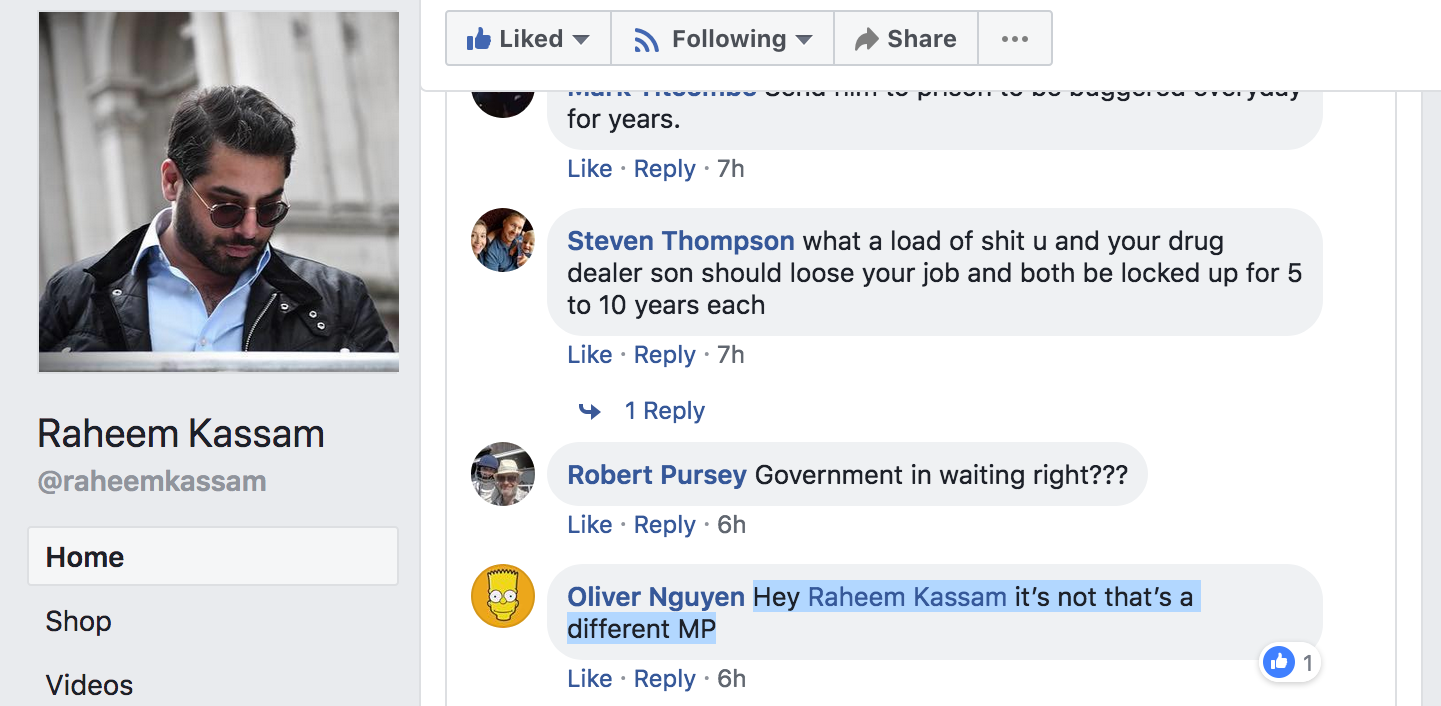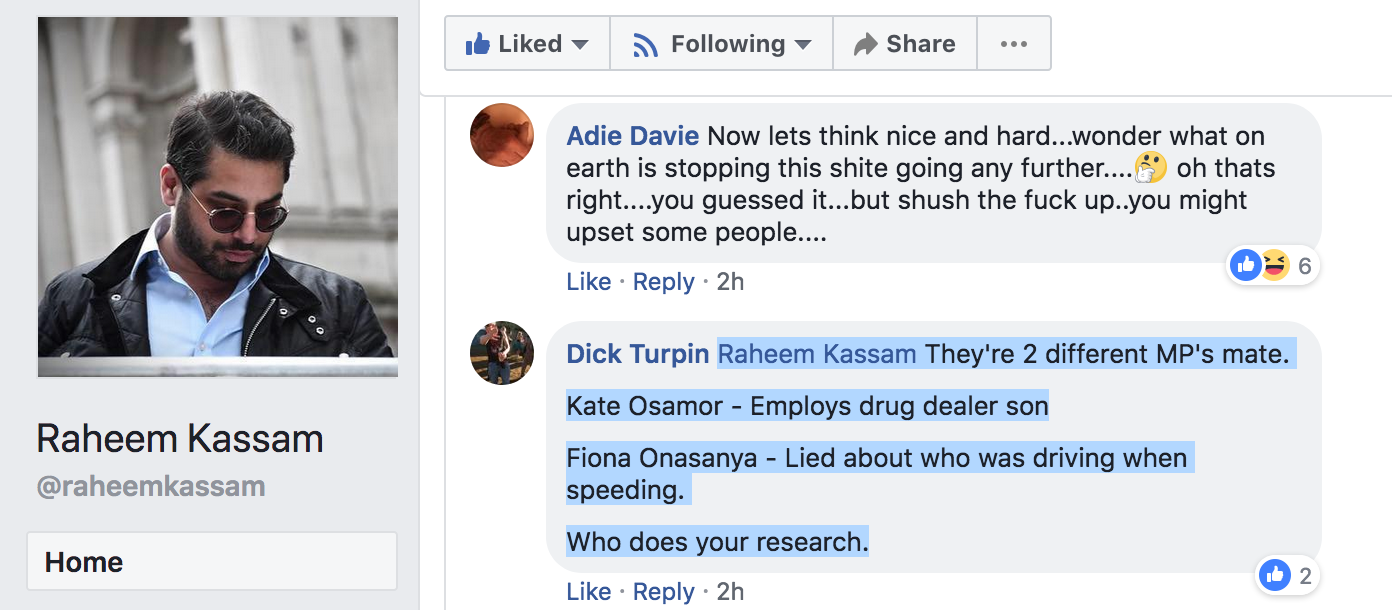 However, other commenters were not so well informed, with one labelling Ms Onasanya "human trash", and another simply saying "Sack that b*tch".
In keeping with much of the far-right content on Kassam's page, numerous comments on the libellous post were also explicitly racist, with one asking:
"Is anyone seeing a pattern with black Politicians?"
Kassam's astonishing failure to tell the difference between the two BAME Labour MPs, as well as being ridiculously racist, could land him in extremely hot water, with Evolve's legal team confirming that the mistaken identity could easily cost the former Breitbart hack dearly in libel costs and damages.
The situation Kassam was referring to actually involved Labour's Shadow International Development Secretary Kate Osamor's son, Ishmael – who was previously employed as a senior communication officer in Ms Osamor's office.
The story made the news last month after it emerged that Mr Osamor had been convicted of possessing class A drugs with intent to supply.
Following details of his conviction emerging in the media, Ishmael Osamor resigned from both his position as a Labour Councillor, as well quitting his job working within Ms Osamor's Constituency office.
However, following the story about her son emerging, Ms Osamor became the subject of 'politically motivated' abuse on social media, with some attempting to use the situation to get the Shadow International Development Secretary fired.
https://twitter.com/KateOsamor/status/1059438900333174787
Evolve have contacted both Ms Onasanya's office and Mr Kassam regarding the libellous accusation. We will bring you more on the story as it develops.