Several Conservative Party politicians are among the leadership team running a disgustingly racist pro-Boris Johnson Facebook group in which members regularly spout despicable antisemitic conspiracy theories, openly joke about 'bombing Mosques', revel in 'shooting immigrants', and call black people and immigrants "w*gs", "Muzrat blacks" and "ragheads", Evolve Politics can exclusively reveal.
Among the people running the Boris Johnson: Supporters' Group are a current, serving Tory Councillor in Wellingborough, Martyn York (Moderator), and a failed Conservative Party Council candidate in Newcastle Under Lyme, Dorinda Bailey (Administrator).
In addition to these two Tory politicians is another Administrator called David Abbott. Abbott currently serves as an Independent Councillor and is the Deputy Mayor of Houghton Regis.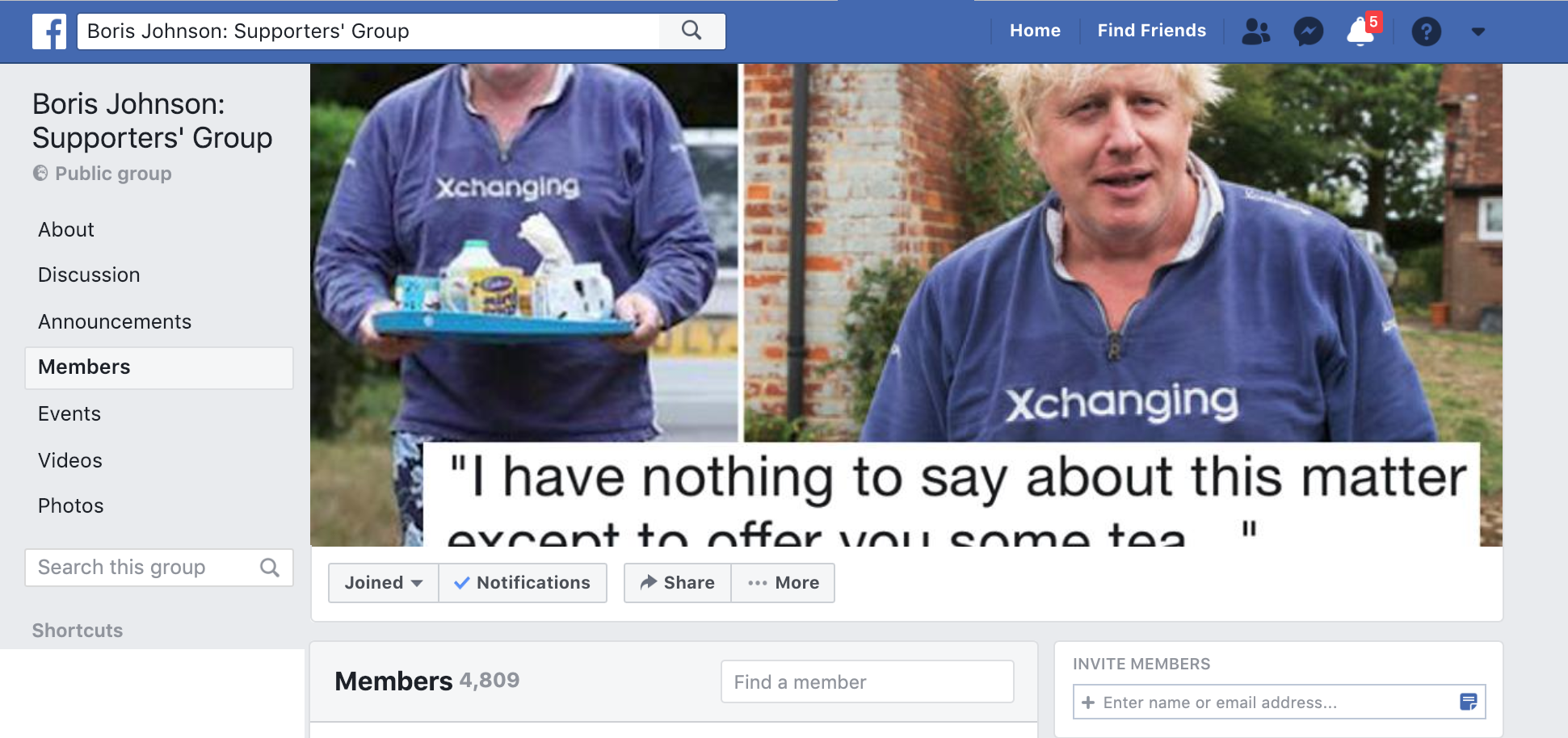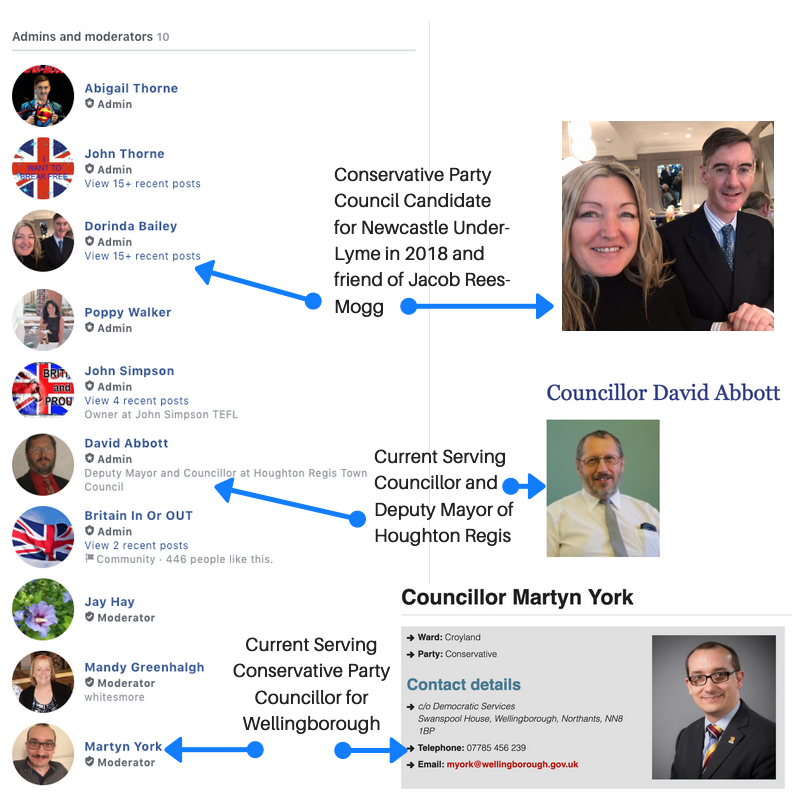 The group appears to have been ostensibly set up to support the current Tory MP and former Foreign Secretary, Boris Johnson, in his bid to become the leader of the Conservative Party.
However, a huge amount of the posts use unashamedly racist, far-right language – especially ones lambasting immigration, refugees, minorities, and in particular, Muslims.
Amongst the disgustingly racist posts and comments that the Tory-led administration team have failed to remove, and in some cases even endorsed, are:

At least 7 comments that describe Muslims and immigrants as "ragheads":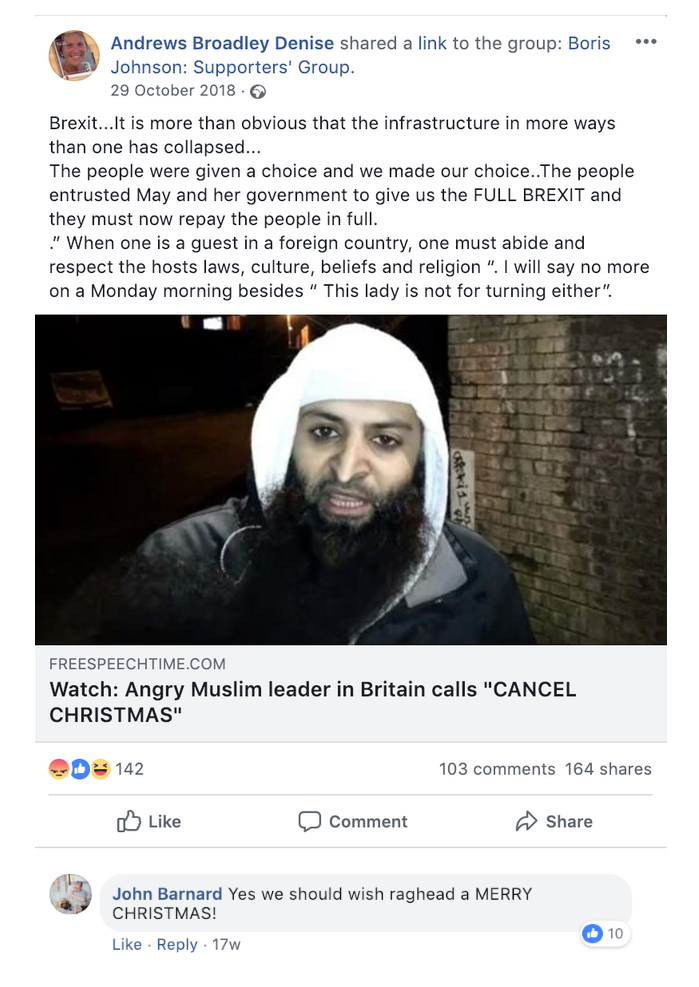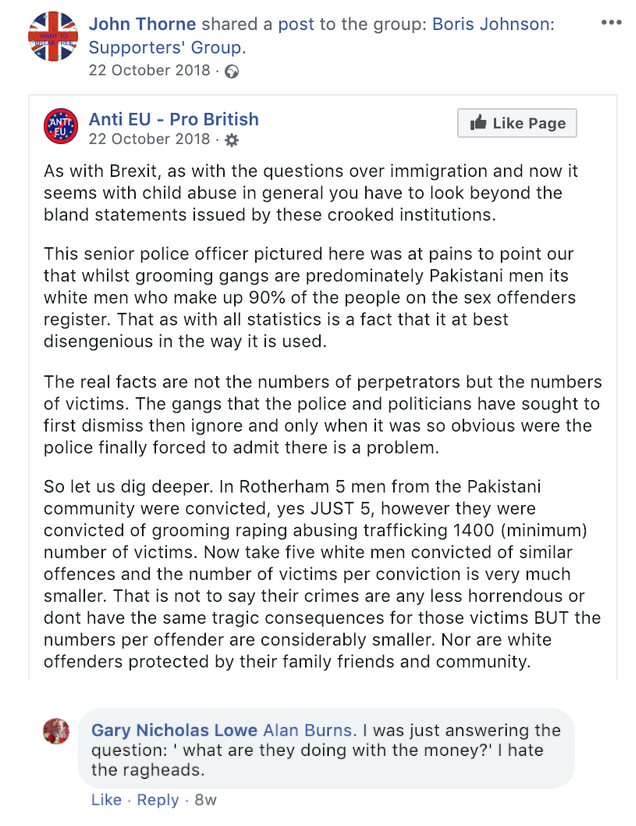 A comment that describes BAME people as "w*gs":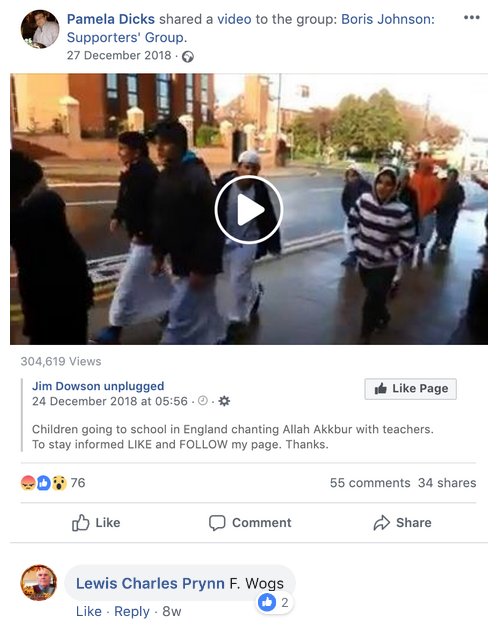 A comment telling a black British soldier to "piss off back to Africa":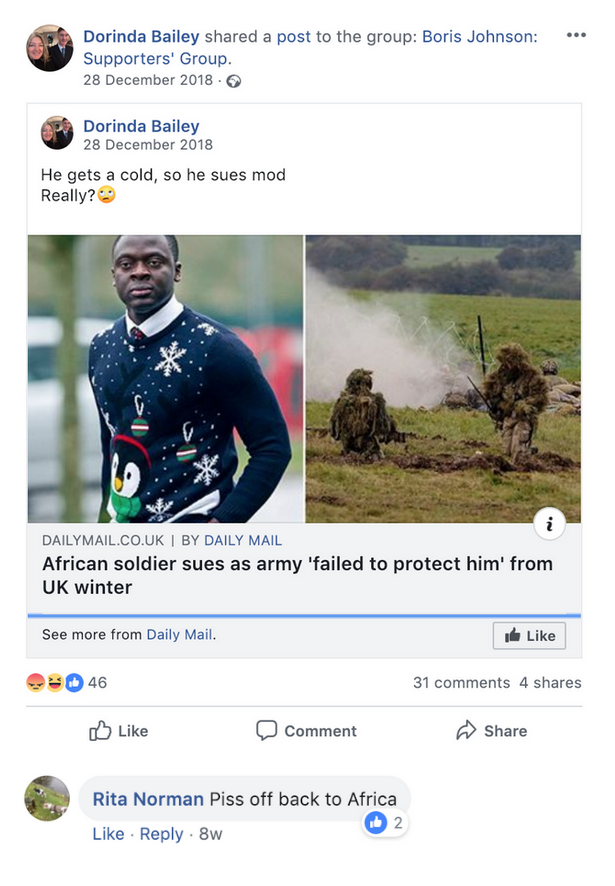 A comment telling an EU immigrant wanting advice on Universal Credit to "f*ck off back to Poland":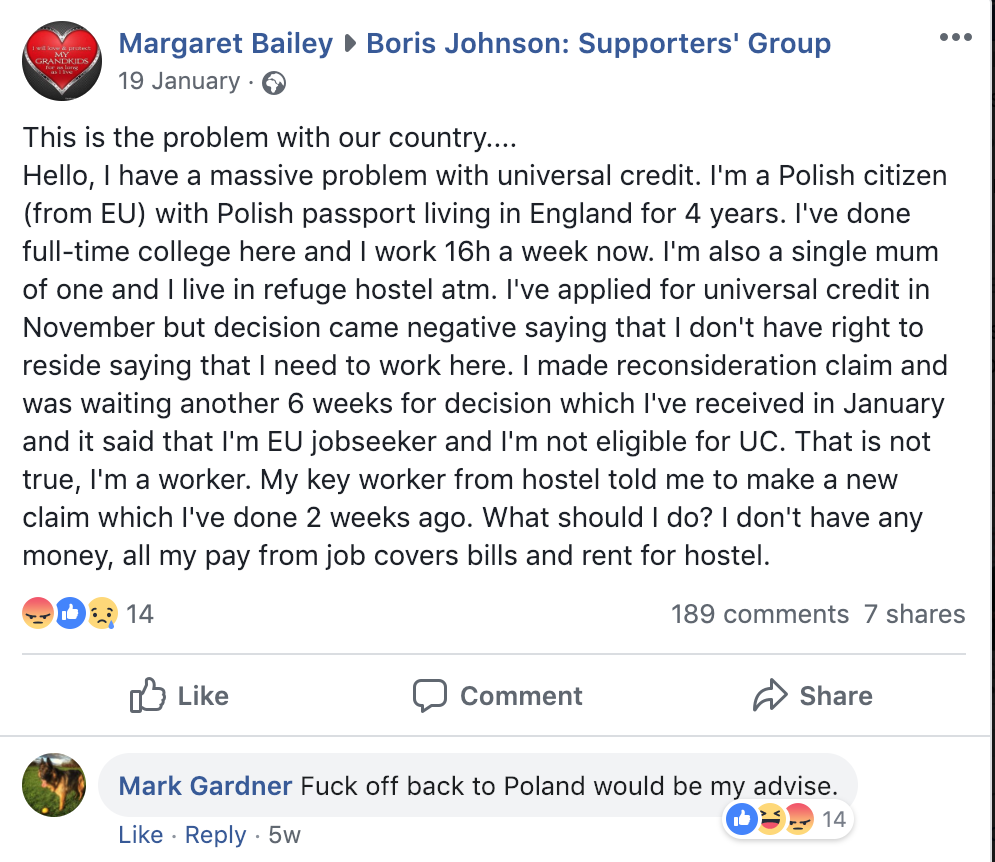 A comment which tells Bradford-born Labour MP Naz Shah to "piss off to [her] own country":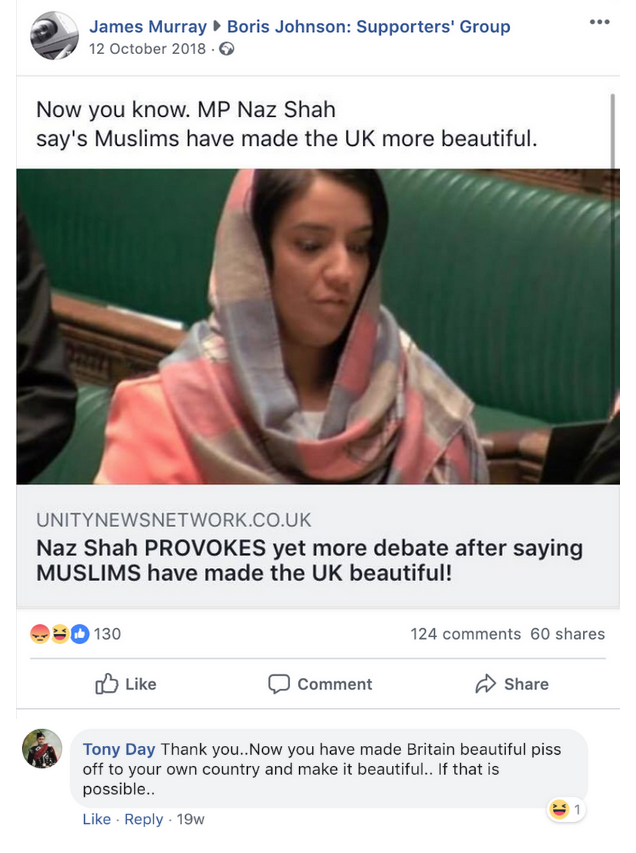 A comment which describes Labour Mayor of London Sadiq Khan as a "conniving little muzrat":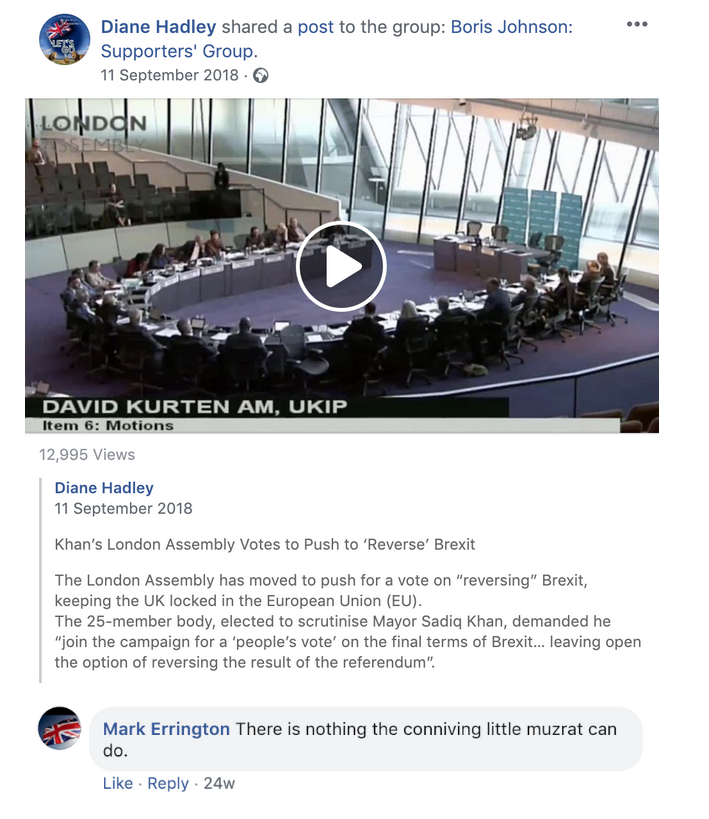 Nazi-esque comments joking about immigrants being 'no different to cockroaches':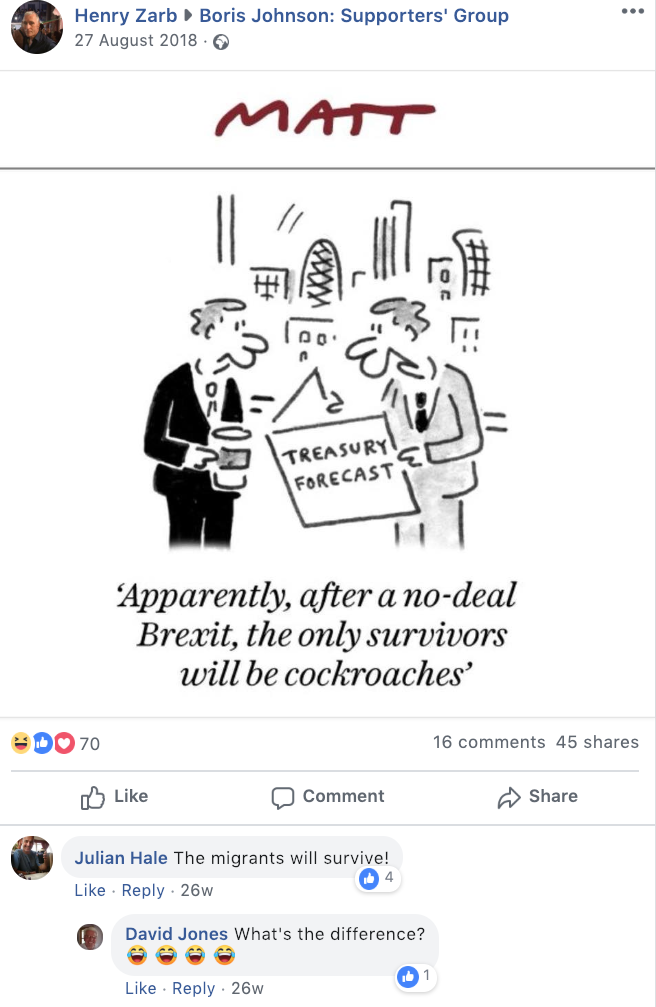 A comment joking about 'bombing Mosques' (which Tory Council Candidate Dorinda Bailey actively endorses):
Numerous comments joking about shooting immigrants and their families:

Numerous posts perpetuating neo-Nazi white-genocide conspiracy theories and using antisemitic tropes such as calling Theresa May a "puppet of the Rothschilds and Soros":

A comment describing two BAME Labour MPs, Diane Abbott and Dawn Butler, as "monkeys":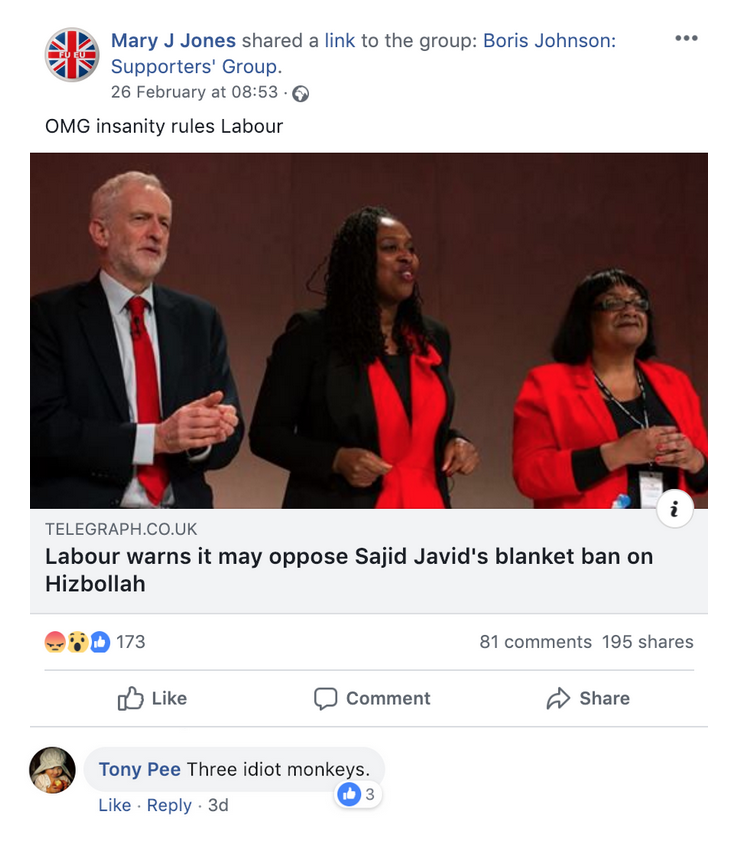 A comment saying that the BAME former Labour MP Fiona Onasanya should be "put on a banana boat back home":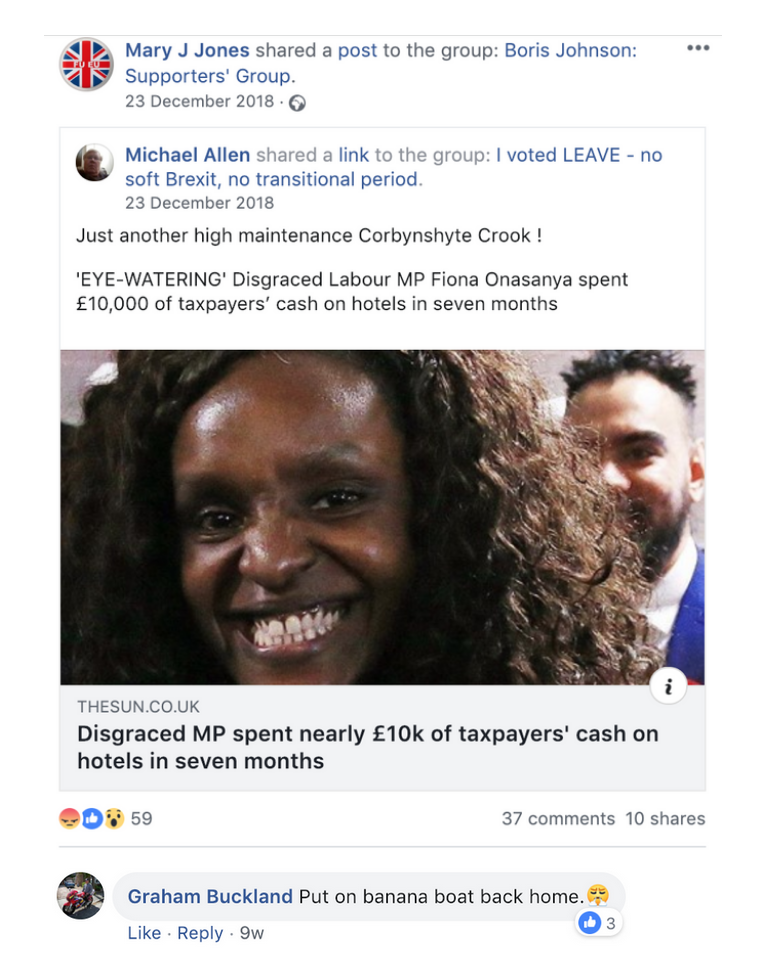 Responding to Evolve Politics' disturbing findings in the Tory-led Facebook group, a spokesperson for the Muslim Council of Britain (MCB) reiterated their calls for the Conservative Party to instigate an inquiry into Islamophobia within their ranks, stating:
"A Facebook group led by Conservative politicians containing unashamed bigotry has made it completely apparent that there is a significant problem with racism and Islamophobia within the party of government. Polls revealing that half of all Conservative voters in 2017 believe Islam to be a threat to the British way of life have shown how widespread this sentiment is. We reiterate our call for the government to launch an inquiry into Islamophobia and lead by example by committing to tackle bigotry everywhere, not just where it's politically convenient."
Following an absolute cascade of predominantly anti-Muslim incidents involving Tory politicians and members occuring last year, the Conservative Party once again came under increasing pressure to begin an investigation – as Labour have done with antisemitism – into Islamophobia within their own ranks.
However, despite the Conservative Party Chairman Brandon Lewis declaring he would implement a "zero tolerance" approach to Islamophobia and racism from party members, today's revelations that Tory politicians are actively running an astonishingly racist Facebook group will surely now reignite the calls from all sides for an urgent investigation into the increasingly worrying situation.